Duke vs. Indiana Football 2015: Early Prediction, Preview For Pinstripe Bowl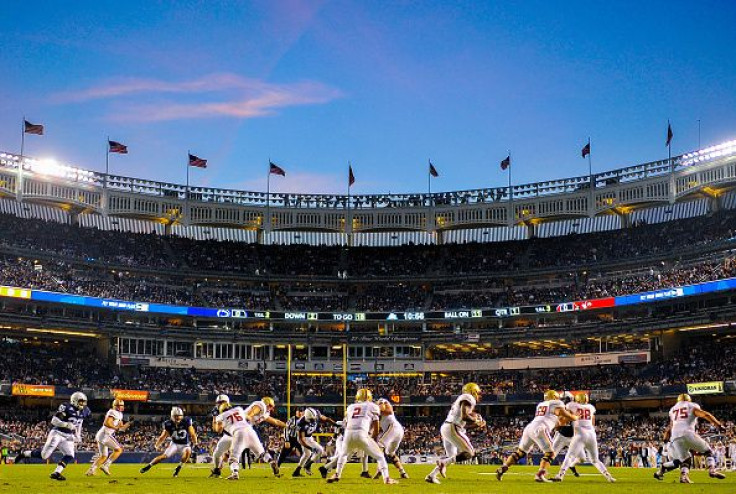 While both schools are more known for success in basketball than football, the Indiana Hoosiers (6-6, 2-6 Big Ten East) and the Duke Blue Devils (7-5, 4-4 ACC Coastal) take center stage in New York on Saturday in the New Era Pinstripe Bowl at Yankee Stadium.
At the start of the season, it looked as though David Cutcliffe and Duke would contend for the Coastal Division crown in the ACC. Two opening wins were followed by a loss to No. 23 Northwestern but the Blue Devils responded with a four-game win streak, sparked by a 14-point win over No. 20 Georgia Tech. Duke would jump out to a 6-1 record, and had their sights set on a high-profile bowl game.
However, Duke became victims of a highly controversial last-second, eight-lateral return touchdown as time expired against Miami that snapped their winning streak. The loss started a four-game losing streak for the Blue Devils, who allowed 42.4 points per game over a five-game stretch entering the final week of the season. Only a 27-21 win over Wake Forest on Nov. 21 prevented a utter collapse to what was once a promising season.
It was a season of streaks for Kevin Wilson and the Hoosiers, who were the Big Ten's highest scoring team (36.2 ppg) and also its worst scoring defense (37.1 ppg). They began 4-0 and scored more than 30 points in each game before dropping six straight, including four games against ranked opponents. Indiana put up a good fight in most of their losses and played elite teams well, falling to No. 1 Ohio State, No. 9 Iowa and No. 14 Michigan by just one score.
Indiana bounced back to become bowl eligible with two wins to close the season on the road. First it was a 47-28 victory at Maryland followed by a 54-36 win at Purdue in which the Hoosiers mounted 659 yards to claim the Old Oaken Bucket and a berth in a bowl game for the first time since 2007.
Indeed, this season has been a step in the right direction for Wilson. In the highly competitive Big Ten, Indiana suffered through a 1-11 season in Wilson's debut season in 2011, and has finally finished with a .500 record.
Both Indiana and Duke have had little bowl success. The Hoosiers, who have made just two bowl appearances since 1992, are seeking their first bowl win since the 1991 Copper Bowl. Duke hasn't won a bowl game since the 1961 Cotton Bowl, but 2015 marks the fourth consecutive year Duke has reached a bowl game.
The Pinstripe Bowl has been played annually since 2010. Beginning in 2014, the bowl game pits an ACC team against a Big Ten school. Penn State defeated Boston College 31-30 in overtime in last year's game.
Prediction: Both teams ended the season with wins but you can't help but feel like Duke still remains shocked after the controversial loss to Miami. Duke's losses weren't to elite competition, while Indiana played some quality teams very tough and won two on the road to end the season. The Hoosiers should escape with a win in The Bronx.
© Copyright IBTimes 2023. All rights reserved.