Dutch Journalist Jailed For Second Time In Turkey While Covering Kurdish Opposition Parties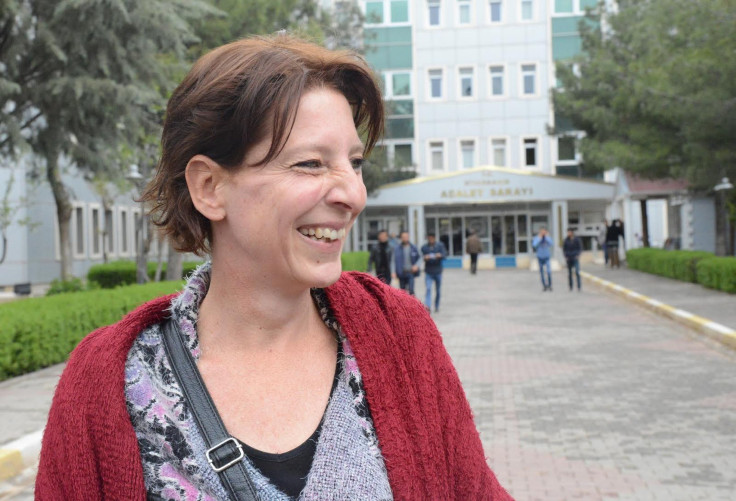 A veteran Dutch journalist was detained for the second time by Turkish authorities early Sunday, news outlets in the Netherlands reported, indicating a further tightening of the government's tight-fisted control of the press. Fréderike Geerdink was arrested while in southeastern Turkey covering the People's Democratic Party, or HDP, a Kurdish opposition faction.
The arrest comes just a week after two journalists for Vice News, Jake Hanrahan and Philip Pendlebury, were detained while reporting on clashes in southern Turkey between government forces and Kurdish rebels. At the time, Geerdink offered her support on Twitter.
Domestic reporters regularly face restrictions and imprisonment over reporting the Turkish regime deems off-limits. But in recent months, more and more foreign journalists have also been targeted. The country has been one of the top 10 jailers of journalists in the world in each of the last three years, according to the Committee to Protect Journalists, a press freedom organization.
Geerdink had been previously arrested in January on charges of disseminating "terrorist propaganda" in her coverage of the Kurdistan Workers Party, the PKK. The political group has fought for autonomy from Turkey since the late 1970s and is considered by the government -- as well as the United States -- to be a terrorist organization.
Geerdink faced up to five years in prison for the charges, which were dropped in April. Yet she opted to remain in Turkey.
"It makes me very unhappy sometimes -- but I have chosen this life and if I want it to be different I can go back to my own country," Geerdink told the Telegraph in February. "But for the Kurds, they have not been able to live their identity for more than a century now, being suppressed."
Tensions have increased in recent months between the Turkish government and Kurdish opposition parties. In late July, the Turkish air force bombed PKK positions in Iraq, along with the ISIS fighters that the Kurds have been effective in fending off.
© Copyright IBTimes 2022. All rights reserved.
FOLLOW MORE IBT NEWS ON THE BELOW CHANNELS