Is Duterte Suffering From Serious Illness? Complains About 'Unbearable' Back Pain
Malacañang, the Manila presidential residence, decided against releasing a medical bulletin on President Rodrigo Duterte's health. The decision came after Duterte cut short his trip to Japan for "unbearable" back pain, which turned out to be muscle spasms.
The Philippine Constitution dictates that a health dispatch be issued in the event of a "serious ailment" and according to spokesperson Salvador Panelo, the President's condition did not meet that standard. Panelo said (translated), "A medical bulletin comes into play only when the President is in serious illness, that is the constitutional requirement."
The 74-year-old President has a litany of health concerns dating back many years. He used to be a heavy smoker and that has contributed to his having Buerger's disease, a condition that causes blockages in the blood vessels of his extremities.
Another ailment of the President is Barrett's esophagus, which involves tissue lining the esophagus. Also, Duterte has admitted previously that he suffers from daily migraines and some nerve damage from a motorcycle accident that happened about 13 years ago.
Prior to the Japan trip, Duterte was in Russia to meet with Russian President Vladimir Putin and Prime Minister Dmitry Medvedev. Pictures of Duterte circulated on social media causing some reaction to his disheveled and possibly intoxicated appearance. Shortly after, Duterte disclosed that he has an autoimmune disease called myasthenia gravis.
The condition is a chronic autoimmune neuromuscular disease that causes weakness in the skeletal muscles responsible for breathing and moving parts of the body, including the arms and legs. The ailment also can result in the drooping of eyelids and blurred vision, according to the U.S. National Institute of Neurological Diseases and Stroke.
Upon returning home from Japan, Duterte met with doctors who ruled out any surgical procedures. On Oct. 16, about nine days ago, he had a minor mishap on a motorbike and doctors believe the flare-up in Japan may have been related. The doctors advised rest and painkillers.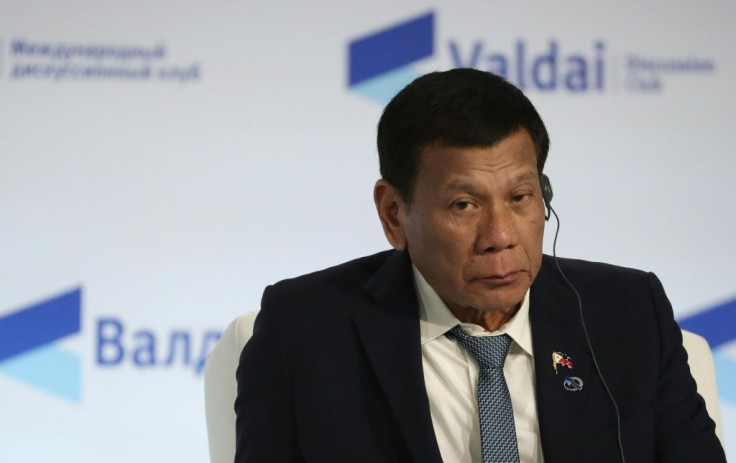 Duterte, not known for being compliant to any orders, decided he was healthy enough to take a ride in an all-terrain vehicle (ATV) at the Malacañang compound for around 10 minutes just past midnight Friday, just days after the mishap. His spokesperson, Panelo said that it was only some sort of "exercise" for the President.
Panelo said that Duterte is resting in Davao City, his hometown, and would return to Manila on Monday for work.
© Copyright IBTimes 2023. All rights reserved.