Dwyane Wade Explains Why He Left Bulls For LeBron James And Cavaliers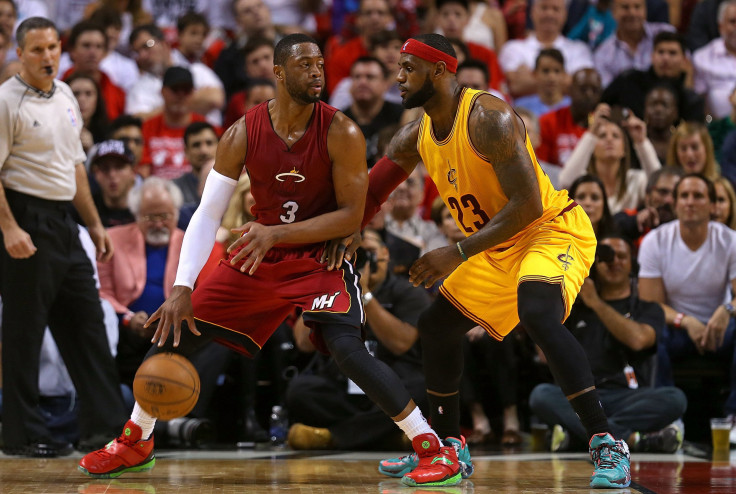 After NBA star Dwyane Wade left the Chicago Bulls and decided to join former teammate LeBron James on the Cleveland Cavaliers, he released a statement which further explained his choice.
Wade, a Chicago native, opted to abandon his childhood dreams of playing for his hometown Bulls when he agreed to a buyout Sunday. The deal finalized Wednesday after he cleared waivers. The 12-time All-star took to Twitter and posted a heartfelt letter that explained the reasons for his departure.
In the letter, Wade admitted that "being part of a team that is in the process of rebuilding doesn't align with where I want to be right now no matter how difficult that decision may be."
"There's no better place to be right now to continue to play and compete at the highest level," Wade wrote in a statement posted to his Twitter account. "Cleveland believes in my talents and what I can bring to a championship contender both as a player and leader. I look forward to reuniting and playing alongside my brother LeBron. We've already won two championships together and I hope we get a third."
Wade, 35, admitted that he looked to chase another championship and felt that he couldn't do so on the Bulls where the roster consisted of predominantly younger, less experienced players.
"I've always dreamed of playing for the Chicago Bulls and I feel so fortunate to have fulfilled my dream this past year," Wade wrote. "The team is now heading in a different direction, which has made me re-evaluate where I need to be in this phase of my career. Being a part of a team that is in the process of rebuilding doesn't align with where I want to be right now no matter how difficult that decision may be."
It was a privilege to have played for the Bulls, the 2006 Finals MVP added. Wade announced on July 6 last year in a letter to his former Miami Heat team, that he had agreed to join the Chicago Bulls on a two-year $47.5 million deal. He agreed to a buyout after he played just one season with the Bulls.
"It's been an honor and a privilege to play for my hometown," Wade wrote. "Chicago holds a very special place in my heart and will always be home to me."
Wade joined a Cavaliers team that secured an NBA championship just last year. With the leadership of James, the team looked to compete for another championship this year. After the Cavaliers traded away former point guard Kyrie Irving for a more defensive-minded guard in Isaiah Thomas, Wade liked his chances of heading back to the NBA Finals.
James, who carried the Cavaliers to the NBA Finals, agreed that Wade would mesh well with the team.
"He adds another championship DNA, another guy with high basketball IQ, another playmaker that can make plays and also make shots," James said to reporters during a Wednesday press conference. "That adds to our depth and we were already pretty deep. It adds even more playmaking to our team, which obviously you guys saw last year he can still do."
© Copyright IBTimes 2023. All rights reserved.