E. Coli Outbreak Linked To Chipotle Spreads To 9 States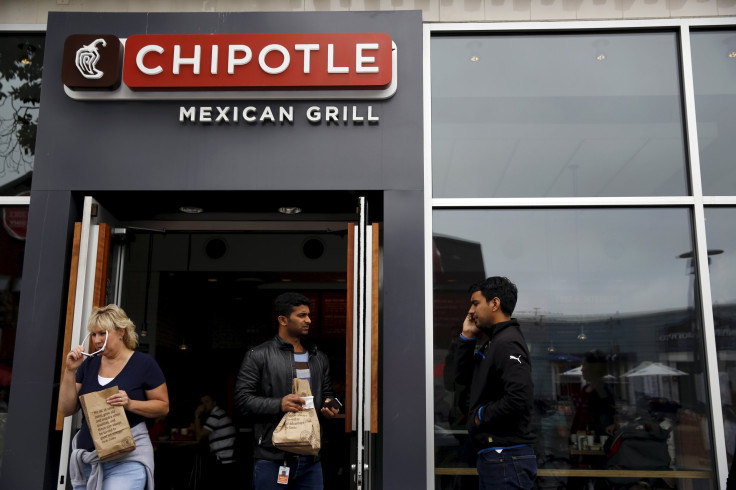 Seven more Americans have fallen ill from E. coli poisoning in an outbreak linked to Chipotle Mexican Grill restaurants, according to the U.S. Centers for Disease Control and Prevention. Shares for the popular food chain fell shortly after regulators made the announcement Friday morning.
Fifty-two people from nine states have now been infected with the outbreak strain tied to Chipotle, most of them from Washington and Oregon. The government's update Friday said the virus has spread to three more states -- Illinois, Maryland and Pennsylvania..
"The epidemiologic evidence available at this time suggests that a common meal item or ingredient served at Chipotle Mexican Grill restaurants in several states is a likely source of this outbreak," the CDC said on its website.
Since the first reported illness in October, 20 people have been hospitalized. No deaths have been reported.
Chipotle's stock dropped by as much as 5 percent after the news was released. Its share price is down 17 percent over the past year.
Chipotle Mexican Grill Inc. (CMG) Stock Price - Current Day | FindTheCompany
"State and local public health officials continue to interview ill people to obtain information about foods they might have eaten and other exposures in the week before their illness started," the CDC said. "The investigation is still ongoing to identify common meal items or ingredients causing illness."
E. coli are bacteria that live in the digestive tracts of humans and animals. Most strains are harmless, but some can cause urinary tract infections, anemia and potentially fatal kidney failure. Infections are spread when individuals come into contact with contaminated sources -- sometimes through food or water.
"No ingredients that are likely to have been connected to this incident remain in Chipotle's restaurants or in its supply system," the company said in a statement Friday. "No Chipotle employees have been identified as having E. coli since this incident began."
The news came on the same day that Chipotle announced new measures to improve food safety and food handling practices in its restaurants and throughout its supply chain.
© Copyright IBTimes 2023. All rights reserved.