Eagles Soar Into Super Bowl Over Injury-hit 49ers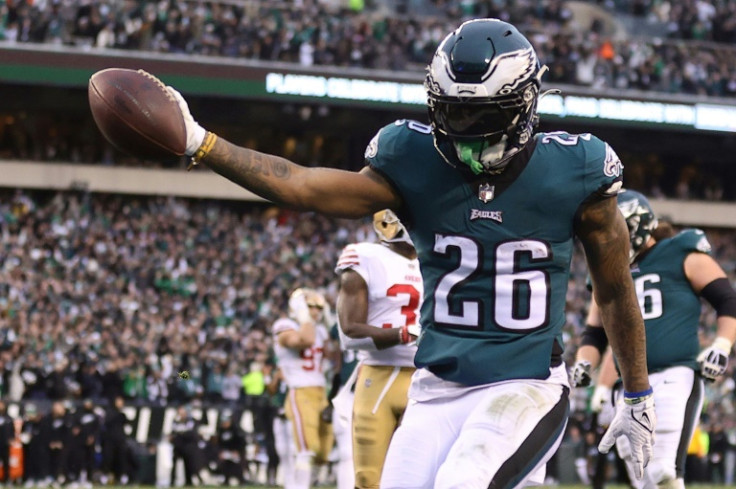 The Philadelphia Eagles steamrollered the injury-hit San Francisco 49ers 31-7 to book their place in the Super Bowl on Sunday.
The Eagles sealed the franchise's fourth Super Bowl appearance -- and second in five years -- with an emphatic victory in the NFC Championship game at Lincoln Financial Field.
"I've dreamed about this, and all the guys on this team have dreamt about this their entire lives," Eagles head coach Nick Sirianni said afterwards.
"To be able to do this together with a bunch of men that love each other, that are connected to each other and would do anything for each other -- it's pretty sweet."
The 49ers' hopes of victory were upended after a disastrous first half that saw starting quarterback Brock Purdy -- himself the team's third choice signal-caller -- injured on the team's opening drive.
Back-up Josh Johnson -- the fourth choice Niners quarterback -- also departed injured in the third quarter.
"I was real proud of how they fought out there," 49ers head coach Kyle Shanahan said. "Thought they got dealt a pretty tough hand today. I'm just hurting for those guys."
The defeat was another bitter playoff disappointment for Shanahan, who saw his side beaten in the Super Bowl in the 2019-2021 campaign before losing in the NFC Championship game last season.
"Losing feels awful," Shanahan said. "This one was a lot harder."
All of Philadelphia's touchdowns came via their ground game, with running back Miles Sanders scoring twice, Boston Scott adding a third before quarterback Jalen Hurts burrowed over in the third quarter.
The Eagles piled up 148 rushing yards throughout from 44 carries.
Philadelphia will play the winner of Sunday's AFC Championship game between Kansas City and Cincinnati in the February 12 Super Bowl in Arizona.
San Francisco had entered Sunday's NFC decider on the back of 12 straight victories and were seen throughout the playoffs as the biggest threat to Philadelphia's hopes of reaching the Super Bowl.
However the 49ers' dreams of returning to the NFL showpiece once more shrivelled as injuries and a litany of rash penalties took their toll.
The tone was set early on when Philadelphia receiver DeVonta Smith made what looked like an extraordinary one-handed grab on a fourth down conversion.
Replays showed however that Smith had lost control of the ball -- but San Francisco failed to challenge.
"The replay we saw didn't definitively show (an incomplete pass)," Shanahan said later. "I wasn't going to use a challenge just out of hope."
The non-challenge allowed the Eagles to keep their drive alive and two plays later Sanders weaved through for the opening touchdown.
It got worse for San Francisco on their opening drive, when quarterback Purdy was hit by the Eagles' Hasson Reddick as he attempted to pass.
The call on the field was ruled incomplete but the Eagles challenged and the decision was transformed into a fumble giving the Eagles possession.
More critically, Purdy was injured in the tackle by Reddick and left the game, to be replaced by fourth choice Johnson - a 36-year-old journeyman with only nine starts since making his debut in the NFL in 2009.
Johnson was given a torrid welcome, sacked by Reddick for a nine-yard loss after replacing Purdy, and coughing up a delay-of-game penalty soon afterwards.
San Francisco's defense kept the second seeds in the game, and the Niners drew level when a brilliant run from Christian McCaffrey took the running back into the end zone.
But momentum swung back decisively to Philadelphia just before half-time.
Another costly San Francisco penalty led to Sanders slicing through for his second touchdown, and then a Johnson fumble gifted Philadelphia prime field position to set up a Scott touchdown to make it 21-7 at the break.
Eagles quarterback Hurts, who finished with 121 passing yards from 15 of 25 attempts, kept the scoreboard ticking over with a close range rushing touchdown in the third quarter.
Jake Elliott then slotted a 31-yard field goal in the fourth quarter to complete the scoring.
© Copyright AFP 2023. All rights reserved.