Earnings Outlook For Second Quarter Is At Its Weakest Since 2001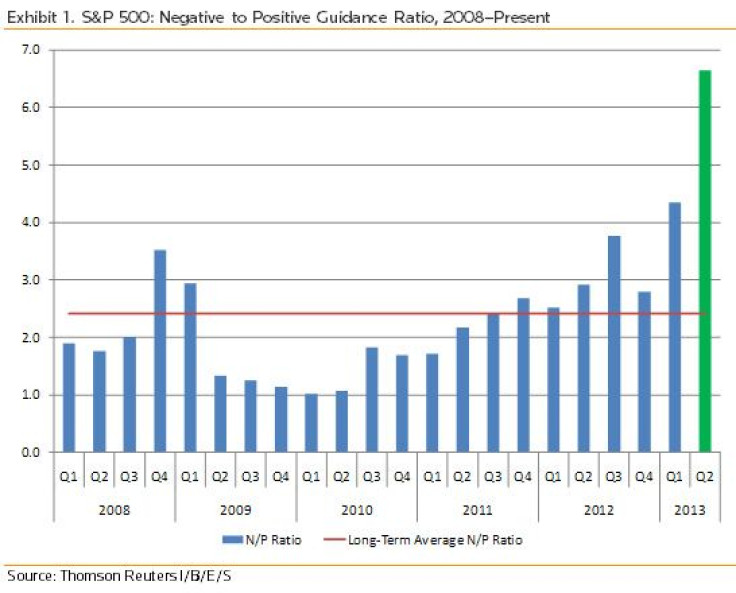 Earnings guidance for the second quarter is looking anemic as 93 of the 116 preannouncements given by S&P 500 companies were negative.
First-quarter earnings season is coming to a close with growth at 5 percent, up from the 1.5 percent that analysts had forecast at the beginning of the season. But second-quarter earnings are expected to be have 2.8 percent growth, down from the 6.1 percent estimate made at the beginning of April.
Now, a 6.6 negative to positive guidance ratio, as reported by the companies and crunched by Thomson Reuters economists, is the most dismal trend since the first quarter of 2001.
The health care sector was hit the hardest by the weak predictions, with a negative-to-positive ratio of 13. Bill Sullivan, the CEO of Agilent Technologies Inc. (NYSE:A), a measurement company, blamed the stalled recovery in the global markets for the negative outlook.
"There are continued issues in the U.S. and Europe, Japan stimulus hasn't kicked in, China is going to grow at 7.5 percent to 7 percent," he said, according to a report by Thomson Reuters. "We are not going to get the type of revenue growth that is going to be able to maintain our margins."
Consumer discretionary spending was also down, with 21 negative versus two positive preannouncements. And even as discount retailers have benefitted from household cost-cutting, Dollar Tree, Inc. (Nasdaq:DLTR) disappointed analysts with a guidance 5 percent lower than expected.
© Copyright IBTimes 2023. All rights reserved.