Earth Day And The Arctic, Where Climate Change Is Up Close And Personal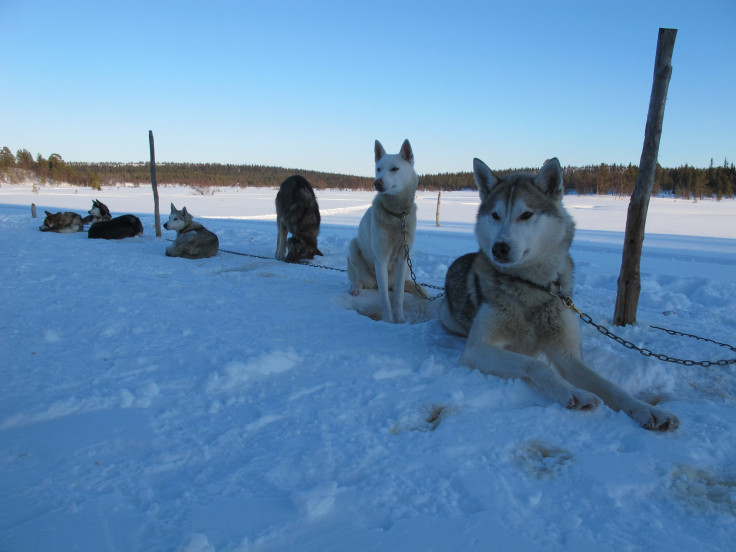 LAPLAND, Finland -- For dogsled guide Marco Echola, the massive disruptions wrought by global climate change are not an abstract concept. One night last month on a trek across the Arctic Circle, as the Aurora Borealis lit the frigid landscape of snow-covered lakes and forests, several of his huskies got loose. They were able to slip out of their collars because their fur had started to thin, which typically does not happen until much later in the year. "It's too early for shedding," Echola said.
The canine escapade is one of many strange anomalies in the new Arctic Circle, where evidence of climate change goes beyond such obvious events as melting glaciers, stranded polar bears and rain in February. As the world celebrates Earth Day, the top of the world offers a unique window on the sometimes unforeseen consequences of global warming, in which familiar meteorological patterns no longer apply.
In the Arctic, which due to its sensitivity to temperature is on the front lines of climate change, the result is an unfamiliar cycle of thawing and freezing that would have been unthinkable a decade ago, and which is affecting life in large and small ways.
This winter, residents up here found themselves wondering if there would be enough snow -- a question more often reserved for ski resorts far to the south. People here feel the effects of climate change far more intimately than those whose exposure is limited to scientific studies or who might glimpse the Arctic's miles-long ice fractures during an intercontinental flight.
During a late-winter foray above the Arctic Circle, just north of Kittila, Finland -- which is famous for its cross-country skiing and dog sled treks -- Echola led a seven-person tour between remote, rustic cabins aboard sleds pulled by a total of 47 huskies. For an outsider, initially, everything appeared as might be expected, with several feet of snow covering the ground and guides chopping firewood and fetching water from a hole drilled in a frozen lake. But then the huskies got loose, the first of many on-the-ground observations of the changes forever altering the life and landscape in the region, where reindeer are dying because they are unable to dig through rain-crusted snow to eat the moss below.
As temperatures rise, insects once confined to warmer climates now thrive and spread disease; one, the gadfly, bites reindeer and causes what is known as foul-in-the-foot disease, which prevents them from migrating. Making matters worse, polar bears stalk beaches where they have never been seen before, and are soon expected to begin hunting reindeer, and warm-climate brown bears are moving farther north into reindeer territory to cool off.
Birch trees -- known for their spectacular autumn colors, a major tourist attraction in Finland -- are dying from a mysterious fungus that appeared three years ago, and verdant green bushes have begun spreading into Arctic pine forests. Even in the coldest regions, waterfalls -- obvious indicators of snow and ice melt -- are becoming commonplace. "The number of waterfalls is growing rapidly, and we're seeing a new kind of white goose in our Arctic Zone," Vladimir Vasiliev, head of the Northern Forum, later told IBTimes.
The Northern Forum, an NGO dedicated to environmental sustainability and indigenous people of the north, is headquartered in Yakutsk, Russia, which is frequently described as the coldest place in the world, with winter temperatures routinely dipping more than 30 degrees Celsius below freezing (-22 F).
Yakutsk is experiencing changes similar to those in Lapland, said Vasiliev. Locals have observed more evidence of foul-in-the-foot, which Vasiliev said could explain this year's reduced reindeer count.
Arctic residents, including indigenous Finnish people such as the Sami and others who settled here after the final ice age, say there is no precedent for such changes in their collective memory, which goes back some 10,000 years, according to archaeological findings.
Climate-change observers say the Arctic is one of two zones to watch closely, because nature's balance is so delicate that the slightest changes in climate produces immediate ripple effects. The other zone includes small islands, with their precarious position as sea levels rise.
Much has been made of newly opened ship navigation routes across the Arctic and the perils that melting ice pose to polar bears. But the impacts run through every strata of the region's ecology and human endeavors. And as Ilan Kelman, a scholar in disaster reduction and global health at the University College London, told IBTimes, "Unfortunately for the rest of us, what the Arctic and island states are experiencing now will affect us in the future."
Beyond the thawing of permafrost, glaciers and ice floes, climate change is making its way into what is known as the "white forest," which is key to the survival of numerous species of plants and animals as well as indigenous Arctic people for whom the reindeer, in particular, is culturally
integral. In Lapland, most of the surviving reindeer are domesticated herds, some of which have been trained to pull sleds. Locals eat reindeer meet and use the animals' furry hides, which have notable insulation qualities, for rugs, coats, shoes and blankets. Wild reindeer in other parts of
the Arctic roam freely over broad swaths of wilderness, and were historically hunted by nomadic people; today, indigenous people tend to hunt them on snowmobiles and have largely abandoned their nomadic lifestyle.
In spring, when female reindeer become pregnant, the animals start to dig through deep snow to graze on the fresh, green moss below. But this year, say locals, their behavior was different because the winter weather was so
unusual. It rained in February when it was supposed to snow, and temperatures oscillated unpredictably below and above zero. That greatly complicated things for the reindeer, said Laura Varpunen, a local Finn and staff member at the Harriniva Wilderness Hotel in Muonio region of
the Laplands, which is known for having the longest snow season in Finland.
"What's good for them is when there's a lot of snow, and it's deep, because the reindeer dig through the snow and eat the plants below," Varpunen said. "But if you have mild weather, then a freeze, then mild again, then freezing, a layer of ice forms on top of the ground and the reindeer can't crack through it to get to their food. We think many reindeers died this way this season. And mother reindeer have miscarriages if they don't have enough to eat."
Vasiliev said that among the other obvious changes to people on the ground are the migrations of polar bears. Before 2011, it was rare to see polar bears as far south as the Laplands, yet now they are observed on local beaches and have even denned up there. That will soon bring the bears in contact with reindeer, he said.
This winter's Arctic changes unfolded as people across the globe, including along the East Coast of the United States, endured one of the harshest winters in recent memory, which shows why it is crucial to monitor the effects of climate change, Kelman said. In the zones between the Arctic and tropical islands, the best way to understand and manage coming changes is by recognizing what is happening to the people and their environments now on the forefront.
"This is not about being nice and helping 'those poor people in the Arctic and the islands,'" Kelman said. "It's not about aid or assistance. It's about working with people who are affected now by climate change, and recognizing how we're going to be affected in the future."
FOR FREE to continue reading
✔️ Unlock the full content of International Business Times UK for free
offer available for a limited time only
✔️ Easily manage your Newsletters subscriptions and save your favourite articles
✔️ No payment method required
Already have an account?
Log in
© Copyright IBTimes 2023. All rights reserved.