Ebola In America: Panic Over Virus Looks A Lot Like Early AIDS Hysteria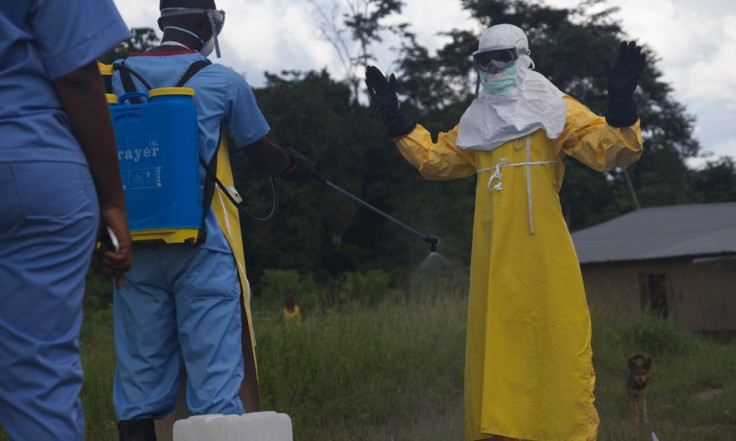 For U.S. nurse Kaci Hickox, just ordering a pizza for delivery was enough to make some people uneasy. Hickox, who remained under voluntary quarantine Thursday at her home in Maine after she returned last week from treating Ebola patients in West Africa, is one of many health workers and travelers coming to the U.S. who face suspicion -- and, in some cases, mandatory isolation -- over a virus that they most likely do not have. The apprehension that people arriving from Guinea, Liberia and Sierra Leone have often come up against is not unlike the stigma endured by suspected or confirmed patients of a different kind of virus in the 1980s.
Thirty years ago, initial confusion surrounding the AIDS virus sparked widespread hysteria and fear. Early patients faced, in addition to the physical consequences of the disease, social isolation and discrimination at work and were frequently driven from their homes or assaulted, research conducted over 20 years ago in California found. People feared touching items that had been handled by a person with AIDS, and kissing a victim of the virus was unthinkable given early misconceptions about it being spread through saliva.
Countless stories of people being treated differently for their AIDS status surfaced, especially among homosexual men who bore the brunt of AIDS stigma. Many parents in New York, the epicenter of the 1980s AIDS outbreak in the U.S., pulled their children out of school because they feared exposure to the virus. Anxious lawmakers pressed health officials on whether someone could catch the virus from a sneeze, a water fountain or a bloody nose, according to a 1985 article in Time titled "The New Untouchables."
Today, panic over Ebola has reached new levels, despite only a few infections having been diagnosed outside of West Africa. In the U.S., some Americans even took to isolating themselves in their homes after the death of Thomas Duncan, a Liberian national who was diagnosed with Ebola in Texas on Oct. 8 at a hospital in Dallas. Many New Yorkers were on edge last week after it was revealed that a U.S. doctor who treated Ebola patients abroad became ill with the virus after several days of being back in the city. "You're breathing and talking and sweating on the train in close quarters," one college student in the Bronx borough of Manhattan told New York Daily News. "What if I rub up against a wall he rubbed up against? I'm freaked out."
In Connecticut, the family of a third-grader has sued their daughter's school after she was banned from class for 21 days after returning from a trip to Lagos, Nigeria, where she attended a family wedding, according to CNN. Earlier this month, hundreds of parents at a middle school in Mississippi kept their students home because the principal had recently traveled to Zambia, an African country 3,000 miles from the epicenter of the Ebola outbreak in Liberia. A teacher in Portland, Oregon, was placed on a 21-day paid leave of absence over concerns she might have been exposed to Ebola during a recent trip to Dallas. Then there are the countless false alarms that have occurred across the country, from California to New Jersey and Delaware, in which people who thought they or others had Ebola actually did not.
Ebola hysteria is not limited to the U.S. A woman in Italy was attacked on a bus in Rome after passengers accused her of having the virus. The woman, 26-year-old Fataomata Sompare, was from Guinea but had been living in Italy for four years. She was taken to a hospital after several passengers beat her as she tried to get off the bus.
Lawmakers in U.S. states like New York and New Jersey who have enacted mandatory quarantines for health workers returning from West Africa have been criticized for overreacting to fears over Ebola, a virus that can only be transmitted through direct contact with body fluids once someone becomes symptomatic. Health experts have said such policies send a bad message and only perpetuate Ebola hysteria. And, just as in the early days of AIDS, misinformation about the Ebola virus encourages stigma against patients or suspected patients. "Returning health workers are exceptional people who are giving of themselves for humanity," a spokesman for the United Nations secretary general, Ban Ki-moon, said this week. "They should not be subjected to restrictions that are not based on science. Those who develop infections should be supported, not stigmatized."
© Copyright IBTimes 2023. All rights reserved.