Ebola Nurse In Dallas: Why One Texas Hospital Couldn't Contain Ebola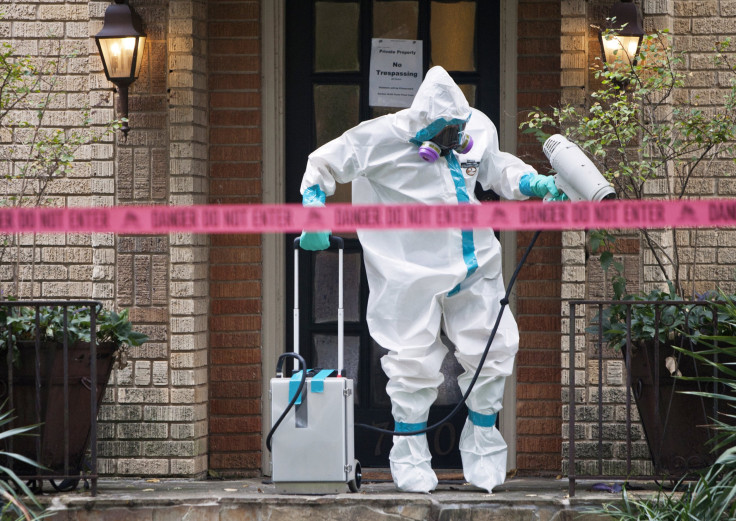 The United States has the most expensive health care system in the world, its gleaming hospitals outfitted with the latest technologies and equipment, and yet health care professionals couldn't prevent a Texas nurse treating an Ebola patient from contracting the disease last week. The spread of Ebola at the Dallas hospital has raised questions about the U.S. health care system's ability to contain the contagious virus and protect medical workers amid a growing outbreak poised to soon claim 4,500 lives worldwide.
Officials have not as yet been able to pinpoint how nurse Nina Pham contracted Ebola, the first confirmed instance of transmission in the U.S. She was one of the health care workers who treated Thomas Eric Duncan, a Liberian who died from Ebola at Texas Health Presbyterian Hospital Dallas last week. Presbyterian's chief clinical officer, Dr. Dan Varga, said Sunday that "all of our workers follow CDC's recommended precautions — gown, glove, mask and shield." But hospital records show health care workers treating Duncan didn't wear hazardous-material-type suits for two days after he was hospitalized, according to the Associated Press. Duncan also underwent kidney dialysis and intubation, both invasive procedures that are particularly likely to transmit the virus.
It's unclear whether the missteps at the Texas hospital represent isolated errors or are indicative of greater troubles in the U.S. health care system. Numerous studies show that the U.S. ranks poorly compared with its Western counterparts, including Australia, Canada, France, Germany and the United Kingdom. In June, the Commonwealth Fund determined the U.S. ranked last for quality care compared with similar industrialized nations because of lack of innovations, including public reporting of quality data, managing administrative hassles for both doctors and patients, avoiding emergency room use and a team approach to management of chronic conditions. Meanwhile, the country spends 17.7 percent of its gross domestic product on health care, much more than others.
Factors such as high patient loads, inadequate training and workplace conditions could make it difficult to ensure other health care workers treating Ebola won't contract the virus, said Jennifer Taylor, an environmental and occupational health professor at Drexel University in Philadelphia who studies safety issues in medical settings.
"The U.S. health care system focuses on patients, but doesn't necessarily focus on the people who care for them. So it does seem that this hospital did a great job of getting her all the protective gear that she needed, which is great. That's not always the case. But did she have all the training she needed?" Taylor said of Pham. "Are we prioritizing worker safety as we prioritize patient safety? She might have done everything she could for that patient to the best of her ability, but was she thinking of herself? Was the hospital thinking about her safety? Unfortunately, she is providing everyone the ability to think of this."
National Nurses United, the nation's largest nursing union, threatened to strike Monday if hospitals do not adopt stricter protections for Ebola treatment, including hazmat suits and hands-on training. RoseAnn DeMoro, executive director, said the union has received steady complaints from nurses at multiple hospitals alarmed about the inadequate preparation at their hospitals. "The time to act is long overdue," DeMoro said in a
statement
.
But any expectations that all workers at every facility within the large and diverse U.S. health care system could be perfectly trained and outfitted to deal with Ebola would be impractical because of limited resources and time, said Arthur Reingold, head of epidemiology at the University of California Berkeley's School of Public Health.
"If we truly think that we need every single health worker and every nurse to be fully equipped and prepared, then that it is major undertaking," he said. "It's certainly not straightforward to say we can get everyone to the level that can be ideal without investing a lot more resources."
That said, treatment in the U.S. is clearly superior to the care provided in Sierra Leone, Liberia and Guinea, the nations at the epicenter of the outbreak that began in March and appears to be spreading into Europe and the U.S. A nurse in Spain also recently contracted Ebola from a patient who had traveled from West Africa.
"If you and your beloved had a choice about whether you would get care in West Africa in the affected areas or here, I don't think there's any doubt what you would choose. I know what I would choose," Reingold said. "Now, is that to say that the care would be perfect anywhere you can go in the U.S.? Well, that's not true for any condition."
After Pham's diagnosis, the federal Centers for Disease Control and Prevention recommended that health officials look more closely at the protective gear that nurses, doctors and hospital assistants use when treating Ebola patients. Federal officials are also considering requiring that Ebola patients be transferred to hospitals with special containment units and experience in treating the disease.
"The care of Ebola patients can be done safely, but it's hard to do it safely," Dr. Thomas R. Frieden, director of the CDC, told reporters Sunday. "Even a single, inadvertent innocent slip can result in contamination."
Dr. Eden Wells, an epidemiology professor at the University of Michigan's School of Public Health, said Pham's diagnosis sounded an alarm among health care workers across the globe to stay vigilant when confronted with the threat of infectious diseases. "I don't think it's reflective of a poor health care system. I thinks it's reflective of a very insidious virus that doesn't require much to contract," Wells said. "Even in the best of situations, we are simply human, and sometimes a gap or a chink in armor can lead us to get exposed."
FOR FREE to continue reading
✔️ Unlock the full content of International Business Times UK for free
offer available for a limited time only
✔️ Easily manage your Newsletters subscriptions and save your favourite articles
✔️ No payment method required
Already have an account?
Log in
© Copyright IBTimes 2023. All rights reserved.