Ebola Outbreak Update: Withdrawal Of US Troops From Liberia Isn't 'Mission Accomplished,' Obama Says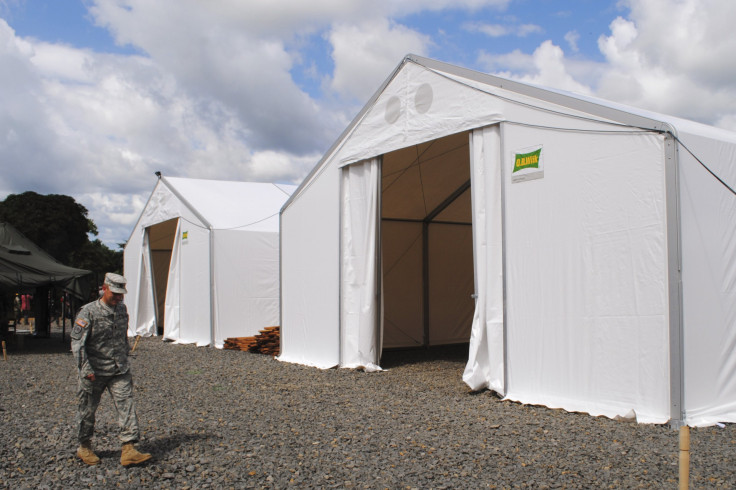 Six months after U.S. President Barack Obama announced the deployment of some 3,000 troops to Liberia to combat the Ebola virus disease outbreak in West Africa, he ordered Wednesday an accelerated drawdown to 100 soldiers by April. Slammed for being slow to respond to the Ebola crisis last year, Obama's efforts are now receiving praise for contributing to the dramatic drop in the number of such cases, which were once projected to reach 1.4 million.
Obama said Wednesday's announcement was not to declare "mission accomplished" but to "mark a transition in our fight against this disease." The president said: "While our troops are coming home, America's work is not done. Our mission is not complete. ... Our focus is getting to zero [cases.] We're shifting our focus from fighting the epidemic to now distinguishing it."
The military deployment instilled confidence in health workers, gave Liberia the updated facilities it needed to treat Ebola and was a major factor in the slowdown of the outbreak, many health officials said. Ebola cases have been in a steep decline in recent weeks, from 2,032 cases in a 21-day period before Nov. 26 to 371 in the 21 days before Wednesday, according to the World Health Organization. In Liberia, only a handful of cases have been reported this week.
"You don't need 3,000 troops who are largely there to build things," said J. Stephen Morrison, senior vice president at the Center for Strategic and International Studies and director of its Global Health Policy Center. "The things that need to be built are built," he said. The CSIS is a bipartisan think tank based in Washington.
The military's mission in Liberia -- to build Ebola treatment centers and provide the infrastructure to help health workers treat patients -- was narrow and did not include medical personnel. Morrison, who recently returned from Liberia, said the mission "set the stage for building up the infrastructure that they were directly responsible for building," including command and control centers, getting contractors to staff the medical facilities the military built and getting data systems in place to track cases.
While it's hard to determine the main factor responsible for the decline in Ebola cases, the American military brought "stability and confidence at a really tough time," said Thomas Tighe, CEO and president of Direct Relief, a Santa Barbara, California-based nonprofit organization that chartered 747s to bring in protective gear such as hundreds of tons of gloves, gowns, masks and suits for health-care workers combating Ebola. "A lot [of the credit] goes to the people in Liberia and Sierra Leone, who shouldered most of this on their own," he said.
Laurie Garrett, a senior fellow for global health at the Council of Foreign Relations who has been to Liberia, said aside from the construction headed by the U.S. military, the presence of the troops also prompted the Liberian public to take the Ebola outbreak more seriously. The country has a literacy rate of about 50 percent, and many Liberians didn't even believe Ebola was a problem, she said.
"[W]hen they saw soldiers in military fatigues marching through the streets and building hospitals, they said, 'Wow, this is real,'" Garrett said. "They thought if the American military was here, it was real."
Only about 100 troops will remain in Liberia, while 2,700 will return to their bases in the U.S. "The military fulfilled its mission as stipulated by the White House," said Garrett, who spoke to members of the Army's 101st Airborne Division serving in Liberia. "There's really no good reason for the military to stay any longer. They were eager to go home. And you have to really ask: 'At what point is their mission fulfilled?'"
While the White House-mandated mission was completed, there is an argument to be made that the troops should be sent to Sierra Leone, where 10,000 cases have been reported since May, according to Garrett. But the British military is in Sierra Leone, and British soldiers "felt they had that corner on that block," she said. "After scouring the situation in ways [the U.S. military] might be able to be helpful in Sierra Leone, I believe it was considered that the mission was accomplished in Liberia, and that was the prime mission."
Meanwhile, the Ebola treatment centers built by American troops are temporary structures that may not be able to withstand the coming rainy season, Garrett said. "At this point, it's up to the Liberian government to decide what they want to do to these structures. It's a real waste to just leave these platforms with tents," she said.
What Ebola-affected countries need most are infectious-disease experts, more mobile laboratories and specialized technical training, which are not under the military's purview, the CSIS' Morrison noted. However, he pointed out, "[T]he military came in here, they came in big [and] they delivered on the key things they promised they would deliver on."
FOR FREE to continue reading
✔️ Unlock the full content of International Business Times UK for free
offer available for a limited time only
✔️ Easily manage your Newsletters subscriptions and save your favourite articles
✔️ No payment method required
Already have an account?
Log in
© Copyright IBTimes 2023. All rights reserved.