Ebola In The US: Jeb Bush Says Obama Is 'Incompetent' On Virus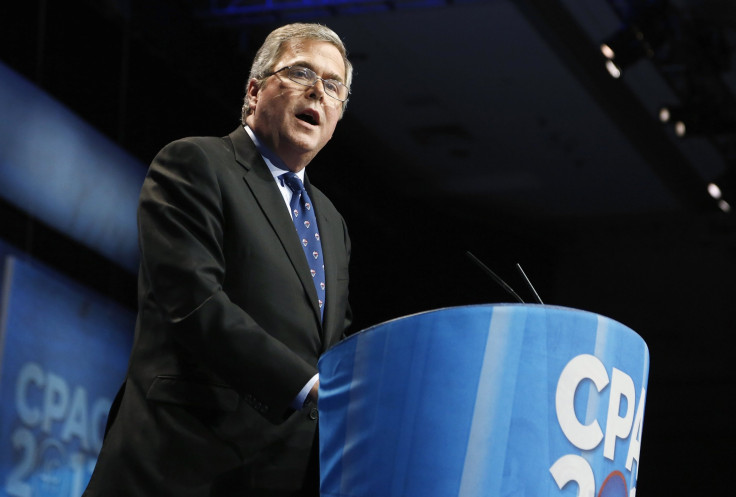 President Barack Obama's handling of the first cases of Ebola in the United States was "incompetent" and created unnecessary alarm over his response to the situation, former Florida Gov. Jeb Bush, a potential 2016 presidential candidate, said Tuesday. Bush cited his response to anthrax mailed to a Florida-based tabloid after the Sept. 11, 2001 terrorist attacks as an example of how to lead when the public is frightened.
"It looked very incompetent to begin with, and that fueled fears that may not be justified," Bush said of how Obama handled the Ebola cases, according to the Associated Press. The former Florida governor and brother of ex-President George W. Bush also defended the quarantine plan created by New Jersey Gov. Chris Christie and New York Gov. Andrew Cuomo, which has come under fire from the Obama administration and U.N. Secretary General Ban Ki-moon. Other governors, including Illinois Gov. Pat Quinn, have also followed suit. "And now you have states that are legitimately acting on their concerns, creating a lot more confusion than is necessary," Bush said.
He said Obama should have done more to calm Americans' fears over Ebola, using his actions as Florida governor as an example after anthrax was mailed to a tabloid based in the Sunshine State following 9/11. "We gave people a sense of calm, what the plan was," Bush said. "We talked in plainspoken English. We were totally engaged."
Bush's remarks on how Obama is handling Ebola in the U.S. were part of a wide-ranging speech in Nashville, Tennessee, on Tuesday. He said that he would be mulling over a run at the 2016 Republican presidential nomination in the next few months and then choosing "what's in my heart," according to the Tennessean.
"I'm totally blessed," Bush said. "I'm not like really freaking out about this decision, to be honest with you."
© Copyright IBTimes 2023. All rights reserved.