Eduard Folayang Denies Longtime Rival's Involvement In Team Lakay Exit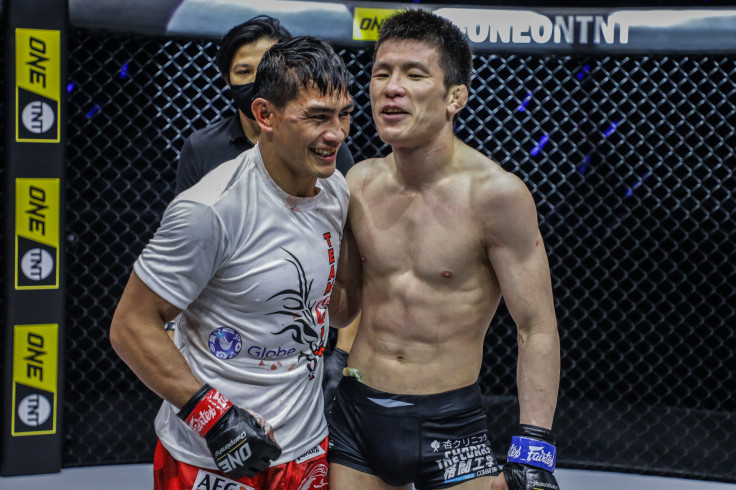 KEY POINTS
Eduard Folayang confirms that Shinya Aoki's visit to the Philippines was harmless
"I made the decision [to leave] based on my own decisions," Folayang says
Folayang and the three others who left Team Lakay are reportedly still in the area
The departure of Eduard Folayang from Team Lakay sparked several murmurs about who could have instigated it and where he could be headed, but the beloved Filipino mixed martial artist was quick to deny the rumors that Shinya Aoki played a part in his decision to leave the stable.
Speaking with Radyo Pilipinas 2's program host John Mogol, Folayang dispelled such rumors.
"I'm always open to working with other fighters. It's just funny to me because people were thinking that Shinya Aoki influenced me to leave, but I need to clear this up," Folayang stated in a mix of Filipino and English.
"I made the decision [to leave] based on my own decisions. Of course, Shinya is a very big part of my career, but at the same time, we wouldn't want anyone who's not involved in the situation being rumored to be involved in my own decisions."
The Japanese star made waves on social media when local media reported that Aoki was in the Philippines for a private training session with Team Lakay in early February, even drawing the praise of his longtime rivals.
Folayang also told Mogol that he was thankful for Aoki taking a couple of days to join them at the La Trinidad, Philippines-based camp,
Recently, Team Lakay mentor Mark Sangiao likewise made an appearance with a local radio station to give his side of things in the wake of the fallout of his wards' respective statements and also addressed the rumors that Aoki played a role in it.
"Maybe he (Shinya Aoki) is the reason, but it's hard to tell, honestly. I don't know how those rumors started since he only came here to help train the guys," Sangiao mentioned.
With regards to the future of those who left Team Lakay, International Business Times sports editor and combat sports analyst Nissi Icasiano confirmed that Folayang, Honorio Banario, Kevin Belingon and Joshua Pacio are still in the La Trinidad area.
Icasiano also revealed that Folayang is exploring training overseas alongside Pacio.
A few things that remain consistent in all of the reports thus far are that the Team Lakay exodus was self-determined and there were no hard feelings between the group and their former gym.
Moreover, the reason for their departure is career-driven.
Folayang's last bout with ONE Championship came in a controversial TKO loss at the hands of Edson Marques at ONE Fight Night 5 in December 2022, which had many asking whether it would be it for his storied career that features two stints with the ONE lightweight title.
But based on his decision to leave the gym that helped him become the "Face of Philippine MMA," Folayang does not appear to be ready to hang up the gloves just yet.
© Copyright IBTimes 2023. All rights reserved.