Shinya Aoki Draws Rave Reviews From Team Lakay Members During Private Workout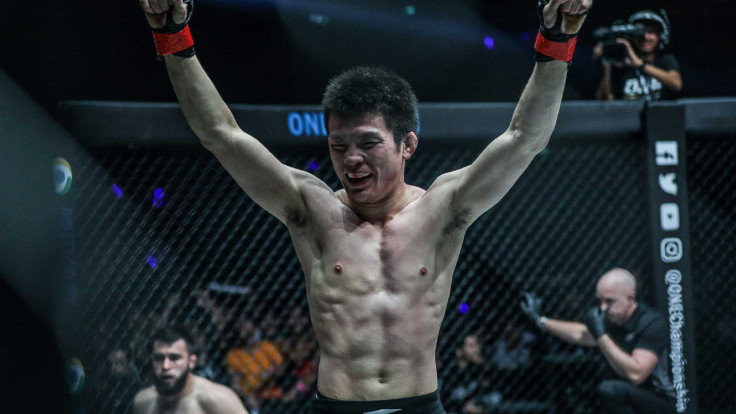 KEY POINTS
Shinya Aoki visited the Philippines as part of his promise to longtime rival Eduard Folayang
Team Lakay flyweight Geje Eustaquio and head coach Mark Sangiao were grateful for Aoki's visit
"We're going to become Super Saiyans now," Eustaquio joked about training with Aoki
Team Lakay welcomed Shinya Aoki to their gym in La Trinidad, Philippines, and former ONE flyweight champion Geje Eustaquio was one of those who got a taste of the Japanese's grappling wizardry first-hand.
International Business Times sports editor and combat sports analyst Nissi Icasiano was able to speak with Eustaquio following their training sessions with Aoki.
"We really enjoyed what he was teaching to us. At the highest levels of the sport, people are expecting chokes and armbars, but Shinya's extremely good at what he does. He taught us the small details, which are very important when it comes to submission grappling," Eustaquio mentioned.
The former two-time ONE lightweight titleholder from Shizuoka, Japan is one of mixed martial arts' (MMA) most recognized talents when it comes to grappling as evidenced by his 32 submission victories throughout a career that dates back to November 2003.
Aoki, now 39, also earned ONE Championship's award for the Submission of the Year in 2021 against James Nakashima after climbing onto the American's back and securing a rear-naked choke in the first round.
Visiting the Philippines as part of his promise to storied rival Eduard Folayang, Aoki sought to impart his knowledge to the Filipino stable as they continue on their quest to win gold.
Eustaquio heaped a ton of praise towards Aoki about being in their famed gym and how different he is from others within the sport.
"He's the type of athlete who loves sharing his experience rather than keeping it all to himself. There are those we've encountered in this industry who teach the most common things that you can easily look up on YouTube. But for Shinya, he's happy to show us the right techniques and he enjoys answering our questions," Eustaquio happily mentioned.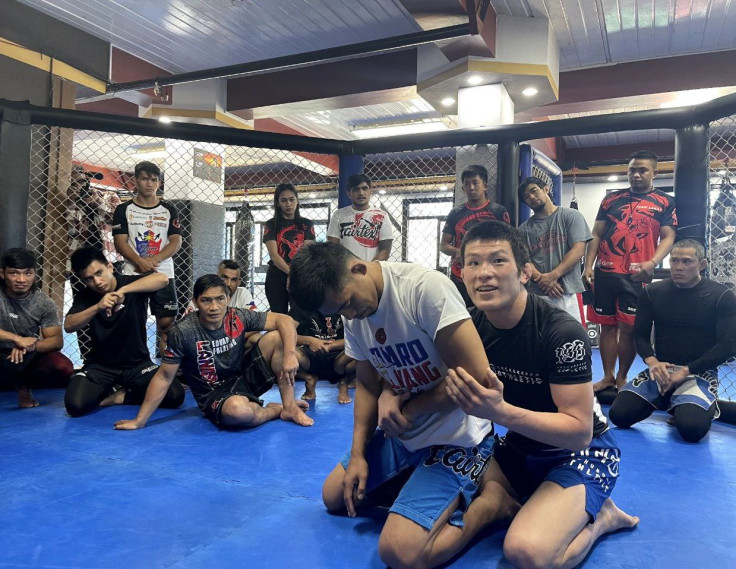 Even Team Lakay head coach Mark Sangiao had his fair share of compliments for Aoki after the fighter-turned-trainer witnessed how "Tobikan Judan" rolled with his current crop of students.
Among all the things that Aoki has imparted to them, Sangiao revealed to Icasiano that he was surprised about how the Japanese superstar mastered overlooked techniques and how to implement them better.
"What we usually do is just focus on the hips, but he takes advantage of unexpected spots like the underarms. Basically what he does is hold onto the bone to control and then use his head to guide his body, and only then does he drag them down. It's so basic," Sangiao beamed.
As a coach, Sangiao is no stranger to having his wards go up against Aoki after Honorio Banario and, more notably, Folayang faced him multiple times in the cage.
At ONE: Century Part 2, Aoki only needed less than a minute to put away Banario with a D'Arce choke in front of his home crowd.
Meanwhile, Aoki's trilogy with Folayang marks a high point in both of their careers.
Despite his camp's long history with Aoki, Sangiao was grateful for him taking the time to visit them.
"We know that he is a legend in the grappling scene. In spite of fighting Eduard and Honorio, he decided to come here and share his knowledge not just with the two of them, but with the whole team," Sangiao stated.
Team Lakay will be back in action on February 24 at ONE Fight Night 7 as Danny Kingad will face Eko Roni Saputra for the former's first match since December 2021.
In Sangiao's eyes, having Aoki train his fighters came at just the perfect time.
"The timing is just right because we're facing grapplers and Shinya, along with many others soon, coming in to help us in that aspect is just perfect timing. Expect more world champions to come train with us," he told Icasiano.
Much has been said about the Filipino delegation's grappling, but Eustaquio made it known that the entire camp knows of their detractors and has but a simple message for them.
"You always criticize our grappling, but here we are, training with Shinya Aoki himself. Don't tell me you guys are better than our teacher. We are doing our assignments every day to the point that legends are the ones who are coming to teach us," he mentioned.
"Watch out, we're going to become Super Saiyans now," Eustaquio jokingly added.
© Copyright IBTimes 2023. All rights reserved.