Education Secretary Arne Duncan To Step Down In December: Report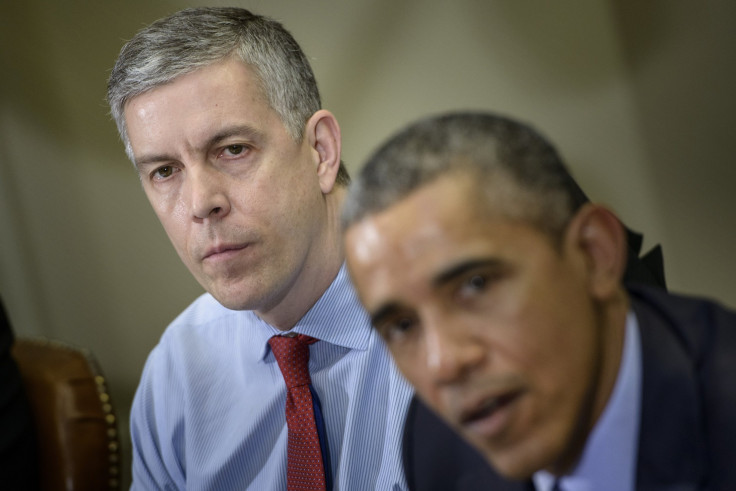 U.S. Secretary of Education Arne Duncan has announced that he plans to step down from his post in December, the Associated Press reported late Friday morning. Duncan wants to move back to Chicago with his family but still be involved in "the work of expanding opportunity for children," according to a letter he wrote to his staff that was examined by the AP. "It's with real sadness that [I] have come to recognize that being apart from my family has become too much of a strain, and it is time for me to step aside and give a new leader a chance."
Duncan's wife and two children moved back to Chicago earlier this year, the Washington Post reported.
Duncan took office on Jan. 20, 2009, as part of President Barack Obama's original cabinet, Politico reported, making him one of the current administration's longest-serving cabinet members. He reportedly will be replaced by John King Jr., the senior adviser delegated duties of deputy secretary of education. King formerly was the education commissioner for New York state.
Duncan has proved to be a controversial figure over the past few years for starting the $4.35 billion Race to the Top grant program, which critics said incentivized states' adoption of Common Core. A national set of educational standards, Common Core has been cast as a one-size-fits-all program that promotes standardized testing. Last summer, the National Education Association -- the largest labor union in the country -- voted to call for Duncan's resignation.
This week, Duncan introduced a proposal to stop what he called the school-to-prison pipeline, or a student discipline system that relies on law enforcement and disproportionately hurts minorities. He said states should use the $15 billion they'd save to raise teacher salaries.
Obama was due to address Duncan's departure in a news conference scheduled for 3:30 p.m. EDT Friday.
© Copyright IBTimes 2023. All rights reserved.
FOLLOW MORE IBT NEWS ON THE BELOW CHANNELS