Egypt army delivers ultimatum to Tahrir protesters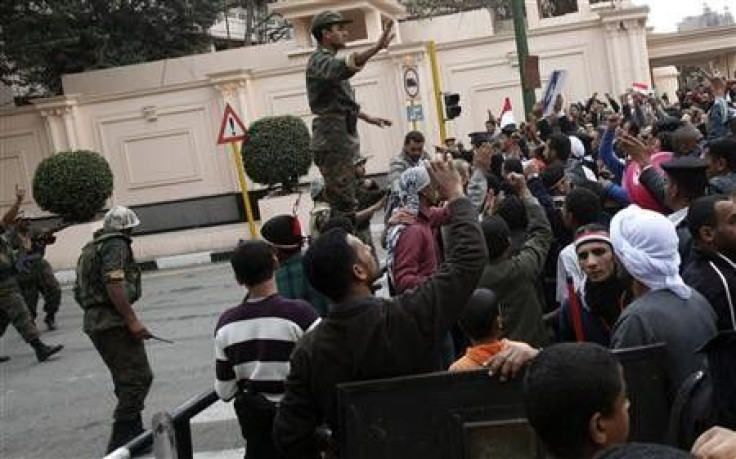 Egypt's military delivered an ultimatum on Monday to dozens of committed protesters in Tahrir Square, nerve centre of a movement that toppled Hosni Mubarak, to leave and let life return to normal or face arrest.
Soldiers had scuffled with demonstrators the day before as they reopened the central Cairo square to traffic. Some protesters insisted on staying, determined to see through their demands for civilian rule and a free, democratic system.
We are cordoned by military police. We are discussing what to do now, protester Yahya Saqr told Reuters, adding that a senior officer had told them they risked arrest if they stayed.
Protest leaders say Egyptians will demonstrate again if their demands for radical change are not met. They plan a huge Victory March on Friday to celebrate the revolution, and perhaps to remind the military of the power of the street.
Egypt's generals, who played an important role in the anti-Mubarak revolt by making no effort to crush it, are asserting their control following Mubarak's overthrow.
Egyptians generally respect the 470,000-strong military, which receives about $1.3 billion annually in U.S. aid and was shielded from public criticism or scrutiny in the Mubarak era, but some in the opposition still mistrust its intentions.
The 18-day revolt against Mubarak's 30-year rule has spawned a rash of protests by workers and even policemen. Disgruntled employees are already pressing for better deals.
The interim military rulers called a bank holiday on Monday after disruption in the banking sector and there is a national holiday on Tuesday to mark the Prophet Mohammad's birthday.
STATE OF EMERGENCY
Having suspended the constitution and dissolved parliament on Sunday, moves welcomed by those who saw both institutions as geared to serve Mubarak's personal ends, the military council was planning to issue orders intended to stifle disruption and get the country back to work, a military source said.
Free and fair elections will be held under a revised constitution, the military said, but it gave no timetable beyond saying it would be in charge for a temporary period of six months or until the end of elections to the upper and lower houses of parliament, and presidential elections.
Political analysts were beginning to ask how long the whole process of amending the constitution, having a referendum on it and then holding elections would all take.
As the Revolution on the Nile sent shock waves around the Middle East, Algeria said a 19-year-old state of emergency would be lifted in days, brushing off concerns that recent protests there could escalate as in Tunisia and Egypt.
Egypt's army said it wowuld lift the hated state of emergency, implemented after the assassination of Mubarak's predecessor Anwar Sadat by Islamist soldiers and kept in place by Mubarak to stifle dissent, but has not specified a timetable which has troubled protesters.
The cabinet, appointed by the president last month to try to persuade protesters he was introducing a fresh team to introduce reforms, will go on governing, reporting to the army chiefs as it did to Mubarak.
The two big questions now are who is going to be on the constitutional committee to redraft (the constitution), and are there any guarantees that what they come up with is then going to be deemed the way ahead, said Rosemary Hollis, professor of Middle East Policy Studies at City University in London.
Any transition to democracy will be fraught with difficulty, and old ways of doing things may die hard in a country where the ruling party routinely rigged elections and candidates used bribery, hired thugs and dirty tricks to ensure victory.
Existing registered parties are mostly small, weak and fragmented. The Islamist Muslim Brotherhood, which under the now suspended constitution could not form a party, may be the best organised group but its true popularity has yet to be tested.
Its strength worries some in the United States, which backed Mubarak, as well as in Israel, for which Mubarak's Egypt was an important ally in an predominantly hostile region.
The army said at the weekend it would uphold Egypt's international obligations. These include its peace treaty with Israel, whose defence minister has been in touch with his Egyptian counterpart, who heads the military council.
Prime Minister Ahmed Shafiq said at the weekend that Mubarak was at his villa in the Red Sea resort of Sharm el-Sheikh.
NEWS VOICES LEARN POWER OF PROTEST
Hundreds of employees demonstrated outside a branch of the Bank of Alexandria in central Cairo on Monday, urging their bosses to leave, leave, echoing an anti-Mubarak slogan.
At least 500 people demonstrated outside the state television building all calling angrily for higher wages.
If they distributed all the billions of dollars that Mubarak stole and distributed it to the 80 million Egyptians, it would be enough, Safat Mohamed Guda, 52, a widow with five children, told Reuters.
The big people steal and the little people get nothing, said another demonstrating state employee, Ahmed Ali, 37.
Protests, sit-ins and strikes have occurred at state-owned institutions across Egypt, including the stock exchange, textile and steel firms, media organisations, the postal service, railways, the Culture Ministry and the Health Ministry.
Workers cite a series of grievances. What unites them is a new sense of being able to speak out in the post-Mubarak era.
The army, however, is keen to get Egypt working again to restart an economy which was damaged by the momentous events and to bring back tourists and attract foreign investment.
The army source said military authorities were expected to issue an order soon that would ban meetings by labour unions or professional syndicates, effectively forbidding strikes, and would tell all Egyptians to get back to work.
There would also be a warning from the military against those who created chaos and disorder, the source said, adding the army would, however, acknowledge the right to protest.
After three weeks of economic dislocation, millions of Egyptians are keen to start earning again to survive.
RED BERETS AND AN ULTIMATUM
In Tahrir Square, military police in red berets had surrounded the protesters, who numbered about 40. The head of the military police was at the scene. Activists said two protesters had been detained.
Most of the anti-Mubarak banners in the square had been removed. Images of young Egyptians killed in the unrest, proclaimed as martyrs of the revolution, still hung from lampposts.
Volunteers cleared away rubbish and swept the streets as Cairo traffic raced by. Some removed what was left of the blankets and bedding used by the protesters who had camped out in the square for two weeks.
In the central traffic circle, which had been covered in dozens of tents until Sunday, motorists were greeted by a big Egyptian flag. On it was written: It's a beautiful day in Tahrir Square. We love you Egypt.
© Copyright Thomson Reuters 2023. All rights reserved.