Egypt Opposition Spurns Morsi's Call For Dialogue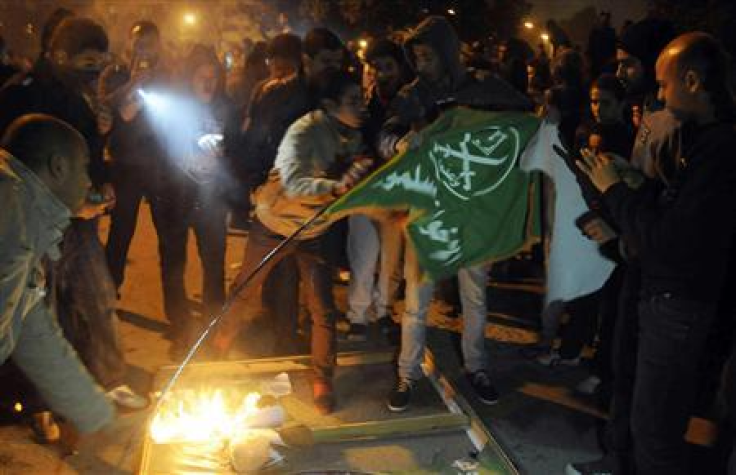 Opposition demonstrators Thursday night rejected a call from Egyptian President Mohamed Morsi for a national dialogue after deadly clashes around his palace, demanding the "downfall of the regime" -- the chant that brought down Hosni Mubarak.
Morsi said in a televised speech late Thursday that plans were on track for a referendum on a new constitution on Dec. 15 despite clashes that killed seven people Wednesday night. He proposed a meeting on Saturday with political leaders, "revolutionary youth" and legal figures to discuss the way forward after the vote.
But opposition groups rejected the offer, and fresh demonstrations were called for Friday, Reuters reported.
The April 6 movement, which played a prominent role in igniting the revolt against Mubarak said on its Facebook page that Friday's protests would deliver a "red card" to Morsi, Reuters reported.
Egypt has been plunged into turmoil since Morsi issued a decree on Nov. 22 awarding himself wide powers and shielding his decisions from judicial review.
In his address, the president said: "I call for a full, productive dialogue with all figures and heads of parties, revolutionary youth and senior legal figures to meet this Saturday."
Several thousand opposition protesters near the palace waved their shoes in derision after his speech and shouted "Killer, killer" and "We won't go, he will go" - another of the slogans used against Mubarak during the revolution.
The Cairo headquarters of the Muslim Brotherhood, the movement that propelled Morsi to victory in the June election, was set afire, and other offices of its Freedom and Justice Party were attacked.
"Two hundred thugs went to the headquarters. Security tried to prevent them, but some got through the back door, ransacked it and set it on fire. It is still burning now," Brotherhood spokesman Mahmud Ghozlan said, according to Al-Arabiya.

Reporters at the scene said there were fierce clashes between the protesters and police, who fired tear gas.
Morsi said his entire decree would lapse after the constitutional referendum, regardless of its result. He also promised that a new constituent assembly would be formed to redraft the constitution if Egyptians rejected the one written in the past six months.
The Republican Guard, an elite unit whose duties include protecting the presidential palace, restored peace Thursday after a night of violence outside the palace, ordering rival demonstrators to leave by mid-afternoon, Reuters reported.
Morsi supporters withdrew, but opposition protesters remained, kept away by a barbed wire barricade guarded by tanks. By evening their numbers had swelled to several thousand.
A total of 154 protesters have been detained after the violent clashes outside the presidential palace in Heliopolis on Wednesday night, leaving five dead and over 1,000 injured, the newspaper Al-Masry al-Youm reported. At least 49 of the detainees were brought to the Heliopolis police station by the Muslim Brotherhood.
Initial reports are that five of the detainees are Brotherhood members while the rest come from the opposition. Two of the detainees have gone on a hunger strike in protest.
Abdallah al-Sennawy, spokesman for the Arab Nasserist Party and editor of its newspaper, told Al-Masry al-Youm: "Morsi's invitation for dialogue will not be accepted by civil forces. The constitutional declaration is still in place, the referendum will be held as scheduled." 


The National Salvation Front, an opposition alliance led by former presidential candidates Mohamed ElBaradei, Hamdeen Sabbahi and Amr Moussa, said in a statement released before the president that it stands by its demands the emergency decree be canceled, the referendum postponed, that Brotherhood activists be investigated for assaults on secular activists, and for massive demonstrations on Friday to voice those demands under the motto "the Red Card."
"We will not attend the Saturday meeting," Abdel Ghaffar Shokr, chairman of the Socialist Popular Alliance Party and a member of the front. "This is a mockery of the demands."
Morsi also received a phone call from President Barack Obama, who expressed his "deep concern" about the deaths and injuries Wednesday night, the White House said in a statement.
"The president emphasized that all political leaders in Egypt should make clear to their supporters that violence is unacceptable," the statement said, chastising both sides for failing to urge restraint on their followers.
© Copyright IBTimes 2023. All rights reserved.