Egypt Protests 2014: 'Muslim Youth Intifada' Prepares To Face Sisi Government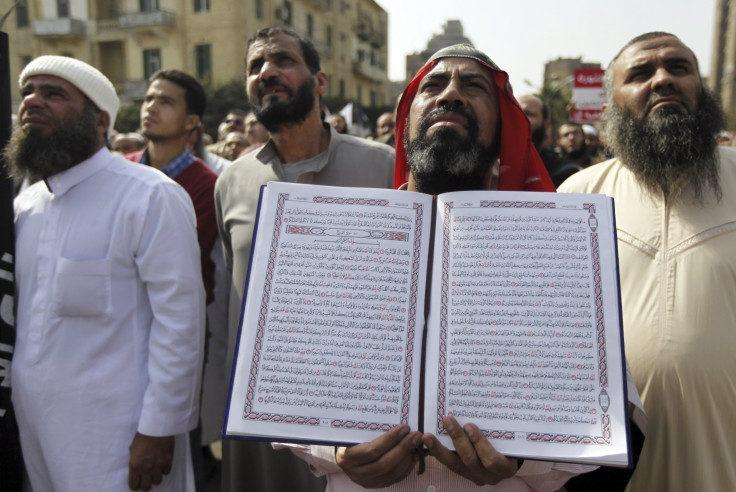 Islamist groups in Egypt are gearing up for anti-government demonstrations across the country Friday that organizers are billing as an Islamic uprising against the regime of Egyptian President Abdel Fattah el-Sisi. The "Muslim Youth Intifada," as the movement is known, has sparked fears of renewed instability, with many Egyptians bracing for bloody confrontations between security forces and protesters. But as real as the potential for more bloodshed may be and despite the warnings that have emanated from across the Egyptian political sphere, it is still far from clear this movement poses any significant threat to the Sisi government.
"We can potentially expect significant violence because the government said it was willing to use lethal force if necessary," said Samer Shehata, an associate professor of Middle East studies at the Department of International and Area Studies at the University of Oklahoma. "But I would find it hard to believe the potential protests could really shake the government or threaten it in any way or lead to some kind of a crisis."
It is unlikely the ultra-conservative Salafi Front group that has been spearheading the movement has the kind of widespread support among Egyptians that would generate significant turnout at demonstrations, Shehata said. "That, of course, limits the potential size of this because it is going to be an Islamist protest as opposed to a popular, multi-political current uprising," he said.
The Muslim Brotherhood unexpectedly lent its support Sunday to the demonstrations, though the blacklisted group did not say whether it would actually participate. Other anti-government opposition groups, including the liberal April 6 Youth Movement and the centrist Strong Egypt party, have refused to participate in the demonstrations, specifically pointing to the focus on Islamic identity as a reason for their disavowal, according to a report from Egypt's Ahram Online.
Compounding the issue for Salafi Front activists is their political isolation even among their Islamist ideological cohorts. The most prominent Salafist Muslim group, the al-Nour party, has unequivocally rejected the call for protests against the government. The Islamists behind Friday's protest "have lost all credibility," said Nader Bakkar, the official spokesman for al-Nour. "They are engaged in violent actions against the state which harms our country, which harms the Egyptian people."
What's more, the Sisi government enjoys significant support, which would help prevent the Friday protest from becoming the kind of climactic mass event that helped to bring about the ouster of Egypt's previous two presidents, according to Shaheta.
Despite the Salafi Front's shaky base of support, Egypt's government appears to be taking no chances where Friday's protests are concerned. Special forces and explosives experts are to be deployed Friday to counter "acts of violence and sabotage," Interior Minister Mohamed Ibrahim said, according to a report from Daily News Egypt. Egypt's airports are being secured against potential threats. Egyptian security forces also arrested five Salafi Front leaders Monday on accusations of sedition and anarchy, al-Arabiya reported.
Alongside these security measures are the government's political moves to counter opposition forces, including the approval of a draft anti-terrorism law that would give authorities blanket power to ban groups on charges such as "harming national unity," Reuters reported.
This disproportionate response is precisely what Salafi Front activists are hoping for, said Bakkar, who fears the Egyptian government is walking into a trap. "We know from experience that the Ministry of Interior in Egypt still does not know how to deal with protesters. They're stuck with their old mentality," he said. "I'm afraid of the reaction from policemen. Their response can damage the whole situation, which, of course, will lead to more clashes and bloodshed."
Which is why, Bakkar emphasized, it doesn't actually matter what the turnout is Friday. "[The protests] might be small," he said, however, "the main goal is not victory, but to make an emotional point."
© Copyright IBTimes 2023. All rights reserved.