Egypt Security Forces Start Clearing Pro-Morsi Sit-Ins In Cairo; Casualties Reported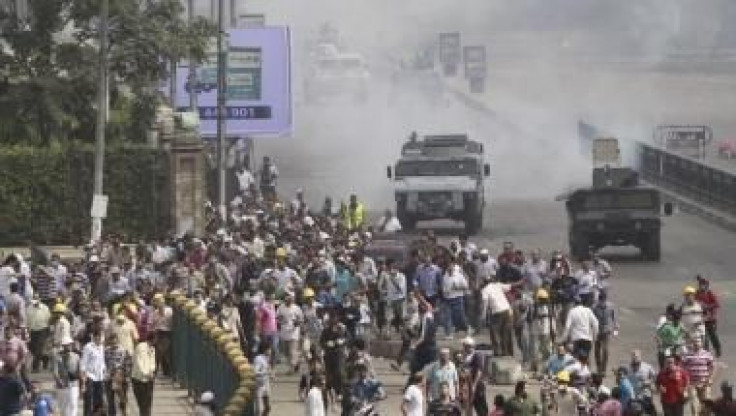 Egyptian security forces, equipped with armored vehicles, bulldozers and tear gas, launched a crackdown in Cairo, early on Wednesday, to clear two camps where supporters of ousted President Mohamed Morsi have been staging sit-ins, Egyptian media reported.
The Egyptian government's Ambulance Organization said five people were killed and at least 52 wounded, but according to Morsi's Muslim Brotherhood, as many as 121 people were killed in the crackdown, Egypt's Ahram Online reported.
Egypt's state television said two security personnel died and six were wounded while attempting to clear the sit-ins.
At least 200 pro-Morsi protesters at the Nahda camp near the Giza Zoo and the second camp at Rabaa al-Adawiya square were arrested for possessing weapons, state news agency MENA reported.
"In accordance with government instructions to take necessary measures towards the sit-ins at Rabaa Al-Adawiya and Nahda, and for the safety of the country, security forces started taking measures to disperse the sit-ins early Wednesday," the interior ministry said in a statement, reported by Ahram Online. "There are paths available for those who are present in the sit-in from which they can safely exit."
The interior ministry said armed individuals present at the camps targeted security personnel with live ammunition when they began evacuating the protesters, adding that police only used tear gas despite an attack by the protesters, Ahram Online reported.
A Muslim Brotherhood spokesman, Ahmed Aref, in a statement published on the organization's website on July 31, said that the Rabaa Al-Adawiya and Nahda Square sit-ins have been peaceful and a "legitimate expression of opinion."
"I am shocked at the double standards used in dealing with Tahrir Square and Itehadia Presidential Palace protests on the one hand, which are being protected, and Rabaa Al-Adaweya and Nahda Square protests, which are being falsely accused of becoming a threat to national security," Aref said.
Television channels aired footage of security forces firing tear gas at protesters at Rabaa al-Adawiya square, while all entrances to the square were secured by riot police. Some Egyptian reporters said their cameras were confiscated by police while they were trying to capture the crackdown, according to Ahram Online.
A Brotherhood spokesman, Gehad El-Haddad, said police snipers targeted Rabaa protesters from building rooftops near the square, Ahram Online reported.
At least 300 people are estimated to have died in the violence that erupted after Morsi was ousted on July 3 and was replaced by an army-backed interim government, led by Adly Mansour.
© Copyright IBTimes 2023. All rights reserved.
FOLLOW MORE IBT NEWS ON THE BELOW CHANNELS