EgyptAir Hijacker Arrested At Cyprus Airport After Demanding Release Of Female Prisoners In Egypt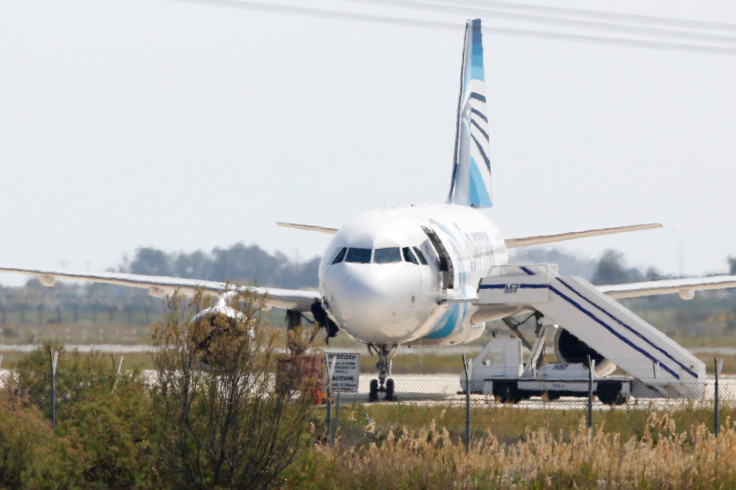 UPDATE: 10:21 a.m. EDT — No explosives have been found on board the EgyptAir flight that hijacked Tuesday before being diverted to Cyprus. The prime suspect, identified as Seif Eldin Mustafa, claimed to have a suicide belt and has been characterized by officials as being mentally unstable. It later turned out that the device Mustafa was wearing did not have any explosives attached to it.
The EgyptAir flight took off from the city of Alexandria and was headed to Cairo before Mustafa allegedly hijacked the plane.
UPDATE: 9:40 a.m. EDT — Egyptian tourism company Lions Trips is using the EgyptAir hijacking incident as fodder for promoting its trips on Facebook, saying in Arabic "who knows you might get hijacked and go to Cyprus."
UPDATE: 9:28 a.m. EDT — The reported explosive that the alleged hijacker was wearing around his waist has been determined not to be a suicide belt, an Egypt aviation official said, according to Reuters.
Meanwhile, a blurry image uploaded by Reuters purportedly shows the man who authorities believe is the hijacker of an EgyptAir flight as he left the plane parked at Larnaca International Airport in Cyprus. The hijacker was taken into custody minutes later.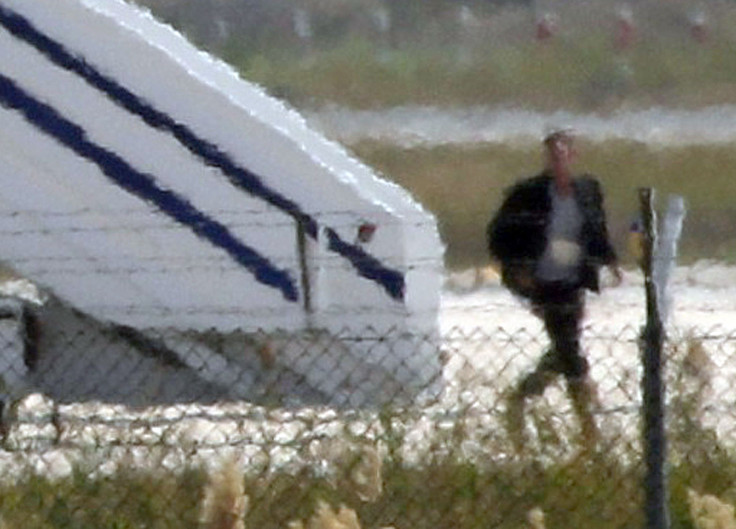 UPDATE: 9:02 a.m. EDT — Egyptian Prime Minister Sherif Ismail said the man who hijacked a Cairo-bound EgyptAir flight and forced it to land in Cyprus Tuesday was an Egyptian national who demanded a meeting with European Union officials or to continue flying to another airport. The motive for the takeover remains unknown, Reuters reported.
"At some moments he asked to meet with a representative of the European Union, and at other points he asked to go to another airport, but there was nothing specific," Ismail told reporters at a press conference, adding that authorities would question the hijacker to find out his true motives.
Original story:
A hijacker aboard an EgyptAir flight who forced it to land at a Cyprus airport was arrested hours later Tuesday, Cyprus' Foreign Affairs Ministry said on social media. The hijacker, identified as Seif Eldin Mustafa, was described as "unstable" and was allegedly demanding the release of female prisoners in Egypt.
EgyptAir confirmed earlier Tuesday that its domestic Flight MS181 had been hijacked en route from Alexandria to Cairo. The company said a passenger on board was believed to be in possession of an explosive belt and had forced the pilot to divert the flight to Larnaca International Airport in Cyprus.
The hijacker was apparently demanding the release of some unspecified female prisoners in Egypt, suggesting a political motive for the takeover, according to Cyprus Broadcasting Corp. and private broadcaster Antenna. Cyprus' Foreign Affairs Ministry said the incident was not terror-related, Reuters reported.
"What we have clarified ... is that it's not about terrorism. It appears to be a person who is unstable, in an unstable psychological state, and the issue is being handled accordingly," Foreign Ministry official Alexandros Zenon told journalists at a press conference.
The Airbus A320, carrying 56 passengers, seven crew members and one security guard, had been parked at the airport for hours when the hijacker reportedly released everyone aboard except three passengers and four crew members, following negotiations with authorities. The hijacker's estranged wife was reportedly taken to the airport to participate in the negotiations, according to the Guardian.
Images from Cypriot TV showed people leaving the plane, including one person who climbed out of an open cockpit window and ran away. EgyptAir said it had dispatched another flight to fetch the freed passengers and bring them to Cairo, their initial destination.
© Copyright IBTimes 2023. All rights reserved.