Egyptian President Morsi Invited To White House As Obama Opens To Islamists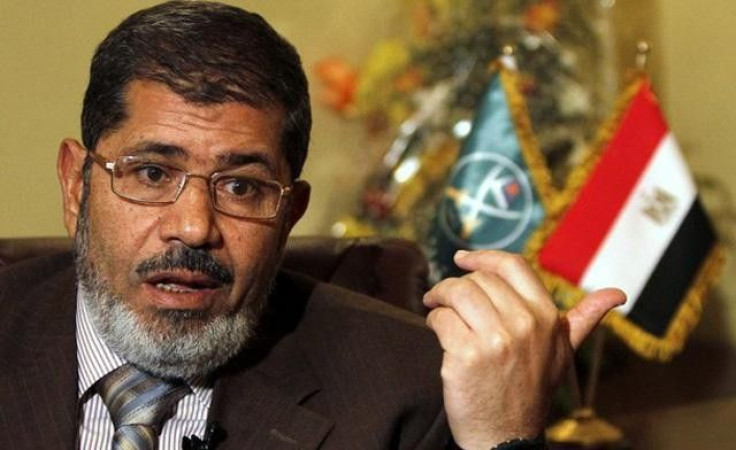 The White House has invited Egypt's recently elected president Muhammad Morsi to visit the U.S. in September, as the Obama administration's latest overture to Egypt's newly empowered Islamists.
For years, the United States viewed Islamist organizations like the Muslim Brotherhood warily and steadfastly supported the government of former president Hosni Mubarak. The Brotherhood, a decades-old Islamist movement, was tolerated but de facto repressed under the Mubarak regime.
But the Arab Spring upended that order, pushing Mubarak from power and making the Muslim Brotherhood's Freedom and Justice Party the best-organized political force in Egypt. After it became clear that the Freedom and Justice Party would dominate parliamentary elections, the United States began reaching out.
The announcement of Morsi's visit comes as the newly elected Egyptian leader is locked in an intensifying confrontation with Egypt's military council, which has governed the country since Mubarak's ouster. The generals have moved in recent days to dissolve Egypt's parliament shortly after its election and curb the powers of the presidency.
Reuters reported that Obama has extended an invitation to Morsi. After meeting with Morsi in Cairo, U.S. Deputy Secretary of State William Burns heralded his promise to stand by international peace treaties. Egypt's treaty with Israel is viewed as a cornerstone of regional stability.
We have taken careful note and appreciated President Morsi's public statements about a commitment to international obligations, and we certainly attach great importance to Egypt's continuing role as a force for peace, Burns told Reuters.
The United States has traditionally safeguarded that status quo by furnishing Egypt's military, which exerts vast control over Egypt's government, with billions of dollars in aid. Lawmakers threatened to withhold the money this year after Egypt arrested and tried several Americans working for nongovernmental organizations, but the U.S. ultimately sent Egypt the $1.3 billion Congress had allocated before the dispute.
The intensifying confrontation between the Muslim Brotherhood and the military council could also put the White House in a difficult position, particularly if the generals continue to undermine Egypt's democratically elected government.
© Copyright IBTimes 2023. All rights reserved.
FOLLOW MORE IBT NEWS ON THE BELOW CHANNELS