'El Chapo's' Sinaloa Cartel Henchman 'The Graduate' Extradited To United States
MEXICO CITY - Mexico extradited to the United States on Friday a senior lieutenant of the Sinaloa Cartel drug gang formerly headed by Joaquin "El Chapo" Guzman, the attorney general's office said.
Damaso Lopez, known as "The Graduate" because of his higher education studies, was a former security official in Sinaloa state who rose to become one of the leaders of the cartel, authorities say. He was arrested in Mexico City last year. Lopez reportedly organised the cartel chief's escape from prison in a laundry basket in 2001.
His role in the jail break helped ingratiate him with the drug lord and he soon became Guzman's right-hand man. But after his boss was captured in 2016 he became embroiled in a power struggle with Guzman's son and brother for control of the notorious Sinaloa cartel unleashing a wave of violence in the Pacific coast states of Sinaloa and Baja California.
At the time of Lopez's arrest in May 2017, Mexican officials said he was believed to have been seeking an alliance with Guzman's rival, the Jaliso New Generation Cartel. Over the first half of this year, Sinaloa state saw 879 homicides compared to 524 over the same period last year, according to government data.
Mexico's acting attorney general, Alberto Elias Beltran, said Lopez was seen as a key witness in the case against Guzman, who was extradited to the United States in January 2017 to face drug trafficking and conspiracy charges.
Guzman's trial is expected to begin later this year.
"He's a key person as much as for the United States government as for the Mexican government," Beltran told a local radio station. "We can bring to a good conclusion the process the United States is carrying out against Guzman Loera."
Armed policemen led Lopez, handcuffed and wearing a tactical vest with "detainee" written on it, onto a plane at an airport in Ciudad Juarez, television images released by authorities showed.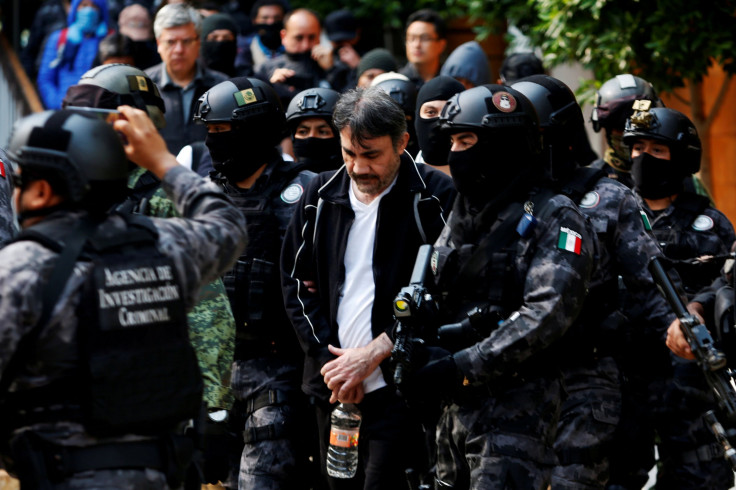 The arrest came as Mexican President-elect Andres Manuel Lopez Obrador revealed plans for a negotiated peace with the drug cartels including reduced jail time as the country reels from a militarized drug war that has produced tens of thousands of deaths over the past 12 years.
The concept of "transitional justice" is part of the incoming government's integral security strategy, Olga Sanchez, Lopez Obrador's proposed interior minister, told Reuters in an interview.
Transitional justice typically involves leniency for those who admit guilt, truth commissions to investigate atrocities and the granting of reparations for some victims.
"Not only will it be amnesty, it will be a law to reduce jail time," Sanchez said.
According to private estimates, Mexico's drug war shaved nearly one-fifth from the gross domestic product of Latin America's second largest economy last year.
© Copyright Thomson Reuters 2023. All rights reserved.