El Salvador's Bukele Defends 'Gangster' Mega-prison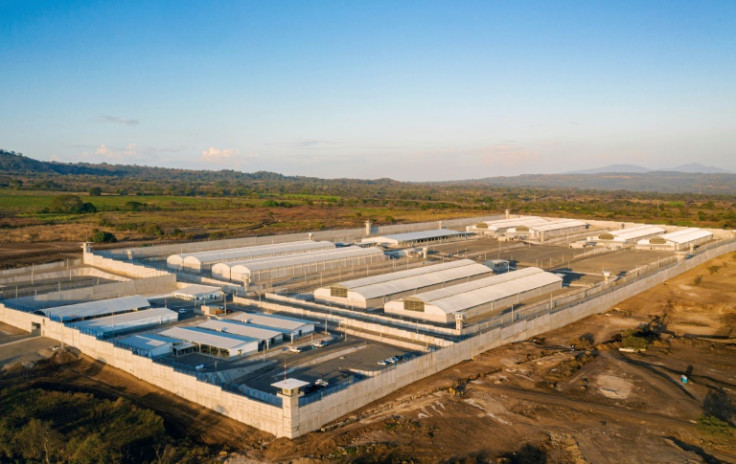 El Salvador's President Nayib Bukele on Wednesday defended a newly-unveiled mega-prison built to house 40,000 alleged gangsters rounded up in his campaign against violent crime.
The so-called "Terrorism Containment Center" or CECOT, Bukele said on Twitter, "is a fundamental element in finally winning the war against gangs" in the violence-plagued Central American country.
The millennial president's 10-month-old crackdown has so far netted almost 63,000 suspected gang members under a state of emergency, sparking wide-ranging criticism of alleged rights abuses but also winning him sky-high popularity at home.
Bukele posted a video on his Twitter account Tuesday of a prison official giving him a guided tour of the monster facility built in just seven months and claimed by the government to be the biggest in the Americas.
In the new prison, Bukele has said, inmates will no longer have access to "prostitutes, PlayStations, screens, mobile phones and computers" as he claimed they had in other jails.
Those held at the new CECOT would, instead, be made to work, according to Deputy Justice Minister Osiris Luna, to "compensate for some of the damage they did to society."
Built near Tecoluca, 74 kilometers (46 miles) southeast of the capital San Salvador, the gigantic prison complex covers 166 hectares (410 acres), Minister of Public Works Romeo Rodriguez said on Tuesday.
Electronic equipment will block cell phone signals to prevent any communication from the prison, the government has said.
"All the terrorists who (caused) grief and pain to the Salvadoran people will serve their sentences... under the most severe regime," according to Luna.
A state of emergency introduced last March after a wave of murders attributed to criminal gangs allows for arrests without warrants. The measure was approved by Congress at Bukele's request.
The mass arrests of suspected gangsters have been criticized by human rights organizations.
Last Friday, Human Rights Watch denounced "severe prison overcrowding" as a result of the roundup some claim has been indiscriminate.
Without the newly-built CECOT, the country's 20 prisons had a total capacity of 30,000 inmates.
The new prison has not been universally welcomed, with Miguel Montenegro, director of the non-governmental Human Rights Commission of El Salvador calling it "an embarrassment for the country."
"The government boasts of having the largest prison in Latin America, but it is not a reason for pride," he said, pointing to a risk of overcrowding and violence from amassing thousands of alleged members of rival gangs.
The rector of El Salvador's Central American University Andreu Oliva said the new prison appeared to prioritize punishment over rehabilitation, saying everyone "deserves a second chance."
Bukele, who has made reducing the murder rate a key priority, has previously accused critics of his shakeup of defending gangsters.
© Copyright AFP 2023. All rights reserved.