Electric Bus Company Proterra Raises $140 Million In Series 5 Funding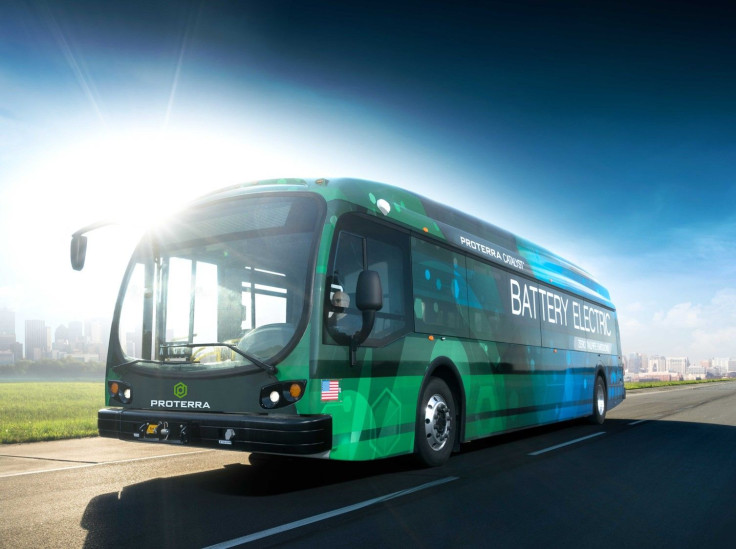 The sleek cars and self-driving technology behind them, from the likes of Tesla Motors and BMW, has hogged most of the limelight on electric vehicles, but the battle against the use of fossil fuels for transport is also being waged on the mass transit front.
Burlingame, California, company Proterra Inc. launched the Catalyst E2 series of buses in September, which have a nominal range of up to 350 miles. And the electric bus maker announced Tuesday it had raised $140 million in series 5 funding. This new round of funding is significant for the electric bus maker, falling just short of the total of $150 million it had raised in its first four funding series.
The company said in an emailed statement to International Business Times: "Proterra partnered with J.P. Morgan to close the equity funding, which was led by $40 million from an undisclosed investor, an additional $60 million from several new investors, and joined by existing board level investors Tao Capital Partners, Kleiner Perkins, GM Ventures, Constellation Technology Ventures, 88 Green Ventures, Edison Energy, Inc. and others."
The infusion of fresh capital will be used to increase production at its East Coast facility in Greenville, South Carolina, by 300 percent, as well as to bring online its second production line in the City of Industry, Los Angeles County. Money will also be spent on continuing research and development of heavy-duty electric vehicles, as well as on hiring for key engineering, operations and sales positions in both the production units as well as in its Silicon Valley office.
"2016 was an exceptional year for Proterra, and the future growth of this company looks just as promising as it hits a tipping point with transit agencies who are embracing the pivot from diesel- and CNG-powered buses to zero emission mass transit," Rob Johnson, chairman of the Proterra board of directors and a partner at Kleiner Perkins Caufield & Byers, said in the statement.
Being a privately held company, Proterra does not disclose its revenue publicly, but it sold 190 vehicles in 2016, more than double the 76 it sold in 2015. With the launch of the Catalyst E2 series, which has enough mileage to cover most urban mass-transit routes anywhere in the U.S., and the long-term cost and environmental benefits of using electric buses, it hopes to sell over 5 percent of all new bus orders in the country in 2017.
Proterra CEO Ryan Popple said: "The size of the round and the diversity of our investors reflect what we're seeing around the world as institutions and businesses divest from fossil fuels."
© Copyright IBTimes 2023. All rights reserved.