Proterra's New Catalyst Electric Bus Does 600 Miles On Single Charge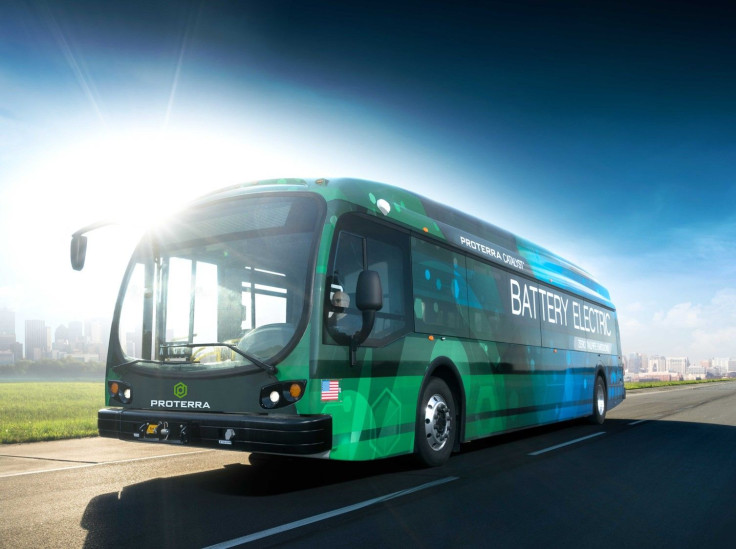 When Tesla announced P100D — its 100 kWh battery pack — last month, it made headlines for increasing the range of electric cars beyond 300 miles — 315 miles on the Model S sedan, to be specific, making it the electric car with the longest range. And now, there is an electric vehicle with almost twice that range, even though it is not a car.
Proterra Inc., based in Burlingame, California, launched its E2 Catalyst bus Monday. The latest incarnation of its Catalyst series, E2 stands for Efficient Energy, since the battery pack used has a storage capacity of 440-660 kWh (depending on the variant). Under test conditions, the vehicle drove over 600 miles on a single charge, making it the longest-range electric bus in the world.
The company points out that its nominal range is more modest, at between 194 and 350 miles. However, that is still sufficient for almost all U.S. mass transit routes in and around large urban centers in the country. With a top speed of 65 miles an hour, the 40-seater bus can accelerate from 0 to 20 miles an hour in 6.8 seconds. It takes just short of 5 hours to charge the battery for the highest performance variant of the 40-foot bus.
There is also a 35-foot E2, which seats 28 people and takes under 3.5 hours to charge.
Ryan Popple, CEO of Proterra, said in a emailed statement to International Business Times: "Proterra's primary goal has always been to create a purpose-built, high-performance electric vehicle that can serve every single transit route in the United States. Today, with the unveiling of the Catalyst E2 Series, that goal has been achieved. ... With the Catalyst E2 offering a no-compromise replacement for all fossil fuel buses, battery-electric vehicles have now broken down the final barrier to widespread market adoption."
Proterra's manufacturing is done in Greenville, South Carolina, but the company plans to set up another production facility in City of Industry, California, to meet the increasing demand on the West Coast. The Catalyst E2 series starts at $799,000, and according to the company, is designed for about 20 years of on-road service.
It must be pointed out that comparing Tesla and Catalyst would be unfair to both vehicles. One is a luxury private vehicle and the other a means of mass transit.
© Copyright IBTimes 2023. All rights reserved.