Elizabeth Warren: Congressional Favor Let Wall Street Keep $10 Trillion In Risky Swaps On Its Books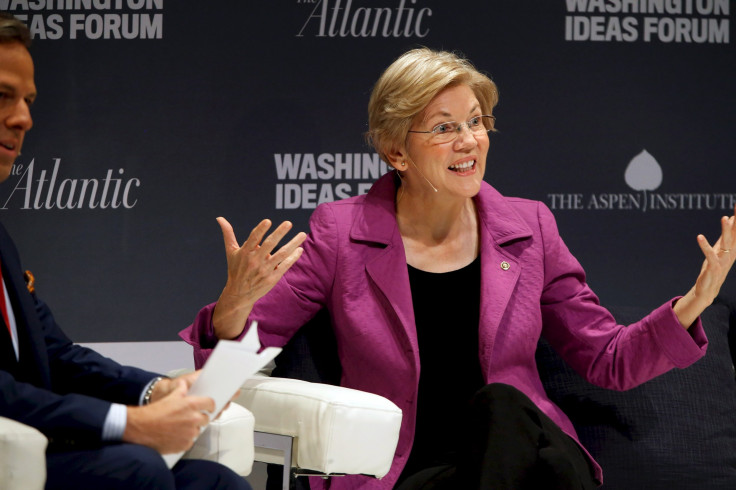 Congress has been warned: No more favors for big banks. That's the message from Sens. Elizabeth Warren, D-Mass., and Elijah Cummings, D-Md., who announced Tuesday that a financial reform repealed last year in the "Cromnibus" budget package allowed Wall Street to keep some $10 trillion in risky swaps in federally insured accounts.
In letters to federal financial regulators, Cummings and Warren said the repeal "raises critical questions about whether federal policymakers are sufficiently attentive to the risk posed" by the huge volume of financial products that were central to the 2008 financial meltdown -- and are still held by banks insured by the Federal Deposit Insurance Corporation (FDIC).
The tally comes from responses from four banking regulators queried by the senators on the total value of derivatives that were targeted by the 2010 Dodd-Frank Act. That law originally required banks to "push out" certain swaps from their core depository operations to separate offshoots to mitigate risks.
Swaps are financial products that can be used to hedge risks and bet against other securities. They have been seen as central to the buildup of subprime loans in the lead-up to the 2008 crisis, as financial institutions created swaps that were used to bet against bundles of home loans and the companies that created them. The increased appetite for the opaque and little-known derivatives helped fuel the explosion in lending to risky home-buyers. When the bubble popped, trillions of dollars worth of swaps and related products became toxic, threatening the federally insured deposits of ordinary Americans.
According to Warren and Cummings, financial regulators reported that following the repeal of the swaps prohibition, banks were allowed to keep more than $10 trillion of risky swaps on their books. That total, however, is just a fraction of the $219 trillion in outstanding derivatives that the FDIC said are held by 15 relevant banks.
Banks that responded to the lawmakers said that the push-out provision would have added extra risks and imposed undue costs. JPMorgan Chase & Co. said that pushing out the riskiest swaps would have created a "bifurcation" in derivatives management, with two teams instead of one handling the financial products. The increased costs, the bank said, could have led to customers choosing to deal instead with banks in Europe, which, excepting the U.K., doesn't enforce similar provisions.
Warren and Cummings' announcement comes as congressional leaders attempt to hammer out crucial year-end legislation that has in years past become a favorite vehicle for industry-friendly goodies. Warren and others have raised hackles about recent efforts to declaw the Financial Stability Oversight Council, which was created to safeguard against systemic risks following the financial crisis.
The senators also had sharp words for the Securities and Exchange Commission and other financial watchdogs. "Regulators have not conducted an analysis of the financial and taxpayer risks posed by the repeal," Warren and Cummings said in a press release.
© Copyright IBTimes 2023. All rights reserved.