Elon Musk Touts Electric Plane With Vertical Takeoff On Stephen Colbert Show [VIDEO]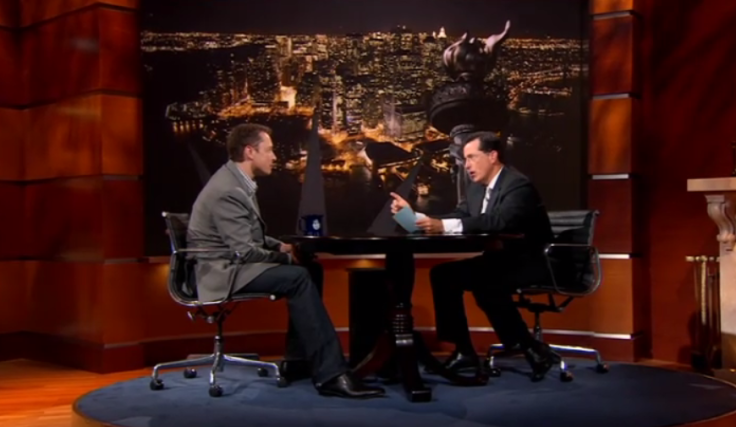 Electric airplanes capable of vertical takeoff and landing could be in the future for SpaceX, billionaire founder Elon Musk said on "The Colbert Report" Thursday.
"Aircraft should be vertical takeoff and landing," the tech and auto entrepreneur said as he and Stephen Colbert discussed what's next for SpaceX.
"There is a real opportunity" to build a supersonic jet that can take off and land vertically, Musk said, and the best way to make this happen is through an electric fan.
Earlier this week, SpaceX announced a successful test of the Falcon 9, which "soft landed" in the middle of the Atlantic Ocean, the second such test this year.
"At this point we are highly confident of being able to land successfully on a floating launch pad or back at the launch site and refly the rocket with no required refurbishment," the company said in a statement Tuesday.
The most common type of vertical takeoff and landing (VTOL) aircraft, of course, is the helicopter, but there are other types now as well.
The Bell Boeing V-22 Osprey uses powered rotors on the ends of its fixed wings to help it move vertically. Harriers, or "jump jets," can point their thrusters downward to move straight up. But this consumes a lot of fuel, and pilots usually use a traditional takeoff method.
And Musk isn't the only one looking to create an electric-powered aircraft.
Earlier this year, inventor and entrepreneur JoeBen Bevirt used his knowledge of wind dynamics, energy and aircraft to create an electric airplane, the S2, that can take off vertically but also fly aerodynamically.
NASA has already started funding the 55-pound vehicle, according to a report in Popular Science.
The Bell Boeing V-22 Osprey is one of a few aircraft that can take off and land vertically.
© Copyright IBTimes 2023. All rights reserved.