'The Enigma': 'Extremely Rare' Black Diamond Up For Auction Expected To Fetch Millions
KEY POINTS
Sotheby's exhibited a rare black diamond called "The Enigma" in Dubai
"The Enigma" was listed in the Guinness Book of World Records
The auction house is planning to accept cryptocurrency as payment for the piece
Famed auction house Sotheby's has unveiled an "extremely rare" black diamond that may have come from outer space. The record-holding diamond is expected to fetch millions in an auction next month.
Journalists got to see the rare black diamond Monday as a part of a tour in Dubai and Los Angeles, reported AP News. Called "The Enigma," it is said to be the "largest Fancy Black Natural Color Diamond in the world" and was even listed in the 2006 Guinness Book of World Records as the world's "largest cut diamond," Sotheby's noted.
Black diamonds are actually quite rare and they are only found naturally in Central Africa and Brazil, according to AP News. Also called carbonado diamonds, they are believed to have come from interstellar space. As Sotheby's explained, it's either they were created from a meteoric impact or actually came from a "diamond-bearing" asteroid that collided with the Earth.
"To have a natural faceted black diamond of this size is an extremely rare occurrence and its origins are shrouded in mystery," Sotheby's noted.
In an image that Sotheby's shared on Twitter, one can see just how stunning the diamond is.
The number five is also quite significant to the rare black diamond, Sophie Stevens, a jewelry specialist at Sotheby's Dubai, told AP News. Apart from being 555.55 carats, it also has 55 facets.
"The shape of the diamond is based on the Middle-Eastern palm symbol of the Khamsa, which stands for strength and it stands for protection," Stevens said as per the outlet. Apparently, Khamsa means five in Arabic.
Bidding for the diamond will begin in early February, and Sotheby's expects the rare piece to fetch "at least" 5 million British pounds or about 6.8 million dollars. Interestingly, the auction house is planning to accept cryptocurrency for the piece as well. It previously sold another rare diamond for a "record price" with cryptocurrency.
The exhibition in Dubai will last until Jan. 20. Afterward, the diamond will also be in Los Angeles from Jan. 24 to 26. It will be then auctioned in London from Feb. 2 to 9.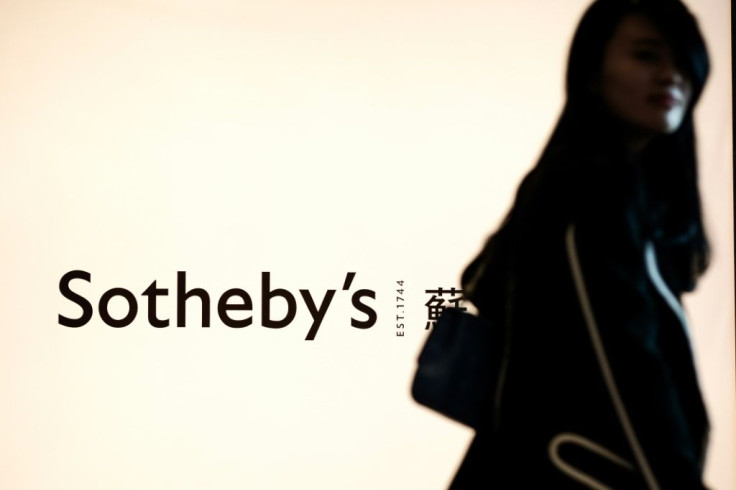 © Copyright IBTimes 2022. All rights reserved.
FOLLOW MORE IBT NEWS ON THE BELOW CHANNELS