'Enough, I'm Tired': Mexicans Lash Out Against Attorney General's Off-The-Cuff Remark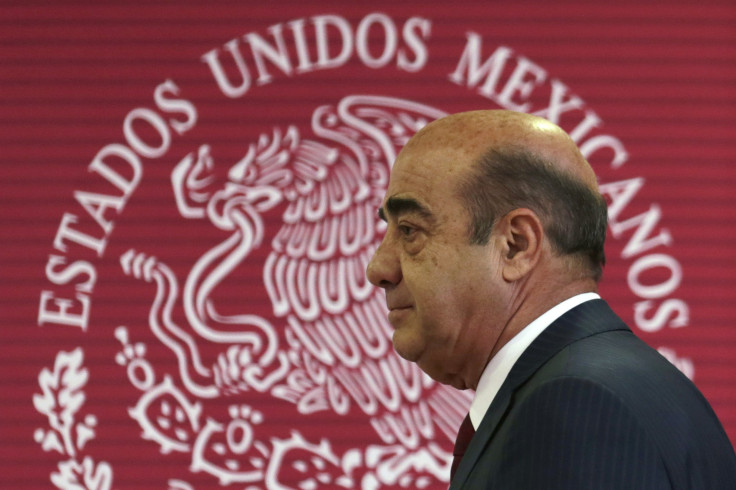 Mexicans protesting the disappearance of 43 students latched onto an offhand remark by the attorney general at a press conference this week, turning it into a rallying cry against corruption and impunity among Mexican security forces and government officials. Mexican Attorney General Jesús Murillo Karam abruptly cut off an hour-long news conference Friday detailing the latest developments in the case of the missing students.
According to reports, he turned away from reporters and said, "Ya me cansé," meaning, "Enough, I'm tired." Within hours, the phrase had more than 20,000 mentions on Twitter and began trending globally as furious Mexicans vented their frustration with government officials. "I'm also tired, but of this pinche government," wrote social media users on Twitter, using a popular Mexican curse word. Another image has circulated, with the words "I'm Tired -- Of Living In A Mass Grave," accompanying a cartoon of a skull-filled ditch.
Murillo announced Friday the 43 students, who went missing after a violent confrontation with police in Guerrero state, were believed dead. Three recently arrested gang members testified to burning the bodies of the missing students, putting the ashes into trash bags and dumping them in the river, he said.
The case of the missing students, who disappeared after a violent confrontation with police Sept. 26, has ignited a wave of mass protests throughout the country in the past month. Federal authorities said the mayor of Iguala, the town where the students were last seen, likely ordered local police to attack the students and turn them over to a drug gang over fears the students would protest a speech the mayor's wife was giving that day.
Mexican officials have arrested dozens of police officers and gang members in the case, as well as the Iguala mayor and his wife. But they have yet to confirm the students actually are dead. Authorities secured piles of charred bone fragments from the San Juan River, based on the gang members' testimony, but Murillo said the condition of the remains would make it difficult to conduct DNA testing.
Meanwhile, Mexicans are still irate over the country's security problems, and have demanded President Enrique Peña Nieto prioritize police reform and violence reduction. Since winning election in late 2012, the president has largely focused on economic reforms and burnishing Mexico's image as an investment hotspot. Peña Nieto's upcoming trip to China and Australia for the Asia-Pacific Economic Cooperation summit and meeting of the Group of 20, respectively, has come under harsh scrutiny within Mexico as critics demand stronger action on the investigation.
© Copyright IBTimes 2023. All rights reserved.
FOLLOW MORE IBT NEWS ON THE BELOW CHANNELS