Eric Garner Decision: Bill de Blasio, Rand Paul, Other Politicians React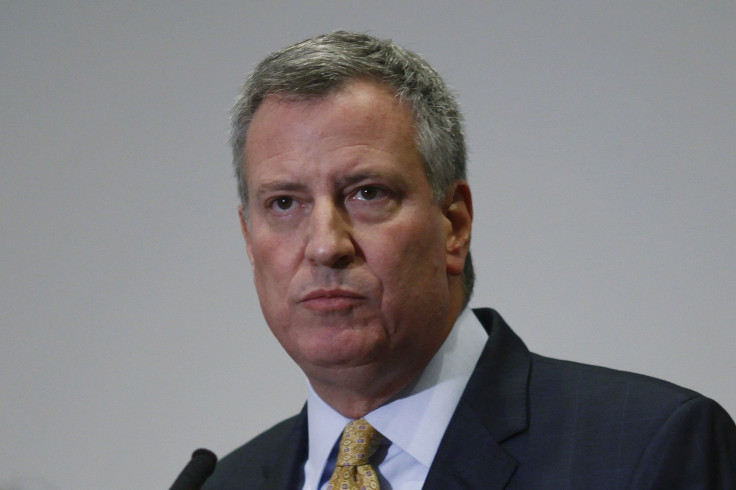 Officials announced on Wednesday that a white NYPD officer will not be indicted for killing an unarmed black man with a chokehold in Staten Island. In response, protesters took to the streets, and politicians from around the country took to their microphones and social media, supporting both sides of the argument.
"The justice department must launch a federal investigation into Eric Garner's death as soon as possible," tweeted New York Sen. Chuck Schumer.
"Thanks to SI grand jury for doing justice & not yielding to outside pressure. Decision must be respected," tweeted New York Rep. Pete King, adding "compassion for the Garner family."
New York Gov. Andrew Cuomo called on New Yorkers to "respect the legal process and rule of law."
"If there are improvements to be made and lessons to be learned, we at the state level are ready to act to better the system," he said.
And they weren't the only ones to speak out on this issue. New York City Mayor Bill de Blasio, Missouri's attorney general and even Rand Paul weighed in on the decision.
Speaking with MSNBC's Chris Matthews, Kentucky Republican Sen. Rand Paul -- a likely 2016 presidential candidate -- said it was "hard not to watch that video ... and not be horrified by it," but he also blamed government policies for the fatal encounter.
"Obviously the individual circumstances are important," he said, "but I think it's also important to know that some politician put a tax of $5.85 on pack of cigarettes … We put our police in a difficult situation with bad laws."
NYPD officers attempted to arrest 43-year-old Garner in July for selling untaxed cigarettes. But the confrontation, which was recorded, turned violent and ended in Garner's death. Later, the New York City medical examiner confirmed that he died from a chokehold, put on him by the officer Daniel Pantaleo. On Wednesday, officials announced that Pantaleo would not be indicted after the incident.
The news came soon after a grand jury in Missouri made a similar decision not to indict officer Darren Wilson after he shot and killed Michael Brown, an unarmed teenager. The decision sparked chaos and protests in Ferguson, and local officials there have also responded to the Garner decision.
"Among the problems that Ferguson has brought to light is the need to update Missouri's use of deadly force statute," Missouri Attorney General Chris Koster said to NBC. "This statute is inconsistent with the United States Supreme Court's holding in Tennessee v. Garner. Consequently, it is important this statute is amended by the Missouri legislature to incorporate the Garner decision and to avoid confusion within the criminal justice system."
New York City Mayor Bill de Blasio also weighed in on Wednesday night with forward-looking statements, but also noted that there is more work to be done on Garner's case.
"These are the long term reforms we are making to ensure we don't endure tragedies like this one again in the future," New York City Mayor Bill de Blasio said in a Wednesday statement. But we also know that this chapter is not yet complete." He went on to describe how the grand jury is "but one part of the process," noting that there will also be further investigations by the NYPD and the federal government. He spoke emotionally of his worries about his son Dante, as well.
"Today's outcome is one that many in our city did not want," de Blasio said.
© Copyright IBTimes 2023. All rights reserved.
FOLLOW MORE IBT NEWS ON THE BELOW CHANNELS