Eric Garner Protests On West Coast No Longer Peaceful, Explosives Thrown At Officers [PHOTOS]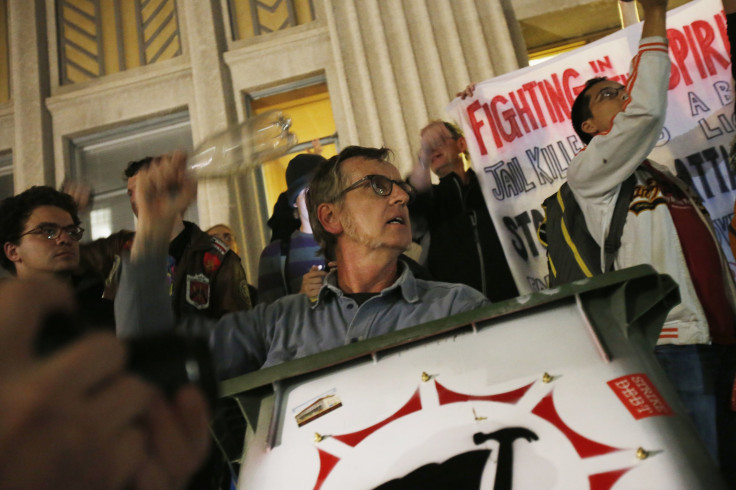 Fresh protests began late Sunday night in several cities on the West Coast, after clashes erupted in Berkeley, California, and Seattle on Saturday over a grand jury decision not to indict an NYPD officer in the chokehold death of Eric Garner. Demonstrators also threw objects at officers as protests grew over a spate of recent officer-involved killings across the country.
Sunday's protests began peacefully on the University of California, Berkeley campus but were later marred by looting and rock-throwing, reports said. Six people were arrested in Northern California after three officers and another person was injured in the unrest, the St. Louis Post-Dispatch reported. Police also had to use tear gas to disperse crowds on Highway 24 in Oakland, California Highway Patrol reportedly said.
Some demonstrators also reportedly attempted to torch a police vehicle and also threw explosives at officers. Protesters were reportedly moving from Berkeley to the neighboring town of Oakland, during which a protester was hit by a hammer while he attempted to stop the vandalizing of a Radio Shack outlet, local media reports said. Some protesters also reportedly chanted "peaceful protests," as the window of the Radio Shack was being smashed.
Protesters also reportedly blocked traffic on a freeway in Oakland, while highway patrol reportedly said that they had taken some demonstrators into custody but the number of arrests was not revealed. In Seattle, at least one person was arrested after confronting officers. Protesters reportedly blocked roads near Westlake Center in downtown Seattle. At least seven people were reportedly arrested Saturday night after protesters attempted to block a highway and threw stones at officers.
Protests have continued across the U.S. since Wednesday after a Staten Island grand jury decided not to criminally charge Officer Daniel Pantaleo in Garner's death. Lawmakers have started a federal investigation into the death of the unarmed black man amid rising tensions in the U.S. over the use of excessive force by police.
The Staten Island grand jury decision was announced a few days after a Ferguson grand jury decided not to indict Officer Darren Wilson in the shooting death of an unarmed black teen, Michael Brown, in the St. Louis suburb on Aug. 9.
On Sunday, New York Police Commissioner Bill Bratton said that an internal investigation into Garner's death could last four months, Reuters reported. He reportedly said that the results of the investigation would be reviewed to determine whether Pantaleo violated any NYPD policies.
© Copyright IBTimes 2022. All rights reserved.
FOLLOW MORE IBT NEWS ON THE BELOW CHANNELS