Eric Garner 'I Can't Breathe' Protests In Berkeley And Seattle Turn Violent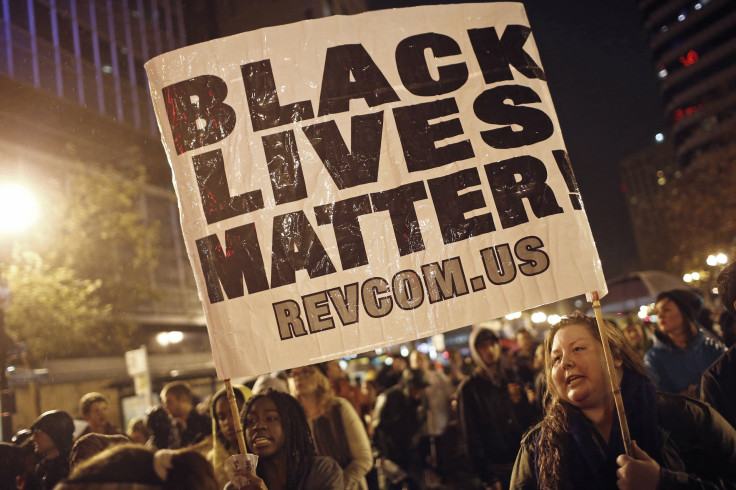 Protesters in Berkeley and Seattle became violent toward police on Saturday, the fourth day of protests that began after a New York grand jury said it would not indict the police officer who fatally choked Eric Garner in Staten Island after he resisted the officer who had cited him for illegally selling cigarettes. Thousands of protesters nationwide held marches and "die-ins" over the weekend, and the majority resulted in no arrests or clashes with police.
Garner died after officers wrestled him to the sidewalk in a chokehold, and his last words, caught on video, were "I can't breathe." The phrase has become a rallying cry for protesters.
A march in California that began peacefully became violent at around 6 p.m. after protesters began fighting, vandalizing cars, throwing rocks, bricks and pipe grenades at police and looting local businesses, including a Trader Joe's, the San Jose Mercury News reported. Police in riot gear responded with smoke, tear gas, rubber bullets and flares to disperse the crowd of about 1,500. On Sunday, Berkeley police said they had arrested six people, one a juvenile. Police did not release a list of the charges filed against the protesters.
At least two Berkeley police officers sustained minor injuries. One suffered a dislocated shoulder when a protester hurled a sandbag onto him, NBC News reported.
Another protest in Seattle turned violent at around 4 p.m. when protesters threw rocks at police, local news station KiroTV reported. A group of about 150 protesters tried to march onto a state highway and when police blocked them, some began throwing rocks and pushing officers. One protester pushed an officer to the ground and jumped on his back. Police arrested seven protesters, five for assault and two for pedestrian interference.
© Copyright IBTimes 2022. All rights reserved.
FOLLOW MORE IBT NEWS ON THE BELOW CHANNELS