Eric Garner Protests In Photos: Over 200 Arrested In NYC, Boston; Protesters Stage 'Die-In' Across US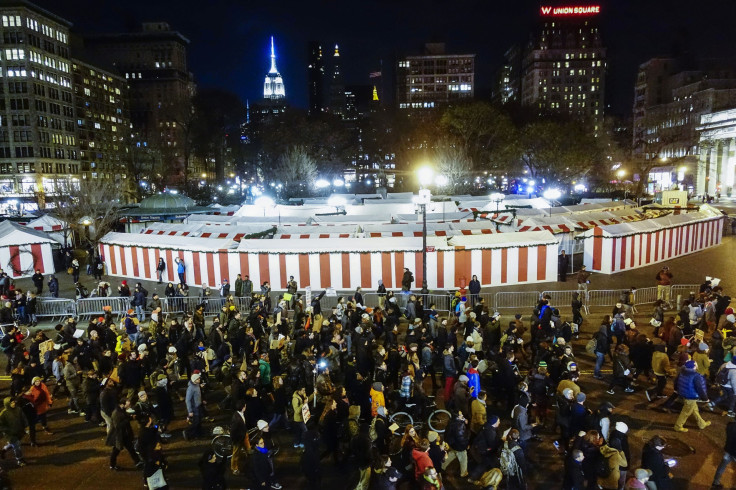 Update as of 5:15 a.m. EDT: More than 200 people were arrested in overnight protests in New York City, while authorities said that many of the arrests were made on charges of disorderly conduct or refusal to clear the streets, ABC News reported. In Boston, 10 people were reportedly arrested after demonstrations.
Several people were arrested in New York's Times Square late on Thursday night as they protested over a Staten Island grand jury decision not to indict NYPD Officer Daniel Pantaleo in the chokehold death of Eric Garner. A second day of anger erupted in New York and other parts of the United States even as lawmakers promised a federal investigation into the death of the unarmed black man.
Protesters reportedly chanted "Shut the whole system down," "No justice, no peace" and "I can't breathe" while others staged a "die-in" in New York, Brooklyn and at several Chicago intersections, blocking traffic, according to CNN. Police in New York reportedly used buses to transport arrested protesters and though the number of arrests made was not clear, witnesses at the scene reportedly said that at least three buses had already been filled. Protesters also reportedly targeted the Staten Island Ferry terminal. Across the country, in Portland, Oregon, protesters reportedly gathered outside the Moda Center, where an NBA game is underway, while riot police guarded the area fearing clashes.
"I don't think there's going to be any one answer. This is not just about Eric Garner. This is not just Missouri. It's bigger and broader," Andrew Cuomo, governor of New York, reportedly said Thursday on "The Capitol Pressroom," a radio show.
In Boston, protesters reportedly blocked the Massachusetts Bay Transportation Authority tracks at the Park Street Station, while the Green Line service between Boylston and North Stations was suspended. Massachusetts police also reportedly said that some protesters were arrested as they attempted to block traffic. Massachusetts State Police released a statement on its Facebook page late Thursday praising the police for its handling of the protests in the region.
"I would like to commend the professionalism and restraint showed by our State Troopers and the officers from Boston Police, Transit Police, Department of Corrections, DCR Park Rangers, and other agencies that assisted in keeping the peace tonight. On the whole, protesters behaved appropriately, except for those few who became disorderly and those who walked onto one of our highways -- an unacceptable and dangerous action that will always be met with a swift police response, as it was tonight," Col. Timothy P. Albem, superintendent of Massachusetts State Police, said. "I am grateful that no one suffered a serious injury, and I am proud of the restraint and integrity showed by all the troopers and officers tonight."
U.S. Attorney General Eric Holder on Thursday promised that a full investigation will be conducted into the 43-year-old Garner's chokehold death amid rising tensions in the U.S. over the use of excessive force by police. Pantaleo could reportedly still face disciplinary actions after an internal police investigation, Reuters reported.
Politicians have also talked about the need for better training police officers and making changes to the grand jury process to restore the public's faith in the legal system.
"A whole generation of officers will be trained in a new way," New York Mayor Bill de Blasio said Thursday, according to The Associated Press.
© Copyright IBTimes 2022. All rights reserved.
FOLLOW MORE IBT NEWS ON THE BELOW CHANNELS