Eric Holder Legacy: From Fast And Furious To Ferguson, A Look Back At The US Attorney General's Tenure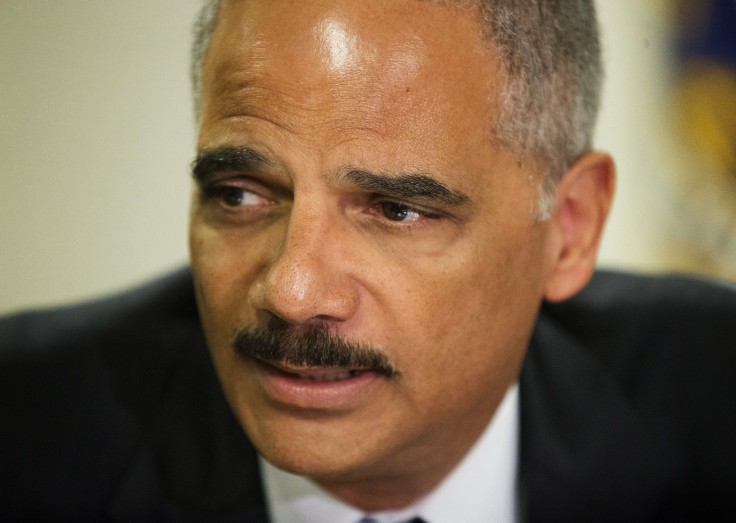 From Operation Fast and Furious to the police-involved shooting of Michael "Mike" Brown in Ferguson, Missouri, Eric Holder's tenure as attorney general has been defined by controversy. Holder, the nation's first African-American attorney general, was unanimously confirmed by the Senate in 2009, with a number of GOP senators praising his experience as a federal prosecutor. Six years later, the reviews on his legacy are mixed as Holder prepares to resign from the Obama administration and leave the Justice Department after decades of public service.
The Obama administration touted Holder's successes Thursday as news of the resignation broke, while his longtime foes in Congress celebrated his impending exit. U.S. Rep. Darrell Issa, R-Calif., Holder's fiercest critic who feuded with the attorney general on everything from Fast and Furious to the IRS tea party scandal, called him "the most divisive U.S. attorney general in modern history."
During his tenure, Holder received praise for his aggressiveness in going after states with controversial voter identification laws, including legal victories against Texas, South Carolina and Florida. But he also took heat in 2009 for calling the U.S. "a nation of cowards" regarding race relations. Holder later stood by his remarks.
More recently, Holder took action as riots enveloped Ferguson in the aftermath of Brown's death. The attorney general launched a federal investigation into the shooting, earning praise from civil rights groups. "No attorney general has demonstrated a civil rights record that is similar to Eric Holder's," said the Rev. Al Sharpton.
The ACLU released a terse statement Thursday that both commended and criticized Holder's record, illuminating his wide-ranging impact on U.S. issues over the years. Holder "helped make strides to move LGBT equality forward," ACLU Executive Director Anthony D. Romero said. "However, we've had profound disagreements with the attorney general on national security issues."
Here's a look at some of the moments that will likely define Holder's legacy:
Operation Fast and Furious
This series of sting operations by the U.S. Bureau of Alcohol, Tobacco, Firearms and Explosives involving gun-running on the Southwest border in an attempt to ensnare leaders of Mexico's drug cartels went awry when it was revealed that one of the guns was used to kill U.S. Border Patrol Agent Brian Terry in 2010. Other guns sold to straw buyers by U.S. firearms dealers were tied to other homicide cases along the U.S.-Mexico border. The botched operation led some Republicans to call for Holder's resignation after he refused to hand over documents related to the Justice Department's investigation. The failed operation saw Holder become the first attorney general to be held in contempt of Congress.
Sept, 11, 2001 Terrorist Attack Prosecutions
Holder's attempts to try Khalid Sheikh Mohammed, the mastermind of the Sept. 11, 2001 terrorist attacks, in a civilian courtroom in New York City instead of Guantanamo Bay was slammed by his critics. The Obama administration eventually had Mohammed and others tried at Guantanamo after Congress thwarted the move.
Defense of Marriage Act
Obama and Holder announced in 2011 they would not defend the federal Defend of Marriage Act, which said the federal government and states don't have to recognize same-sex marriages from other states. Holder said at the time that the legislative record supporting the law's passage under President Bill Clinton "contains numerous expressions reflecting moral disapproval of gays and lesbians and their intimate and family relationships - precisely the kind of stereotype-based thinking and animus the Equal Protection Clause is designed to guard against." The decision was hailed by LGBT activists.
Voter Identification Laws
Holder repeatedly vowed throughout his tenure to be "aggressive" in challenging voting laws that limited minority rights. "Many of those without IDs would have to travel great distances to get them and some would struggle to pay for the documents they might need to obtain them," Holder said in 2012 at the 103rd convention of the NAACP. He called the laws "poll taxes," equating them to the fees some Southern states used to disenfranchise black voters during the Jim Crow era.
Drone Attacks
After two years of silence, Holder admitted that the U.S. killed American citizen and al Qaeda figure Anwar al-Awlaki and three others in drone strikes in Yemen. Holder's detractors said al-Awlakli should have been given due process in an American court as a U.S. citizen instead of being targeted by a drone. The attorney general detailed the legal rationale behind the strikes in a letter to Congressional leaders in May 2013:
"[I]t was not just al-Aulaqi's words that led the United States to act against him. … Rather, it was al-Aulaqi's actions – and, in particular, his direct personal involvement in the continued planning and execution of terrorist attacks against the U.S. homeland – that made him a lawful target and led the United States to take action," he wrote.
Associated Press Phone Records
Holder's Justice Department came under fire again in May 2013 amid accusations of government overreach and press intimidation when the agency obtained phone records of outgoing calls made by the AP after the news wire service reported a story about a foiled terrorist plot in Yemen leaked by a confidential source. Holder recused himself from the probe, citing a conflict of interest. The AP called the department's accessing of its phone records "a massive and unprecedented intrusion."
IRS
2013 wasn't good to Holder. He was again hounded by Republicans that year after accusations surfaced that the Justice Department wasn't holding IRS officials accountable in the alleged targeting of conservative tea party groups seeking 501(c)(4) status. Holder and Issa exchanged angry words on a number of issues tied to the tea party tax scandal, including over the attorney general refusing to share his emails.
Watch one of their testiest exchanges below:
© Copyright IBTimes 2022. All rights reserved.
FOLLOW MORE IBT NEWS ON THE BELOW CHANNELS