Erin Andrews Comments On Richard Sherman Postgame Interview: 'We Hope He Does The Same Thing At The Super Bowl' [VIDEO]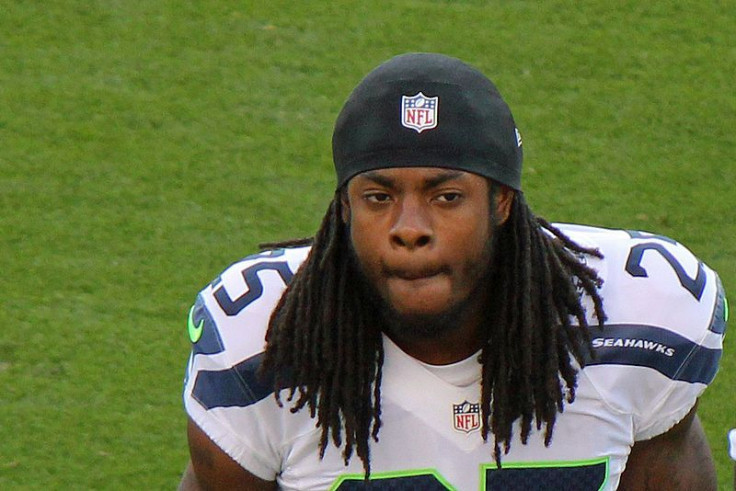 Seattle Seahawks cornerback Richard Sherman scored a ton of new critics for his emotional interview after the NFC Championship game, but don't count Fox reporter Erin Andrews among them.
With just seconds remaining in the fourth quarter of Sunday's NFC Championship game, Sherman managed to deflect Colin Kaepernick's pass away from wide receiver Michael Crabtree and into the waiting hands of a Seahawks linebacker, effectively sealing the team's spot in Super Bowl XLVIII. After the game, Sherman met up with Andrews for a postgame interview that immediately went viral.
"Well, I'm the best corner in the game. When you try me with a sorry receiver like Crabtree, that's the result you're gonna get. Don't you ever talk about me," Sherman said, staring directly into the camera and shouting as Andrews stood by holding the microphone. While many social media users suggested that Andrews looked upset (or possibly even scared) during the interview, the Fox reporter told USA Today's For The Win blog that she welcomes Sherman's emotional response.
"I don't want this to look like I was upset with him, I was frightened, I felt threatened, we all like Richard Sherman a lot at Fox," Andrews told For The Win. "At that moment I saw how crazy it was going to blow up, and I wanted to make sure people knew it wasn't a situation where I'm a victim and he acted like an idiot."
"You expect these guys to play like maniacs and animals for 60 minutes," Andrews continued. "And then 90 seconds after he makes a career-defining, game-changing play, I'm gonna be mad because he's not giving me a cliché answer, 'That's what Seahawks football is all about and that's what we came to do and we practice for those situations.' No you don't. That was awesome. That was so awesome. And I loved it."
Andrews also indicated that she knew that Sherman was referring to Crabtree, but asked her follow-up question ("who talked about you?") to clarify it for the game's audience. The 35-year-old broadcaster told For The Win that she hopes Sherman will bring the same energy to the Super Bowl.
"[Athletes] take a minute and that's why we grab them right after games because we hope they lose their minds like that, we hope they show pure joy," she said. "We hope he does the same thing at the Super Bowl. We don't want a watered-down version of him."
© Copyright IBTimes 2023. All rights reserved.