'Escape From Tarkov': Cost-Effective M4A1 Build For Beginners
KEY POINTS
The M4A1 is a cost-effective weapon that's great for all stages of "Escape from Tarkov"
The M4 boasts good performance out of the box with a high rate of fire
This gun has a wide variety of aftermarket parts available via traders and the Flea Market
The Colt M4A1 is a highly-adaptable weapons platform that can be modded into dozens of configurations, from a short-barreled close-quarters rifle to a long-ranged DMR and everything in between. In "Escape from Tarkov," the M4 platform offers some of the highest degrees of customizability that many players are sure to love.
Much like the AK74 and its many variants, the M4 is a relatively cheap and cost-effective weapon that can be effective in every stage of the game. With the right setup of parts and attachments, this gun can work like a dream, even for low-level beginners.
Here's one build that new "Escape from Tarkov" players can easily make on their own without shelling out too much cash on the market.
M4A1 Parts List
The M4A1 can be obtained by trading three CPUs and three CPU Fans to Peacekeeper or purchased for $550 once he reaches Level 2.
Out of the box, the gun performs decently well with moderate recoil in full-auto mode and so-so Ergonomics. This can be enhanced by adding the following parts:
KAC RIS
MK12 Gas Block
KAC QDC Flash Suppressor
KRISS Defiance DS150 Stock
Any foregrip
This build will net players around 75 vertical recoil and 58 Ergonomics, making the game very easy to control when engaging targets. Remove the carry handle and replace it with optics of choice and the rest of the gun can be kept as is.
When combined with the cash cost of purchasing the rifle, this build will cost around $800 or less.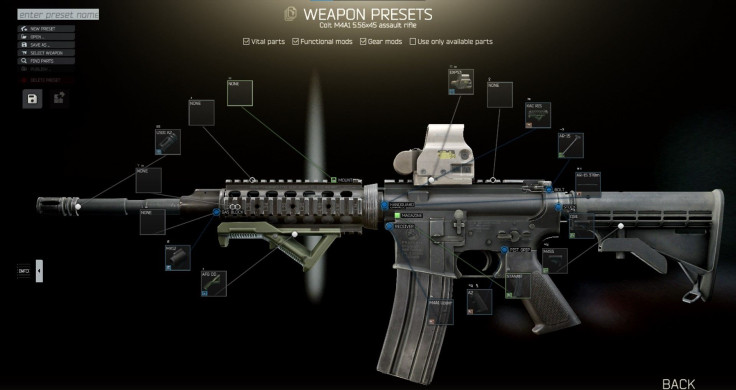 The A-DAR Alternative
One cheaper alternative to getting an M4A1 is by cannibalizing an A-DAR 2-15 rifle, which is a very common weapon that can be looted from Scavs.
Simply enter a raid and try to get out alive with an A-DAR from a dead Scav. Then, purchase the M4A1 Lower Receiver for 20,000 Roubles from Level 2 Mechanic. Dismantle the A-DAR and install every part on the new receiver to get a fully functional M4 with full-auto capabilities.
At the very least, players will only spend around 25,000 Roubles for this build (depending on A-DAR repair costs) or about half of the price of a base M4A1 from Peacekeeper. However, the stats on the base A-DAR parts are relatively poor.
© Copyright IBTimes 2023. All rights reserved.