Ethereum Price Predictions: Experts Forecast February 2018 Value
The Ethereum ecosystem is faring slightly better than bitcoin this week in terms of price. According to OnChainFX, ether tokens rose nine percent to roughly $1,101 on Wednesday morning. Ether prices grew 10,298 percent since this time last year. Organizations such as ConsenSys and the Enterprise Ethereum Alliance drove institutional engagement while the initial coin offerings fundraising trend created hundreds of new Ethereum-based tokens. CoinMarketCap estimates Ethereum's global market cap now exceeds $107.5 billion.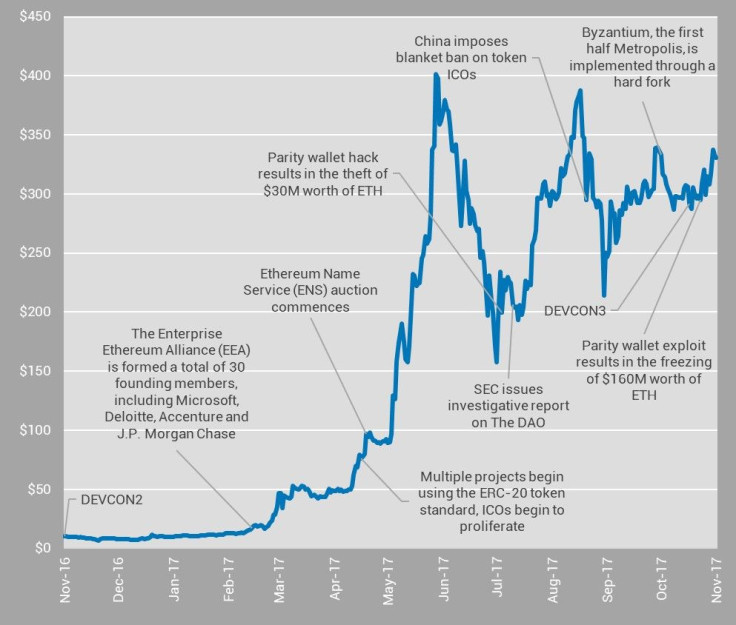 Will the price of ether tokens continue to rise in February? It's impossible to know for sure, of course. Regulators worldwide are cracking down on questionable ICOs, which could impact ether itself. "There is definitely demand for Ethereum when there are ICOs being launched," Matthew Gertler, senior analyst at Digital Asset Research, told International Business Times. "But we don't have numbers to quantify how much of these [ether tokens] went into ICO projects to know if that is really going to have any effect. Negative publicity is generally negative for the market."
On the other hand, Ethereum creator Vitalik Buterin has an ambitious roadmap for technical improvements this year. Plus, an academic study out of Cornell University argued there even more diverse Ethereum network nodes than there are comparable bitcoin nodes. The study also asserted Ethereum's ecosystem exhibited better variance when it comes to miners, making it easier for small miners to contribute. All things considered, the Ethereum community is diversifying rapidly. This could boost the network's overall security.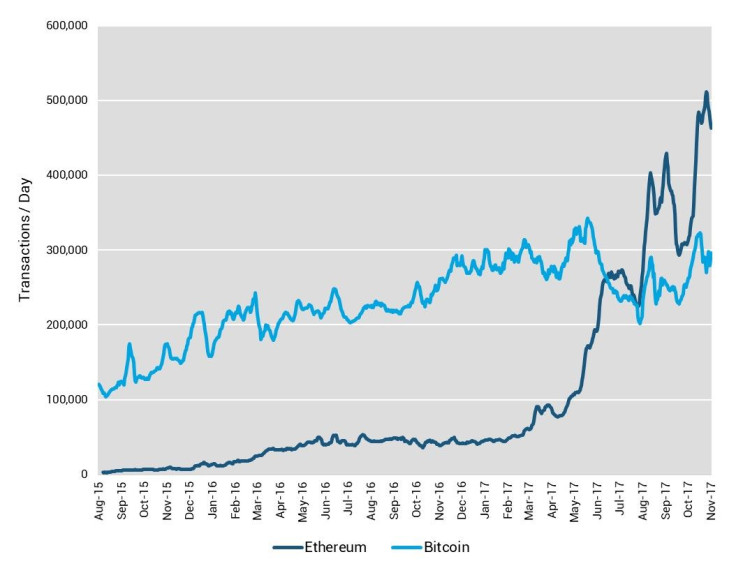 Much like the bitcoin network, relatively high transaction fees and network congestion hinder daily usage. Some experts speculate that Ethereum futures contracts, an unprecedented investment product with relation to this cryptocurrency, could be in the pipeline for 2018. If so, it could impact ether prices just as hype surrounding bitcoin futures influenced the broader cryptocurrency market in late 2017.
"Bitcoin and Ethereum broadly trade in similar ways. One big difference, I would say, is you now have the bitcoin futures market," Wall Street veteran and cryptocurrency investor Jill Carlson told IBT. "It's always a question of the value of something versus the price of something. If you think the value is higher than the current price, that's a great thing to go in and buy. If you think the value is lower than the current price, then you might want to short it...Personally, I'm not going to short bitcoin anytime soon."
Even if most experts predict the price of ether will rise this month, anything can happen in the world of cryptocurrency. Quartz reported hackers stole $400 million worth of ICO tokens so far, the majority of which were Ethereum-based. Many Ethereum wallets, such as Parity, appear to have serious vulnerabilities. Regulation, lawsuits and costly cyber attacks could all lead to unpredictable oscillation.
"I just got back from the Bitcoin Miami conference and Ethereum is worth close to a $1,000. When I went to the same conference the year before it was $8 to $12," Gertler said. "If anyone had said to me at the time that the high would be a $1,000 or more, I would have thought that they were crazy. I've been incredibly surprised over the past year. So I don't have a high price expectation [for ether]. In terms of a low [price], I don't have a bottom either."
IBT fellow Daniel Robitzski contributed to this report.
Editor's note: This is not investment advice or legal advice. Any following statements about ICO regulation are likewise not legal pronouncements or opinions regarding any specific project.
© Copyright IBTimes 2022. All rights reserved.
FOLLOW MORE IBT NEWS ON THE BELOW CHANNELS