Etsy Inc (ETSY) IPO 2015: Online Crafts Marketplace Begins Trading On Nasdaq, IPO Could Value Company At More Than $1B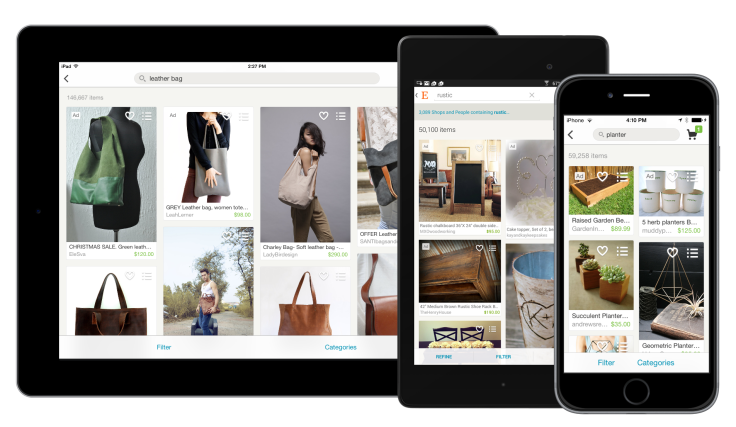 Ashley Goldberg favors hushed pastel tones in the artistic prints she creates, but there's nothing muted about the money she makes selling them on Etsy. The 33-year-old Portland, Oregon-based artist and pattern designer began peddling her work on the online marketplace in 2006 and says she has sold more than 20,000 prints -- and has drawn a "six-figure" annual income more than once.
"Etsy has been the pivotal thing in my career that allowed me to make art full-time," says Goldberg. "Etsy gave the training wheels, and sometimes the entire skill set, for people to understand how to conduct themselves as businesses online," Goldberg said.
Etsy Inc. (NASDAQ:ETSY), the Brooklyn-based e-commerce platform for handmade and vintage goods, offers artists an alternative to local arts and crafts fairs and snooty galleries, with an instant chance to sell to an international online clientele. As of Dec. 31, the site had roughly 20 million active buyers and 1.4 million active sellers. On Thursday, Etsy will make its stock market debut with an initial public offering that could value the company at more than $1 billion. Shares of the company's stock are set to trade on Nasdaq and will be priced at $16 per share, at the high end of its previous range of $14 to $16 per share.
The IPO could become the largest for a New York tech company since barnesandnoble.com spun off from Barnes & Noble Inc. in 1999. Etsy is offering 16.7 million shares and could raise as much as $267 million, more than double the preliminary estimate the $100 million the company stated in a March S-1 filing with the Securities and Exchange Commission.
The company was founded in 2005 with a simple business model: It profits when its sellers make money. It generates revenue from fees it charges sellers who pay to list items and complete transactions. In 2014, Etsy sellers generated sales of $1.93 billion, up 43.3 percent from the year before.
"Our success is based on the greater success of other people -- the people who sell on Etsy," CEO Chad Dickerson told the New York Times in 2012.
Madi Deshler, who joined Etsy last June, is one of those new sellers. The 29-year-old makes flower crowns, feather headbands, barefoot sandals and other adornments. She sells around 200 items a month, which translates to monthly income of about $5,500. "When I first started I was blessed to have one sale a week," says Deshler. "Now I sell enough for Etsy to be a full-time job for me."
Etsy's growth isn't guaranteed. The company faces two main obstacles: weak profitability and the risk that its growth and broadening public profile could alienate its core base of do-it-yourself artists.
Etsy has a history of operating losses and may not achieve or maintain profitability in the future, the company warned in its S1 filing. While the company posted 2014 revenue of $195.6 million, up more than 56 percent from a year earlier, it reported net losses of $15.2 million in 2014 and $800,000 in 2013.
Etsy needs to demonstrate a quick path to profitability. "Etsy's core financial health is quite weak," said James Gellert, chairman and chief executive officer at Rapid Ratings International Inc. "Many seem distracted at the moment by Etsy's market niche, but long-term investors should focus on the company's prospects for profitability, and whether they can successfully use their IPO proceeds to invest in profit-making endeavors."
Jay Ritter, a finance professor and IPO expert at the University of Florida, agrees. "Etsy is a company in a space that so far has not been profitable and is much more limited, so investors don't have the same enthusiasm as they do for a Box, Uber or AirBnB," says Ritter.
If Etsy wants to continue growing, it must be careful not to turn off sellers who are "all about the purity of the product," says David Louton, professor of finance at Bryant University. It also must police its marketplace to make sure sellers aren't sourcing goods from sweatshops, he says. "I'm not convinced they're going to be able to transition this company on a new path," Louton says. "Etsy has always had a counter culture ethos where people would buy or sell tie-dyed shirts, or hand crafted jewelry. But there's this dynamic that makes it hard to scale."
Etsy is certainly popular with buyers and sellers, and it has a first-mover advantage in its niche, says Gellert. But that's not necessarily a defendable competitive position. "It looks more like an acquisition target than a company that will grow really large over time," Gellert says.
In its filings with the Securities and Exchange Commission, Etsy says it hopes to use money generated from its IPO to grow the business. The company says it plans to use its current staff of nearly 700 in multiple locations around the world. The plan is to increase Etsy's visibility and to help elevate the company's sellers and attract more buyers.
© Copyright IBTimes 2023. All rights reserved.
FOLLOW MORE IBT NEWS ON THE BELOW CHANNELS