EU Imposes Sanctions On Ukrainian Officials Who It Said Have 'Blood On Their Hands;' 75 People Dead And 571 People Injured In Clashes Over Past Few Days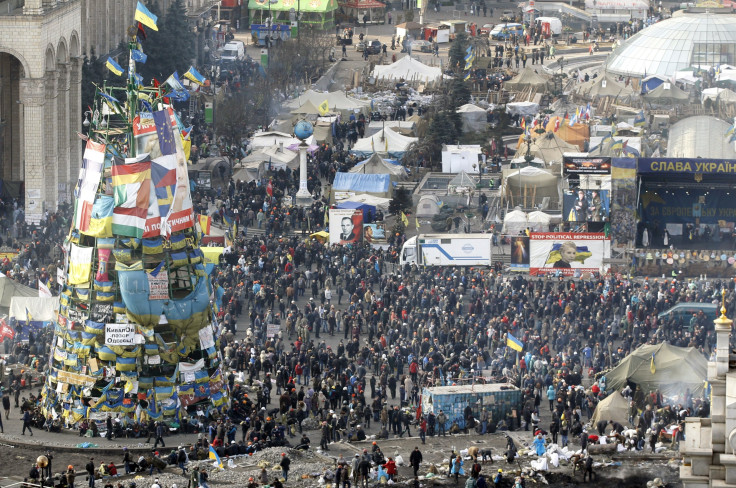 The European Union, or EU, decided Thursday to impose sanctions, including asset freezes and visa bans aimed at Ukrainian officials it has accused of being responsible for the lethal clashes that have rocked the eastern European country this week, and led to scores of deaths and left hundreds injured.
The violence that evoked different responses from countries around the world, including Russia and China, flared up Wednesday in the capital city of Kiev and spread to five cities, killing 75 and injuring 571 people, including both protesters and government forces. The EU and U.S. had warned Ukraine's President Viktor Yanukovych of economic sanctions, which he said amounted to blackmail, if the violence was not contained. At the same time, Russia blamed Western nations for inciting the violence and accused them of dealing in double standards while China reportedly appealed for impartiality.
"There is widespread horror in the European Union as well as in the United Kingdom at the scale of the loss of innocent life and the events of the last 48 hours," U.K. Foreign Secretary William Hague said, explaining why the EU decided to impose sanctions, according to BBC.
"The scale of the implementation (of the sanctions) will depend on developments to come and of course we want to see success in Government and opposition working together in order to bring about a peaceful situation and a peaceful and democratic settlement of the issues in Ukraine," Hague added.
According to BBC, Russia increased pressure on Yanukovych on Thursday, threatening to freeze loans that Ukraine desperately needs, if Kiev's leadership continued to let its opponents walk over it "like a doormat." The Russian ambassador to Ukraine, Mikhail Zurabov, and Russian ombudsman, Vladimir Lukin, reached Kiev for talks with the president's administration Thursday.
"The (Ukrainian) opposition cannot or do not want to distance itself from extremists. The West led by Europe and the United States (should) assume all responsibility for the Ukraine situation. They do not blame the extremists' acts, while threaten to impose sanctions. These are double standards," Russian Foreign Minister Sergei Lavrov said, adding that the sanctions would encourage rioters, according to Xinhua.
"Different countries should mutually respect each other's sovereignty and territorial integrity," China's Foreign Ministry spokeswoman Hua Chunying said, and called for restraint among Ukraine's warring parties, the Xinhua report added.
According to news reports, the U.S. too is considering imposing sanctions against Ukrainian officials and Yanukovych's administration. On Wednesday, the U.S. had imposed a visa ban on 20 Ukrainian officials and others, citing human rights abuses by them during the clashes.
On Thursday, U.S. Secretary of State John Kerry said: "All of us are deeply disturbed. We are talking about the possibility of sanctions or other steps with our friends in Europe and elsewhere in order to try to create the environment for compromise," in a brief statement in Paris, according to Xinhua.
President Barack Obama has also been expressing concerns over the violence and reportedly sent a note of caution reminding Yanukovych and opposition leaders about the truce they had agreed upon Wednesday.
On Thursday, the Ukrainian assembly also adopted a resolution, urging the authorities to stop shooting and withdraw police forces from the centre of Kiev and end the use of force against protesters. Thirty-four members of Yanukovych's party, Party of Regions, voted with his opponents, showing that he is losing support. However, according to Reuters, Yanukovych is likely to ignore the resolution because he has the backing of 236 members in the 450-seat parliament.
The unrest in Ukraine began three months ago when Yanukovych decided to drop a trade and cooperation agreement with the EU in favor of a closer partnership with Russia. The EU's conditions for the agreement, included the release of opposition leader Yulia Tymoshenko, but Yanukovych shocked the world by signing a $15 billion bailout agreement with Russia instead, triggering off protests in Kiev's Independence Square. The protests took an ugly turn Sunday after local police attacked the protesters overnight, leading to an escalation of violence, which continued through the week.
"I think (ministers) were truly alarmed, shocked by the scale of violence that has taken place, and that will drive the agenda as it drove the agenda today," EU foreign policy chief Catherine Ashton reportedly said on Thursday, expressing dismay and stressing that the EU will be in "constant touch" with three officials on ground "to seek their advice and to see what efforts they are able to make, what progress they're able to make."
Julia Martyniuk, a resident of Kiev, shared a status update of a friend on social-networking site Facebook on the war-like situation prevailing in Ukraine.
So… Yesterday night. What were you falling asleep to? I was falling asleep to the sounds of gunshots and grenades. Literally. But that's not all. The protesters were being attacked by police, the buildings they have occupied (which means they had a "hospital" there, some food and a place to sleep) were SET ON FIRE (!) with many people in there so injured that they had no chance of getting out! MANY MORE WERE KILLED BY SNIPERS. Until about 3:30 am people were singing the national anthem so loud that I could make out the words between the sounds of grenades exploding.
© Copyright IBTimes 2023. All rights reserved.