EU Refugee Crisis: Newborn Baby Found Dead Off Coast Of Greece, No End To Smuggling Despite Outcry Following Aylan Kurdi Death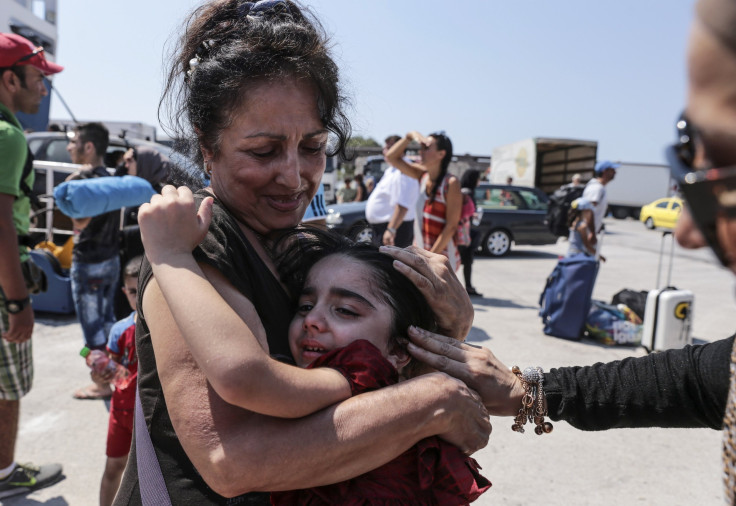 A newborn baby who arrived on the shores of the Greek island of Agathonisi with his refugee parents was declared dead in a hospital on the nearby island of Samos Saturday, according to Reuters, which cited the Greek coast guard. The parents have reportedly survived.
The family was found after having crossed the Aegean Sea to Greece from Turkey on a smuggler's rubber dinghy. Its members constitute one of thousands of families that have similarly crossed the Aegean or the Mediterranean, fleeing civil war in countries such as Iraq and Syria.
A huge public outcry erupted after the body of Aylan Kurdi, a 3-year-old Syrian boy, was found Wednesday washed up on the shores of Greece after drowning during an attempt to make the water crossing. Even so, smugglers are still attempting to carry people across the sea.
Women and children have frequently been among the thousands of people resuced at sea this year by local coast guards, mainly in Greece and Italy. A photograph posted on Twitter showed two aid workers holding Syrian babies they had rescued at sea Friday:
More than 300,000 people have crossed into Europe since January, many of them on boats piloted by smugglers as the refugees have fled escalating violence in the Middle East and North Africa. The route is very dangerous, as the boats are often not only overcrowded but also unseaworthy. Authorities have estimated that as many as 2,500 people have died this year during attempts to migrate, with most of the deaths occuring at sea during dangerous night crossings.
"With all my heart, I hope that the government that will take over after the elections will tackle the major economic issues along with the migration and refugee issues prudently and with responsibility," Reuters quoted European Commissioner for Migration Dimitris Avramopoulos as saying in Athens Saturday.
© Copyright IBTimes 2023. All rights reserved.