Euro 2020 News: Controversial Penalty Call Marred England's Win Against Denmark
KEY POINTS
England has booked a trip to the finals of the 2020 Euros
A costly own goal by Denmark helped swing the momentum back in England's favor
Denmark's coach Kasper Hjulmand says "It feels bitter"
Led by a Harry Kane goal in extra time, the Three Lions barely escape Denmark with a 2-1 win to give England its very first finals berth in 55 years.
England and Denmark were playing with much aggression at the historic Wembley Stadium, the same venue where the finals will be held.
Denmark drew first blood at the 30th minute as Mikkel Damsgaard scored a wonderful free-kick goal, the first of its kind during the 2020 Euros.
However, England's hopes for a finals berth were renewed after Simon Kjaer slid in to attempt a block at a Bukayo Saka cross meant for Raheem Sterling turned into an own goal at the 39th minute.
Things remained at a deadlock well until after halftime as both sides attempted to take the lead and, hopefully, the win.
The "Three Lions" were playing with much fervor in the hopes of securing the win, and a controversial penalty call in their favor sealed the game at the 104th minute.
Sterling went down in the box and Kane took the penalty kick, but it was saved by Denmark keeper Kasper Schmeichel.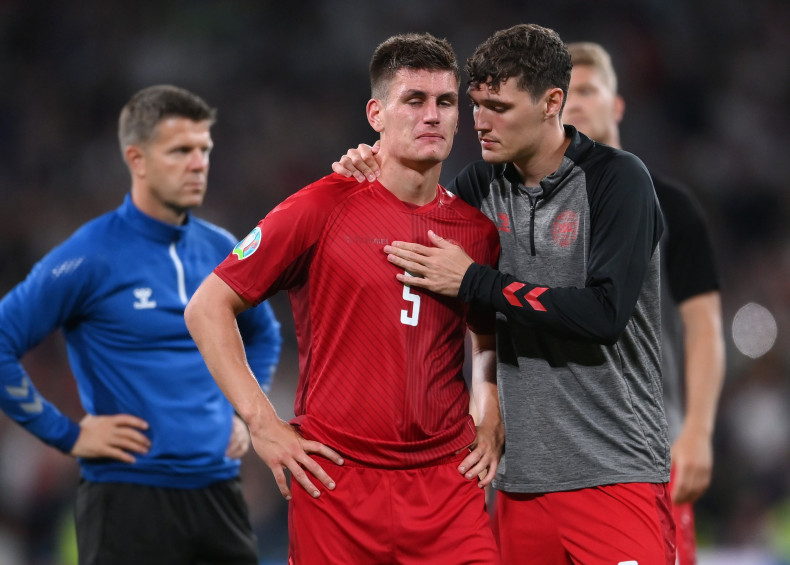 As luck would have it, the ball rebounded back to the England captain who tapped the ball in for the 2-1 lead and the win.
"I was fortunate to have it bounce back," said Kane after the match. "That's football – sometimes it falls your way."
Denmark's coach, Kasper Hjulmand, was more than disappointed in the penalty as it looked to be that the contact was not enough to warrant the call.
"It was a penalty that shouldn't have been a penalty and it's something that annoys me right now," said Hjulmand.
"Five seconds before Sterling goes into the box, he passes by a ball on the field and you cannot pass by a ball on the field, it has so much influence on the game. I didn't see how that was a penalty. It's hard; it's one thing to lose a game, but to lose a game this way is a real disappointment."
"These guys have fought a lot and it feels bitter. These guys will have to digest this loss before we can completely describe how we're feeling, but it's a bitter way to leave the tournament," he continued.
Italy, England's opponent in the finals, survived a nightmare matchup against Spain in the semi-finals as it looked completely lost against the passing game of the Spaniards but pulled out a victory during the penalty shootouts.
England will be playing its first finals in a major tournament since its historic win against West Germany at the 1966 FIFA World Cup.
© Copyright IBTimes 2022. All rights reserved.