European Companies Strike Out Against Tougher Russian Sanctions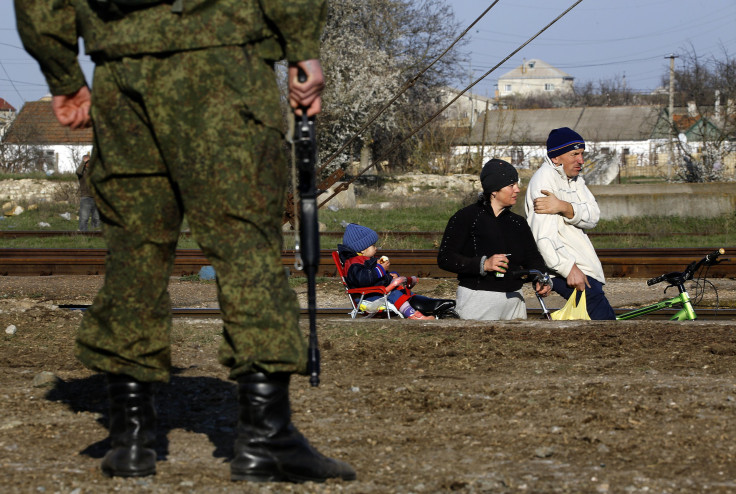 As Russian and Western diplomats gathered in Geneva on Thursday they focused on averting further bloodshed in the crisis sparked by Russia's annexation of Crimea and further menacing of Ukraine.
But lurking not far below the diplomatic veneer lay a strong grain of opposition from Europe's biggest energy, chemical and banking firms that are all pushing back forcefully against harsh, U.S.-favored sanctions on the Putin government and its cronies.
"We are not the U.S., we don't have shale gas as they do, so any move to sanction them [Russia] would hurt our companies a lot," EU industry commissioner Antonio Tajani told the Financial Times newspaper.
Oil and gas giants BP PLC (LON:BP) and BASF (FRA:BASF) are leading the charge, according to the FT. The former has told home-country officials in the UK that it is at risk if the European Union imposes tough sanctions, while the latter, a German chemical giant, has advocated caution.
Both companies declined to comment to International Business Times.
However, BASF CEO Kurt Bock told Germany's "Süddeutsche Zeitung" newspaper on Monday that the company recently saw sales of 1 billion euro ($1.38 billion) in Russia, out of total group sales of 74 billion euros. He said BASF would comply with Russian sanctions, but added that he expects the situation to de-escalate.
BP owns a 20 percent stake in Rosneft NK OAO (MCX:ROSN), Russia's state-owned oil company and the world's largest hydrocarbon producer. That stake earned BP $456 million in dividends in 2013, according to BP's latest annual report.
Italian energy firm Eni SpA (BIT:ENI) has argued that Europe can't realistically sanction Moscow. Europe imports 30 percent of its gas from Russia's state-owned Gazprom OAO (MCX:GAZP). Russia is also the largest oil, gas, uranium and coal exporter to the EU, according to the bloc, while the EU is Russia's largest trading partner.
European Union officials met on Wednesday to discuss tougher sanctions on Russia, though member countries can wait until April 22 before making positions known to the European Commission, the EU's executive arm. The commission has explained the potential impact of strict trade and financial sanctions on Russia to each member state individually instead of sharing data between the 28 member states, Reuters reported.
U.S., Russian, Ukraine and EU officials met in Geneva on Thursday seeking to restore security to Ukraine after buildings were illegally seized in the country's east. The Obama administration could unveil new sanctions on Russia later this month, after freezing the assets of some Russian businessmen.
But there's not yet the political will among European governments for tougher sanctions, Council for Foreign Relations president Richard Haass told Bloomberg on Thursday. He reiterated Germany's energy concerns as well as French and Italian export concerns and anxiety across British financial firms are giving pause to European governments.
Sanctions would surely target Russia's energy sector, which hosts joint ventures by prominent European companies like Norway's Statoil ASA(ADR) (NYSE:STO). Statoil is working on the Kharyaga oil fields in Russia, and has explored projects on Russian waters and West Siberia.
U.S. firm ExxonMobil Corp. (NYSE:XOM) also has a joint venture with Russian Rosneft, which covers 770,000 square kilometers in the Arctic and Black Sea, while Royal Dutch Shell PLC (LON:RDSA) and France's Total SA (EPA:FP) also work on energy projects in Russia.
Tougher sanctions require consensus from the European bloc. European leaders like German Chancellor Angela Merkel and French President Francois Hollande were split in March on how to deal with EU sanctions. But Poland and Baltic countries like Estonia were outspoken on the need for economic sanctions.
Meanwhile, Russia's economy has suffered amid the uncertainty. Even before sanctions, billions of dollars flowed out of the country and a key stock market index fell 10 percent in March, according to the New York Times. Russia could fall into a recession because of the crisis, wrote London's Capital Economics in a note on Thursday.
Ukraine owes Russia's Gazprom $2.2 billion in unpaid gas bills, according to French bank Societe Generale. Russia could ask for a further $14.4 billion and impose a $18.4 billion fine that Ukraine can't or won't pay, the French firm's analysts said in a note. That sets up a further problem for the European Commission to solve, they said.
© Copyright IBTimes 2023. All rights reserved.
FOLLOW MORE IBT NEWS ON THE BELOW CHANNELS