European Union-India Free Trade Deal Hits Deadlock over Duties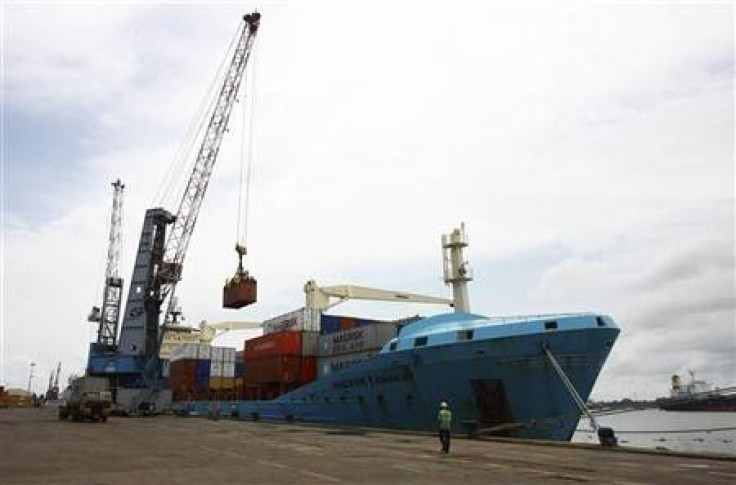 Hopes of India and the European Union striking a free trade deal at a summit this week are fading fast, with differences over duties on cars and market access for software and service companies standing in the way of an accord.
The Maersk Ronneby container ship is loaded at the Container Terminal at the Cochin Port on Willingdon Island in Kerala
At stake is an agreement that would create one of the world's largest free-trade zones by population - covering 1.8 billion, or more than a quarter, of the world's people.
Disagreement over duties on car imports, India's tariff on European cars is nearly 10 times greater than Europe's on Indian vehicles, and a dispute over access for Indian software companies to the EU market are set to scupper an agreement, with time running out on negotiations.
EU leaders will meet their Indian counterparts in New Delhi on February 10, having declared at a summit last year that they hoped to sign a free-trade deal before the meeting.
Publicly, officials in both Brussels and New Delhi are remaining upbeat.
We're trying to wrap things up, see what you can close, see what you can't close, said one senior Indian government official, speaking on condition of anonymity. Things are slowly but surely falling into place.
But not everyone is hopeful. The EU ambassador to India suggested in January that the best that could be expected from the summit was a political framework for a deal further down the road, without a timeline being set.
With the Doha round of global trade talks effectively dead, the world's major economies are looking more to bilateral trade agreements. The European Union, the world's largest trading bloc by value, struck a deal with South Korea last year and is in negotiations with Japan, Canada, Malaysia and others.
For India, an Free Trade Agreement (FTA) would help its rapidly growing companies expand into the EU, the country's biggest trade partner, the buyer of more than 40 billion euros worth of Indian goods and services in 2010. Europe, large parts of which probably sank into another recession last quarter, wants access to a vast, young, vibrant market of 1.3 billion potential customers.
Trade between the two is growing - the total value of EU-India goods and services exchanged was 86 billion euros in 2010. While trade with India represented just 2.4 percent of the EU's total, the percentage has been gradually increasing.
But while there are advantages to be gained on both sides from closer trade ties, the current economic fortunes of the two could not be more different.
SOMETHING FOR EVERYONE?
India, Asia's third-largest economy after China and Japan, has enjoyed two decades of rapid growth powered by IT and outsourcing, even if manufacturing has lagged, weighed down by red tape and creaky infrastructure.
Europe has been mired in financial difficulties, with rising unemployment and a debt crisis that has forced three countries to seek emergency loans and left several others on the brink.
Autos are a core export for Europe. Premium brands such as BMW AG and Volkswagen Group's Audi would like to sell more to India's newly wealthy.
But Indian places tariffs of 60 percent on imported EU cars, while the EU takes just 6.5 percent of the price of cars imported from India, according to the European Automobile Manufacturers' Association (ACEA).
As a result, the EU exported just 4,002 cars to India in 2010, compared to 223,000 imported from India.
These are prohibitive tariffs, said Ivan Hodac, ACEA's secretary general. The market is basically closed to us.
Last year, with FTA negotiations under way, a high-profile Indian politician wrote to Prime Minister Manmohan Singh asking for autos to be excluded from any deal.
The industry people here...would like a few more years before they feel that they are really able to match up with the global players, said Biswajit Dhar, a New Delhi-based trade expert. We're still not right out there in terms of scale.
So far, negotiations have established that India would be prepared to cut tariffs to 30 percent, according to Hodac, but it may not be sufficient to make a deal possible.
Negotiating between equals means that at the end somewhere in time, not too far from now, we have to open markets - zero tariffs, said Philippe de Buck, director general of lobby group Business Europe.
You can't open the market without any reciprocity.
For its part, India wants to ease visa regulations that restrict growth for the software and services companies, such as Tata Consultancy Services (TCS.NS) or Wipro (WIPR.NS), that have driven Indian growth. The companies want to deliver services to European customers in a way that involves engineers staying for a short period in the EU to do things such as installing systems. But some EU countries are wary of allowing more foreign workers at a time of rising joblessness.
If we're entering into an FTA there has to be some preferential treatment for the partner country, otherwise why are you entering into an FTA? said Manab Majumdar, Assistant Secretary General of the influential business lobby group FICCI.
The EU has its own wish-list for better access to growing Indian sectors, such as in legal services or supermarkets.
In November New Delhi decided to open its supermarket sector to foreign retailers such as Tesco (TSCO.L) and Carrefour (CARR.PA), only to row back on the decision after protests from domestic retailers and opposition politicians. Brussels wants to see that big-ticket reform back on track.
As recently as November, India's trade minister said India and the EU expected to finalise an FTA by early 2012.
© Copyright Thomson Reuters 2022. All rights reserved.
FOLLOW MORE IBT NEWS ON THE BELOW CHANNELS