Europe's Police Face A More Paramilitary Future As Governments Boost Spending On Anti-Terror Arms [VIDEO]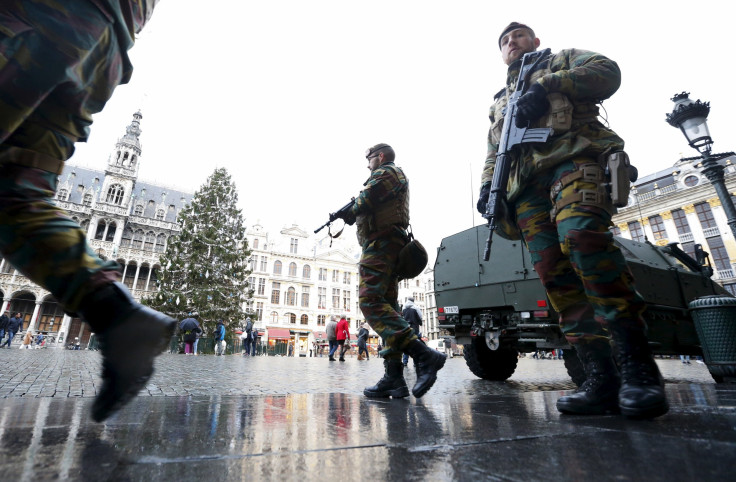 PARIS -- The beefy American wearing a black Sig Sauer polo shirt stood proudly next to the Sig M400, an impressive 40-inch, semi-automatic assault rifle with a 30-round clip, whose bullets can pierce flesh at nearly 3,000 feet per second. The gun, which has a list price of $1,313, was on display last week at Milipol, a global security conference and weapons expo that convened (purely by coincidence) in a small suburb outside of Paris. The event took place just three days after terrorists massacred 130 civilians and injured hundreds more in coordinated attacks across the French capital.
When asked how sales were going, the Sig Sauer rep simply grinned and declined to reply. The answer, though, is fairly obvious: Sales will likely be very good this year -- not just for Sig Sauer, but for the hundreds of defense and weapons companies that sell to the international anti-terrorism market.
In less than two weeks since the Paris terror attacks, several European finance ministers have proposed to expand their anti-terrorism security budgets. Those budgets, in turn, will mean more business for enterprises that cater to this wide market. The range of services and products within the industry run a wide gamut, including but not limited to: gun manufacturers, drone makers, bomb detection firms, companies that make armored tanks and surveillance technologies.
Almost 1,000 companies displayed their wares at the recent Paris expo. Held just an hour north of the city while the manhunt for alleged terror suspect Salah Abdeslam was going on there, the event offered a glimpse into Europe's increasingly militarized future. While Americans have become accustomed to SWAT teams and armored police trucks filled with Rambo-lookalikes, it's relatively rare in Europe, where many cops patrol the streets with nothing more than batons.
The companies ranged from well-known firms like Smith & Wesson, the legendary U.S. gun firm, to technology startups like PicSix, an Israeli-based firm that manufactures items like the IMSI catcher, a controversial surveillance device that can intercept phone calls and text messages.
When asked if the Paris attacks would increase the interest in his company's product, Shay Haim, PicSix's director, snickered.
"Yes," he said. "Of course."
Despite heightened security at Milipol, the show went on. In fact, the attacks in Paris only made the exposition more relevant. Speaking to dozens of company representatives and CEOs on the trade show floor, it was obvious that many companies were already expecting the surge in demand for their products.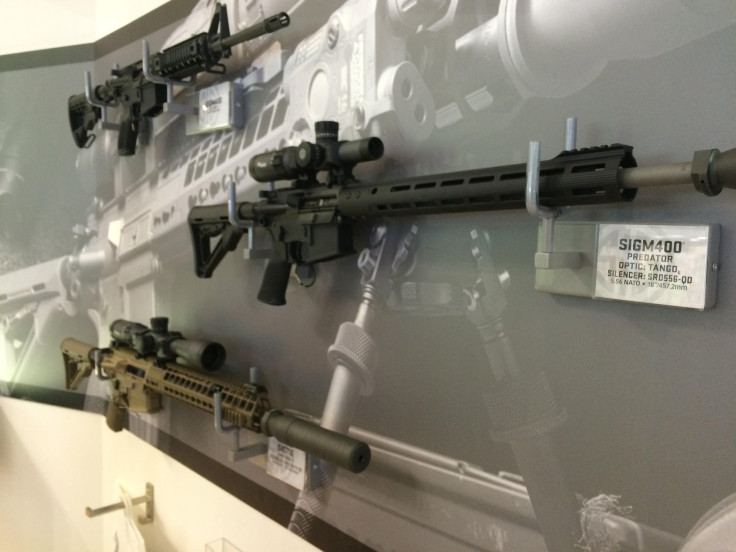 And as many pointed out, the demand won't just come from government and militaries: As more local police officials outfit their officers on patrol with military gear, these companies will expand their customer base and see a windfall in new revenues.
Increased Spending
Just this week, Belgium, for instance, announced it would spend an extra $430 million on security. England said it would increase its anti-terrorism defense spending by 30 percent, and would buy a new fleet of F-35 fighter jets. "We will make sure that Britain is properly defended against the terrorist threat," Britain's Minister of Finance, George Osborne, said at a news conference on Sunday.
France also has plans to boost its anti-terrorism spending despite a clampdown on overall government spending. European Commission President Jean-Claude Juncker told a news conference last week that France should even receive "special treatment" under budget deficit rules to enhance its security programs. Right now, the European Union restricts member states' spending to only up to 3 percent of a country's GDP, in lieu of this summer's agreement to curb government expenditures.
"We are facing serious terrorist acts," Juncker said at the news conference in Brussels. "France, as other countries, has to have at its disposal supplementary means. I think that these supplementary means should not be treated as ordinary expenses [under EU budget rules]." Italy has chimed in also, saying that if France gets approved for special treatment, Italy should receive special treatment as well. "It's clear that what counts for France also counts for Italy," Italian Prime Minister Mattero Renzi said in a television interview last Wednesday.
Most of the company representatives at Milipol were careful not to suggest that the Paris attacks are a boon for their businesses. But there were a few outliers that came pretty close to it.
Rosoboronexport, a Russian arms dealer that sells an arsenal of pistols, pistol-machine guns, sniper rifles, grenade launchers and assault grenades to anti-terror squads around the world, released a press release that nearly boasted that the attacks would be a surge to company profits.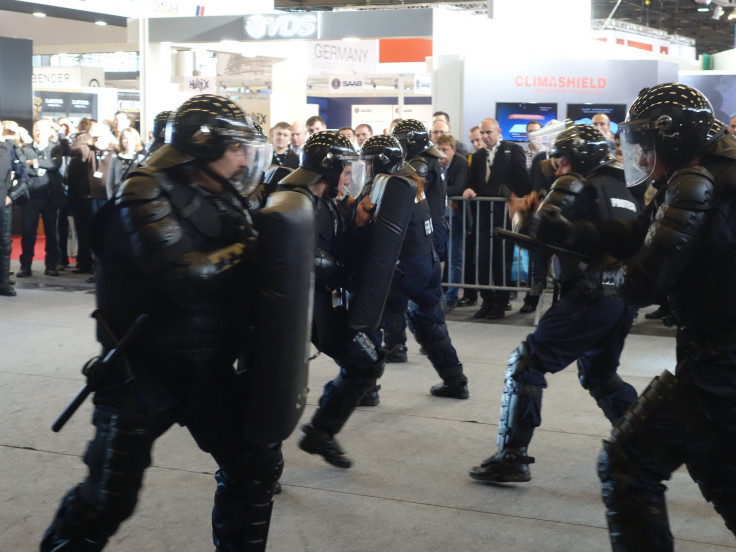 "The terrorist acts in Paris have increased the interest of some European countries in the exhibits of Rosoboronexport," Rosoboronexport Security Department Head Valery Varlamov told the Russian news agency Tass. "Negotiations are planned in the process of the exhibition with a whole number of potential customers, including from Europe."
Rosoboronexport added that it had even "adjusted its program at the exhibition in the wake of recent terrorist acts in the French capital," noting that other firms "cancelled their participation in light of the developments in Paris."
Even before the Paris attacks, the anti-terrorism industrial market was growing at a healthy clip. According to a June 2015 report by the European Parliament, the United States federal expenditure on homeland security had grown to $360 billion per year since 2001. One estimate points out the United States spends about "$500 million per victim of terrorism."
Smaller Budgets
In Europe, the numbers are not nearly as large -- about $136 billion per year spent on security -- but the numbers are growing, and will continue to grow in the coming years. According to a press handout distributed at this year's Milipol, "demand is very promising due to the increase in the escalating amount of threats." It also noted recent terror attacks and the incoming "massive increase in the presence of security forces."
So which companies will actually benefit from this upswing in spending? It's tough to tell. Surveillance drone companies, which were a focus of the Milipol event, seem to already be cashing in as more police forces adopt the technology.
Yves Degroote, the international sales manager for AirRobot -- a surveillance drone company based in Germany-- says the inquiries are already flowing in.
"The emails keep coming in over the last few days," he said. "To be honest, I'm a little behind. The demand is increasing." The French market for surveillance drones in 2014 was about $22 million. By 2020, the market could reach $154 million, according to L'atlas - En Toute Sécurité, a French security market consulting firm.
And though American contractors often claim the spotlight as the darlings of the defense market, after a few days at Milipol -- and a review of the 540-page exhibitor guide -- it's clear that the defense industry is an international enterprise. Companies from over 30 countries exhibiting their gear, ranging from an American armored tank group to a French company, Alsetex, that makes drones that shoot canisters of tear gas.
Of course, just as the anti-terror industry has attracted scores of savvy entrepreneurs -- it has attracted critics, too. Many argue that terror attacks like the one in Paris should not be used to militarize police, nor redirect funds from public programs in order to arm cops with high-tech weaponry. In England, police don't even carry handguns -- let alone assault rifles -- and plenty of residents would like to keep it that way.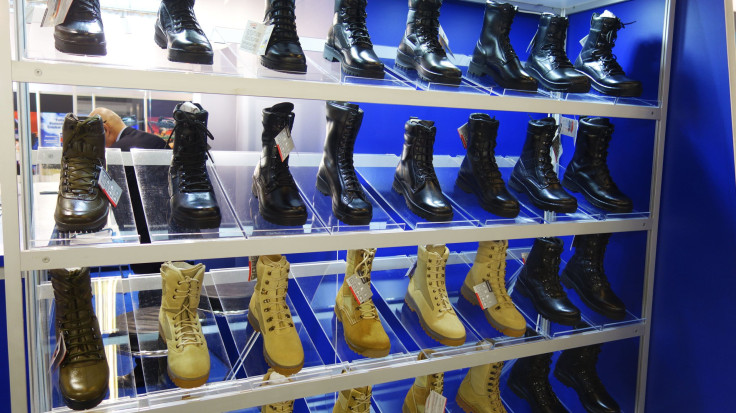 "The Paris attacks have inevitably re-energized the issues on the eve of the spending review," The Guardian wrote this week in an op-ed. "It is vital that the spending review does not provide an excuse to wreck this most local form of policing."
France, however, is already aligned with several private anti-terrorism contractors, and those relationships will likely expand in the coming months. In fact, in the weeks following the Charlie Hebdo shootings last January, the French government utilized several private security companies to dispatch guards to malls and restaurants around France.
"Cooperation between law enforcement entities and private security companies was also reinforced on this occasion," the Milipol organizers wrote. "According to several senior government officials, these careers are now considered 'respectable,' and an increase in this 'safety' co-production is being looked into more and more."
FOR FREE to continue reading
✔️ Unlock the full content of International Business Times UK for free
offer available for a limited time only
✔️ Easily manage your Newsletters subscriptions and save your favourite articles
✔️ No payment method required
Already have an account?
Log in
© Copyright IBTimes 2023. All rights reserved.