Europe's Severe Weather Kills from England to Greece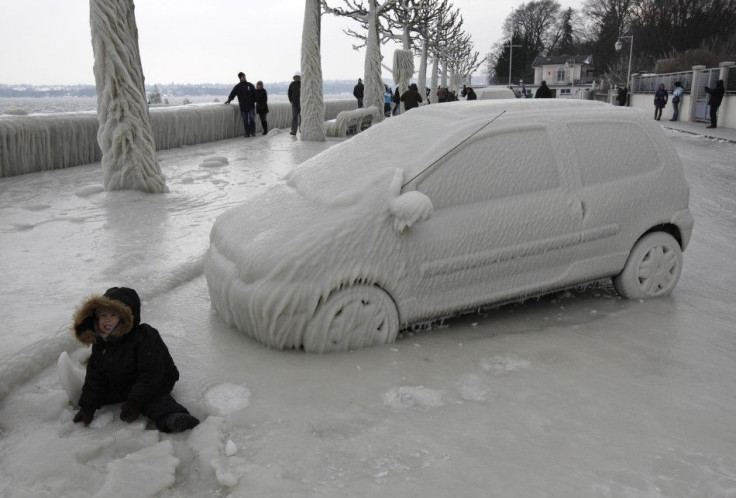 More than 300 people have died in Europe as the result of a severe and long-lasting cold spell, and tens of thousands of people across the continent have been left without power or been cut off from supplies.
The winter storm, which has blanketed parts of Europe in snow, has reached across the Mediterranean and extended as far south as North Africa and as far east as Turkey, and even froze the Black Sea.
Ukraine: Ukraine has been hit the hardest by the storm, and nearly half of the casualties come from the Central European country.
Many of the 131 who died in Ukraine were homeless people who froze on the street. The country's emergency services set up more than 3,000 heated tents in cities across the country, but thousands of people were still taken to hospitals with hypothermia and frostbite.
France: The Eiffel Tower, which just last week closed its 187-foot high ice skating rink, was coated with snow over the weekend.
Many flights leaving the country have also been cancelled, but any aircraft headed to other airports on the continent would likely face delays or cancellations regardless, as travel has stalled all over Europe.
At least one person froze to death in France.
England: Fountains in London and the canals of Oxford froze over, but further north in York the weather caused what the Yorkshire Post called travel chaos. A 25-mile long section of the busy A-1 highway was closed after police responded to more than 50 accidents, including 20 tractor trailers.
The conditions were such that the road has turned into something of an ice rink, North Yorkshire Police Chief Inspector Steve Smith told the BBC.
There was further chaos for travelers elsewhere in Britain. Half of all flights leaving London's Heathrow Airport were cancelled on Sunday.
There were fewer flight delays at London's Gatwick airport, which invested millions of pounds in more snow plows and equipment after the December 2010 storm that stalled the country for a week.
Italy: Rome experienced its first snowfall in 27 years, and the eternal city is bracing for more snow on Tuesday.
Drivers unaccustomed to maneuvering in snow spent hours in gridlock traffic on the highway surrounding the Italian capital, and the lack of plowing and salting on major roads in the city had some Romans calling for mayor Gianni Alemanno's resignation, the New York Times reported.
At least 17 people have died in Italy. As in the Ukraine, most were homeless, but two men died of heart attacks while shoveling snow.
Poland: Eight more people died from the cold in Poland by Monday, bringing the total up to 53. Most of the victims were homeless.
In Warsaw, authorities handed out food to homeless people not in shelters, and the Prime Minister lifted the law banning inebriated individuals from shelters, according to Reuters.
Serbia: Massive amounts of snowfall have isolated about 70,000 people in their villages across the country. The army has been trying to bring food supplies to the villages. Nine people have died in the country.
Romania: The death toll in Romania climbed to 34 after six people perished over the weekend. Additionally, 200 cities and towns were without power and 30 are completely isolated.
Some 3,000 rescue workers were dispatched to the cut-off areas.
Bosnia: Seven people have died in Bosnia, where avalanches buried roads and cut off hundreds of villages.
As in many cities across Europe, schools in Sarajevo were cancelled for a week. The capital city saw its largest snowfall since 1999, and snow-drifts reached as high as 43 inches.
Finland: The storm moved north to Scandinavia over the weekend, dropping temperatures to minus-40 degrees Fahrenheit in Finland. In Helsinki, 40 people had to be taken to a hospital after a 200-car pile up outside the city.
Greece: Greece was spared snow, but the country called a state of emergency after severe rains caused flooding in the Peloponnese peninsula. An elderly woman drowned in the flooding while trying to leave her house.
Algeria: Sixteen people died in the North African country, at least five of them from carbon monoxide poisoning resulting from gas heating, according to The Telegraph. Additionally, roadblocks in the country's mountainous regions cut off a number of towns and villages.
© Copyright IBTimes 2023. All rights reserved.