Eurozone Crisis: Italy's Chances Of Ditching Euro At 4-Year High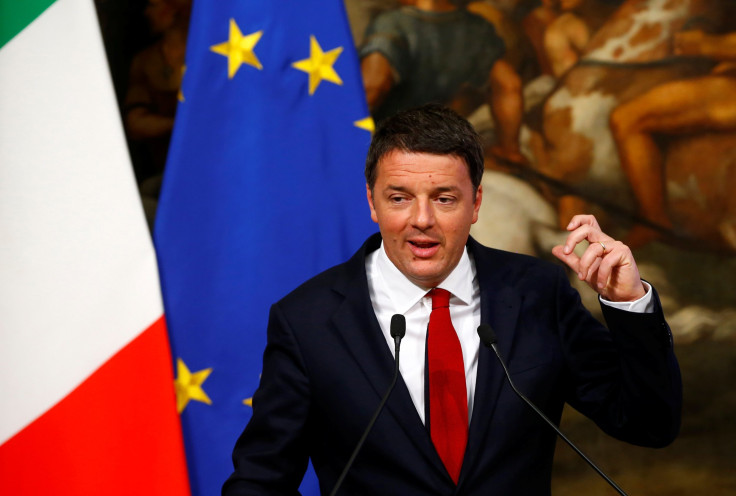 A monthly investors' survey found one in five believed Italy's exit from the eurozone is likely, the highest figure since the start of the survey in June 2012. Conducted by Sentix — a Frankfurt, Germany, pollster — the survey found many investors are worried about an upcoming referendum in the country that will decide the future of Prime Minister Matteo Renzi's government.
Findings of the survey, published Tuesday, revealed the chances of the country leaving the eurozone, according to the investors polled, during 2017 was at an all-time high at 19.3 percent. With 9.9 percent, Italy, for the first time, beat Greece in the October poll as the country most likely to leave the eurozone.
"Euro breakup fears are coming back with a vengeance," Sentix managing director Manfred Hübner reportedly said.
A statement by the pollster said overall fears of a eurozone breakup had risen after Brexit, the July referendum in the United Kingdom in which the country voted to leave the EU. France and the Netherlands also showed record-high figures in terms of their chances of leaving the eurozone, according to the poll.
However, the chances of any member country exiting the eurozone (24.1 percent) is still well under the peak 70 percent seen during the eurozone debt crisis in 2012.
Over 1,000 institutional and retail investors were surveyed for the poll that ran Nov. 24-26.
In its report, Sentix said the Dec. 4 referendum is weighing heavily on the minds of investors. While Sunday's constitutional referendum could unseat Renzi, investors are more concerned about the fate of the country's banks. If rejected, the referendum could weaken the euro further and send bank shares tumbling.
Essentially seen as a confidence vote on the government, the referendum concerns a constitutional reform proposed by Renzi that hopes to reduce the role of the senate in an effort to speed up the lawmaking process. The prime minister has vowed to step down if the referendum is rejected, which many polls predict is likely.
Investors fear that a change in government would have far-reaching consequences, putting the future of the eurozone in danger. Italy's banks have accumulated an estimated 360 billion euros ($380 billion approx.) in bad loans. If the referendum is rejected, the plan to revitalize Italy's largest bank UniCredit and its third-largest bank Monte dei Paschi di Siena using private funds will be at risk.
© Copyright IBTimes 2023. All rights reserved.