As Everest Sherpas Boycott Climbing Season, The Porters On Kilimanjaro Work For Less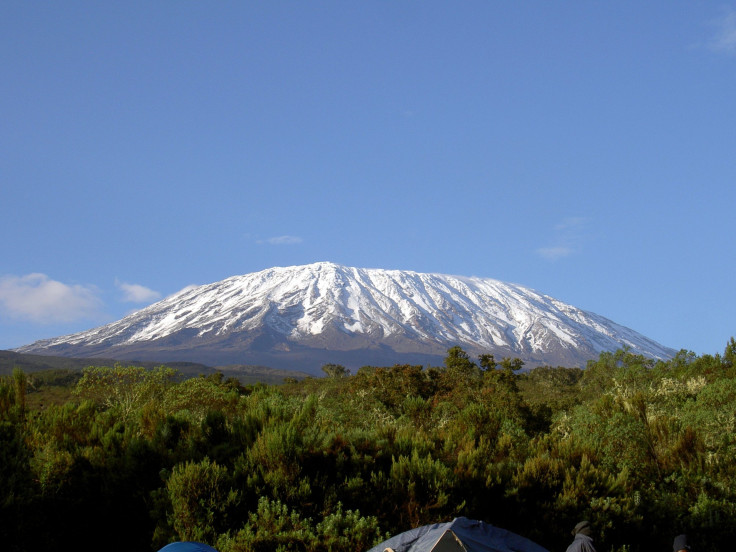 After a deadly avalanche killed 16 sherpas on Mount Everest, Nepalese mountain porters have called for a boycott of the 2014 climbing season to honor their colleagues and ask for better wages and working conditions. It's no small action considering that they will be losing the season's wages, which are typically about $4,000 -- a very large sum in Nepal.
Everest is Earth's highest mountain, but it's hardly the only massive peak that provides local guides with work. Another is the highest mountain in Africa, Tanzania's Kilimanjaro, which ranks second in National Geographic's "Top Ten Climbs" list. Gracing the bucket lists and vacation plans of tourists from around the world, the mountain attracts more than 40,000 visitors each year. But while it's far easier than Everest, one does not simply climb Kilimanjaro alone.
For every climb, which can take at least five days, three local workers also come along to provide guidance and to carry food and equipment. The industry employs thousands of guides, cooks and porters. It also generates roughly $50 million in revenue every year and pays more than double the average local wage -- an aspect that can be a double-edged sword.
Kilimanjaro's "network of tour operators, porters and guides makes it one of the best-organized mountain hikes in Africa," according to a 2013 World Bank report, which estimates that the $50 million in revenue generated every year supports 400 guides, 500 cooks and 10,000 porters and contributes roughly 13 percent of the country's overall gross domestic product.
Analysts suggest that $13 million of the revenue is used to help improve the lives of poor people living near the mountain's surroundings, which have the highest school enrollment rate and adult literacy rate in Tanzania.
But "working conditions for porters and others can be arduous and dangerous," the report reads, adding that 20 guides and porters die every year on the mountain from altitude sickness, hypothermia and pneumonia.
Tanzania is a low-income country but one that has seen a great increase in tourism in recent years. Between 2010 and 2012, international arrivals to Tanzania increased 38 percent to reach 1,043,000, according to the U.N. World Tourism Organization.
Three types of staff work on the mountain. A guide is the most well-trained and well-paid, typically making $10 per day, plus tips of about 50 percent, for an annual income of roughly $1,800, according to the World Bank statistics. On average, guides climb the mountain about 17 times per year. Porters and cooks, who tend to earn about half of what guides make, take 14 trips, for which they're "on duty" 24 hours a day.
"These wages are attractive," according to the report, which cites the average payment for farmers hits roughly $2 per day.
World Bank analysts estimate that the average tour package to climb Kilimanjaro starts at about $1,205, but it often begins much higher with non-budget companies.
Ultimate Kilimanjaro, an American tour company, charges between $2,550 to $2,950 per person for its tours, while Aardvark Safaris, a company with offices in the U.K., U.S. and Hong Kong, charges up to $6,100 for a private trek.
To climb Kilimanjaro, About.com recommends a $5,000 budget, which includes $3,000 for the tour company and $500 for extras like food and transportation.
Roughly 47 percent of tour costs go to pay park fees, which can start at $70 per person per day, according to regulations published by Tanzania National Parks, while 18 percent goes to worker wages, according to the World Bank report.
The Tanzania National Parks website states that guides should be paid $20 per day, while cooks earn $15 and porters get $10, according to guidelines set in June 2008. But some argue that this has yet to be enforced.
"The wages set in 2008 have yet to be enforced among all companies climbing Kilimanjaro," said Karen Valenti, the program manager with the Kilimanjaro Porters Assistance Project (KPAP), a Tanzanian non-government organization that's an initiative of the International Mountain Explorers Connection, a registered U.S. nonprofit dedicated to "responsible and sustainable connections between travelers and the people of developing mountain regions of the world," according to its website.
The organization is focused on improving the working conditions of porters at Kilimanjaro through free clothing lending programs, education programs and awareness campaigns, and gathering information from porters about their working conditions and wages.
"The minimum wage has been declared to be 10 dollars a day," said Valenti, who has been working with the organization since 2004, and has lived in Tanzania for the past 10 years. "We're now in April 2014 and this rate has still not been enforced."
The problem isn't simple. According to the IMF, the average GDP per capita in Tanzania was $703 in 2013, about half the average rate for most porters. In fact, many people travel from around the country just to find work on the mountain. A job as a porter is very appealing, as it requires little or no training but just the ability to carry the mandated 55 pounds.
Many of these people are more willing to work for unregulated low wages than nothing. Valenti recalled meeting with a 14-year-old who wanted to work as a porter to help fund his education, even though the minimum age requirement by regulation is 18.
KPAP has created the Partner for Responsible Travel Program, which highlights climbing companies that meet the proper treatment guidelines.
"We have seen an improvement in the working conditions of many porters as climbing companies improve their procedures to ensure proper working conditions and meet the public's desire for fair treatment practices on Kilimanjaro," Valenti said. "On a positive note that has helped."
"The working conditions have improved over the years because of a non-profit organization helping to improve the public's awareness," she said. "On a positive note that has helped."
According to Ake Lindstrom, founder of Summits Africa, a tour company that operates treks on Kilimanjaro, Mount Kenya and Mount Meru, transparency and monitoring are part of the solution.
Lindstrom wrote in an email that Summits Africa's porters earn about $200 a month for two trips up Kilimanjaro, to make an average income of about $1,600 annually, which is supplemented by other work such as farming or trading depending on the season.
"How can wannabe Kilimanjaro climbers positively impact the lives of porters? Ask questions and find info," Lindstrom said, explaining that tourists should do their research on a company, ask for references and, if possible, pay porters directly.
© Copyright IBTimes 2023. All rights reserved.