EXCLUSIVE: Councilman Rodriguez Describes His Violent, Unprovoked Arrest at Occupy Wall Street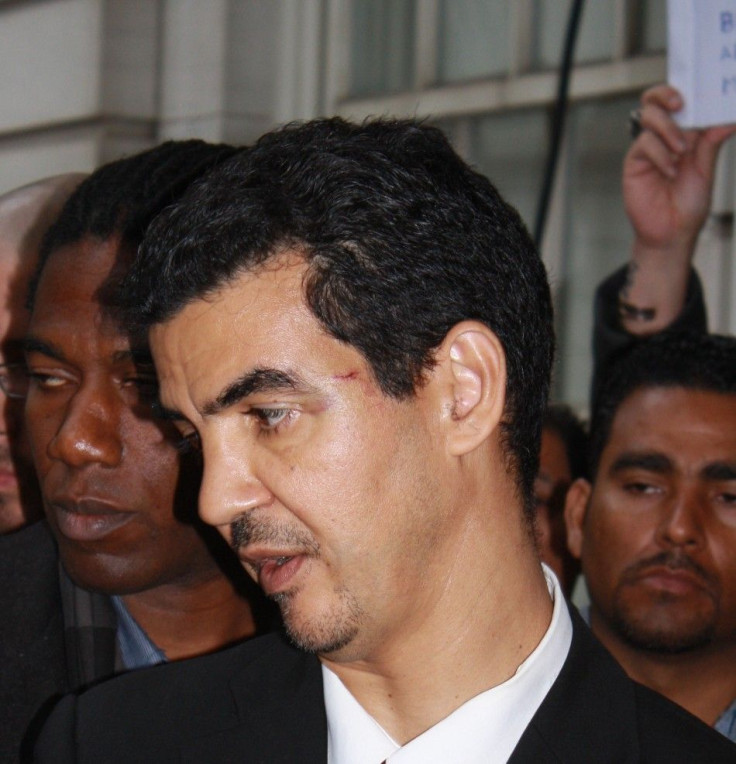 New York City Councilman Ydanis Rodriguez is out of jail, and he told his harrowing tale of his violent, unprovoked arrest at a fiery press conference on the steps of City Hall Wednesday afternoon. His face and hand bore the fresh cuts he says he sustained during his violent arrest early Tuesday morning as police raided the Occupy Wall Street encampment at Manhattan's Zuccotti Park.
Rodriguez was in bed at about 1 a.m. Tuesday at his home in Northern Manhattan's Marble Hill neighborhood when he says he received a text from an Occupy Wall Street protester saying that police officers were showing up at the park en masse.
He told his wife he was going to head down to Zuccotti in his official role as a member of the City Council, and that he would be sure not to get arrested or cause a disturbance. Instead, he promised, he would serve only as an observer.
His wife reminded him that later that morning they were scheduled to interview at a school to which they were interested in sending their 5-year-old daughter, and told him three times not to get arrested.
He said he would do nothing that he could be arrested for -- unlike the time he purposely got himself arrested alongside other council members and leaders during a civil disobedience act against Arizona's immigration law in May 2010.
Then he left for Zuccotti.
While travelling to Lower Manhattan, Rodriguez, 41, called Councilman Juumane Williams, of Brooklyn, to tell him to come to the park, which he did later that morning.
When Rodriguez, who moved to Washington Heights from the Dominican Republic when he was 18, arrived near Zuccotti, he was walking by himself, he was wearing a suit, and he was being careful not to cause a disturbance or get involved in any altercations.
When he was about three blocks south of the park on Broadway, he came across a large scrum of NYPD officers and protesters, noted that there was tension, and decided to cross to the left side of Broadway in an effort to avoid them.
He made it about one more block and was approached by police officers. He told them, "I am Councilman Rodriguez and I'd like to go to the park."
That was the last thing he said as a free man that day, on which at least nine journalists and about 200 protesters were arrested.
"Immediately, a group of police officers started using their batons to push me back, I didn't have a choice," he said. "I never raised my hands, I just told them I wanted to go to the park."
The next thing he knew, he was knocked to the ground by a cop, who allegedly proceeded to assault him.
"A police officer jumped onto me and pushed my head into the street," Rodriguez said with the facial scratches visible as he held up his hand to reveal road rash he sustained during his arrest. He was cuffed and thrown in the back of a police van with eight other arrested protesters. "The whole time I kept saying, 'I'm Councilman Rodriguez,' even when I was on the ground."
And Rodriguez said that a high-ranking police officer from a precinct in his district who knows him very well saw him being arrested and did nothing to stop it. But his troubles did not stop there.
The police drove the van full of arrested people to One Police Plaza, the NYPD's lower Manhattan headquarters, where the other eight arrestees were let out and hustled into cells inside the building. Rodriguez says he was left inside the van with a police chaperone for two more hours, and he was blocked from speaking with police supervisors, his lawyer, or anyone else.
"I had concern [about] why I was left outside when my eight other colleagues were taken inside," he said, referring to the other arrested protesters.
He was finally led into a cell inside after two hours, but on Tuesday he was barred from speaking with his lawyers for a total of 13 hours, a situation his attorneys say they had never experienced before.
"A crime was committed here, but it was not committed by Councilman Rodriguez," Rodriguez's lawyer Andrew Stoll said Wednesday. "It was committed by the police officer who chose to falsely arrest Mr. Rodriguez and grind his face into the ground."
And while he was incarcerated and run through the system, he says he saw firsthand the horrific results of police violence at Zuccotti under the cover of dark early Tuesday morning. He knows it happened, he says, because his cellmates bore the injuries that resulted from the NYPD's overzealous response.
"It was bad. People were bleeding, people were hit in the stomach," Rodriguez said.
In the end he was let go, and he faces a charge of resisting arrest, which both he and his lawyers say is entirely bogus.
Despite his ordeal, Rodriguez remains confident about the future of the OWS movement.
"Occupy is not leaving New York City because Occupy is representing the 99 percent of the people in this city who have been left out," he said Wednesday afternoon.
© Copyright IBTimes 2023. All rights reserved.
FOLLOW MORE IBT NEWS ON THE BELOW CHANNELS