Expats In Iraq Evacuated By Companies, Governments As ISIS Moves South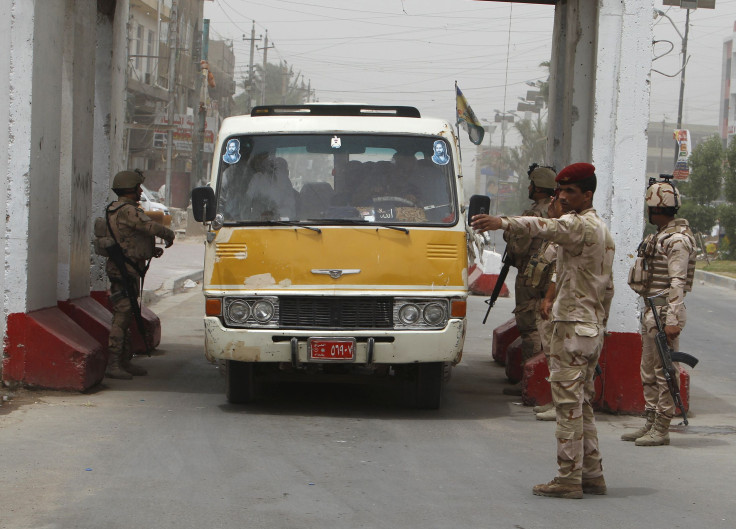 Foreign companies and governments are quickly moving their expat workers either out of Iraq or to the safer southern region as militant Islamists swarm the north and center of the country on their quest to conquer the capital Baghdad.
The evacuations follow reports of kidnappings and missing foreign workers that have highlighted the risks to doing business in the war torn country.
Terrorist group Islamic State of Iraq and Syria (ISIS) has kidnapped some 60 foreign workers who were building a hospital near Tikrit, a Turkish news agency reported Tuesday. Another 46 Indian nurses are stranded in Tikrit, a two-and-a-half-hour drive north from Baghdad, according to Indian newspaper The Hindu. In addition, Indian government officials fear that ISIS has abducted another 40 Indian construction workers from Mosul, a northern city, while they were fleeing to Baghdad.
"Despite best efforts we are not able to contact them yet, so [we] can't speculate on the situation in Iraq," external affairs ministry (MEA) spokesman Syed Akbaruddin told the Times of India newspaper on Wednesday. "A 24-hour control room at MEA headquarters in New Delhi has been set up to monitor situation in Iraq."
Another 50 foreign employees working for Siemens Energy at an Iraqi power plant in Baiji, 155 miles north of Baghdad, were flown to Erbil in the north and Baghdad on Sunday while armed men advanced toward Baiji, German English-language newspaper The Local reported.
The ISIS insurgents took control of Iraq's biggest oil refinery, located at the same site in Baiji, on Wednesday.
While all expats in Iraq assume certain risks—kidnapping and hostage situations are "relatively common" in Iraq, according to The Expat Hub— expats working for oil companies are more likely to encounter dangerous situations, as oil reserves and operations are more likely to become targets for terrorism.
Oil production in the south has so far remained unaffected as militant Islamists roam the northern and central region. Nonetheless, giant oil companies Exxon Mobil (NYSE: XOM), BP (NYSE: BP) and PetroChina have begun evacuating staff from southern Iraq.
On Tuesday, BP's chief executive, Bob Dudley, told reporters in Moscow: "We are just very vigilant in Iraq. Nonessential production people have left, but operations continue." U.K.-based BP is a major investor in Iraq through the giant Rumaila field. BP spokesman David Nicholas said Wednesday the company would not comment further at this time.
According to Dhiya Jaffar, the head of Iraq's state-run South Oil Company, BP has evacuated 20 percent of its staff, and Texas-based Exxon has carried out a "major evacuation" of its staff.
"I assure the companies that the current developments in the country have not affected and will not affect in any way the operations in the south,'' he said. He expects that Iraq's export level for June will be 2.7 million barrels per day, unaffected by the crisis in the north.
Jaffar also said Italy-based oil company Eni SpA (NYSE: E), Houston-based oil field services companies Schlumberger (NYSE: SLB) and Baker Hughes (NYSE: BHI), and Switzerland-based oil services company Weatherford International LTD (NYSE: WFT) have no plans to evacuate staff.
ExxonMobil spokesman Richard Keil said Wednesday the company does not comment on security matters.
PetroChina, the single-biggest investor in Iraq's oil sector, is also pulling staff. The company's joint secretary, Mao Zefeng, told Reuters some nonessential staff have been evacuated, without saying how many or if they were transported out of the country or into safe zones in Iraq.
The insurgents' capture of key cities in the north has highlighted the difficulty Iraq will have meeting its ambitious oil output target of 4 million barrels a day by the end of the year, up from its current 3.3 million barrels a day production, according to the London-based macroeconomics think tank Capital Economics.
"The main risk I envision is kind of militia-style attacks on oil infrastructure in the south," Tom Pugh, commodities economist for Capital Economics, said. "The major facilities [in the south] are very well guarded, an all-out invasion on them is unlikely. I think suicide-style bombings are more likely."
Pugh said the removal of a few Western workers would not "lead to large economic impact," and added that Saudi Arabia should be able to increase oil production in a matter of "days or weeks rather than months" to offset any cuts in northern Iraqi production.
Foreign direct investment into Iraq is relatively small, equivalent to around 2 percent of GDP, most of which is directed to the oil sector, according to Jason Tuvey, Middle East economist for Capital Economics.
© Copyright IBTimes 2023. All rights reserved.
FOLLOW MORE IBT NEWS ON THE BELOW CHANNELS