Maliki To Iraqis: 'We Are Taking The Lead' Against ISIS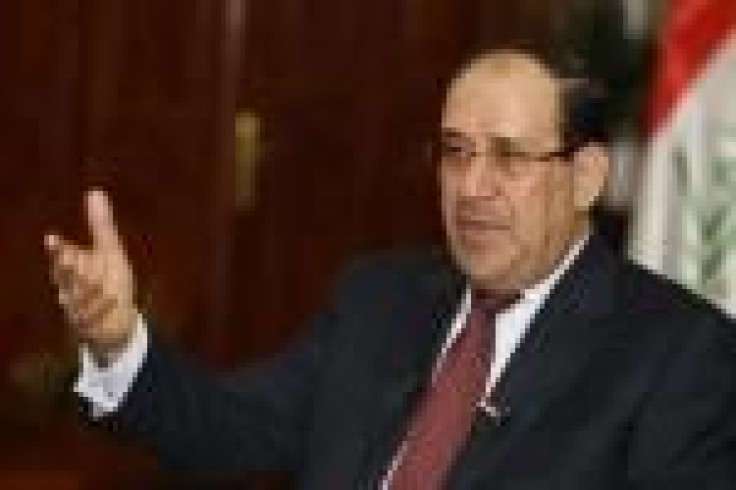 Iraqi Prime Minister Nouri al-Maliki told the Iraqi people Wednesday in a televised address that his security forces "are taking the lead" in the fight against Sunni insurgents headed by the Islamic State of Iraq and Syria.
"We are responding, we are taking the lead," Maliki said, according to breakingnews.com. "Our objective is to defeat al Qaeda and [ISIS] and to unite the country."
The statement may have been made in part to assuage U.S. President Barack Obama that the Iraqi government is making an effort to be more inclusive to Sunnis. Maliki's government is dominated by Shiites, and Obama said last week that any military action in Iraq taken by the U.S. needs to be met with an attempt to head off sectarian violence.
Maliki's comments were made shortly after reports that militants took control of most of Iraq's biggest oil refinery in Baiji when jihadists attacked the refinery with mortars and machine gun fire, Reuters reported. The refinery was shut down and foreign workers were evacuated Tuesday amid security concerns.
The Iraqi prime minister fired four senior security forces commanders on Tuesday, accusing them of abandoning their "professional and military duty" when ISIS fighters took control of Mosul, Iraq's second-largest city, last week. Among those sacked were Lt. Gen. Mehdi Sabah Gharawi, the top commander for Nineveh province.
Insurgents took control of the area in northern Iraq because security forces "failed to fulfill their professional and military duties," Al-Arabiya reported, citing a government statement read on live television.
© Copyright IBTimes 2023. All rights reserved.